Publication
The Audiologist's Handbook of Intraoperative Neurophysiological Monitoring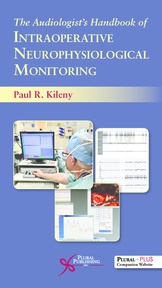 90-Day Exam Copy for Instructors
The Audiologist's Handbook of Intraoperative Neurophysiological Monitoring
Details:

130 pages, Color Illustrations (4 Color), Softcover, 4.5 x 8"
Included Media:

Companion Website
ISBN13:

978-1-59756-343-7
Release Date:

08/15/2018
$119.95
Overview
What is intraoperative neuropsyiological monitoring?
How did this discipline evolve?
Why is there a need for this clinical specialty?
How does one function in the operating room?
What are potential pitfalls and how does one resolve them?
How does one get trained in intraoperative monitoring?
These are just a few of the questions that arise when the term "intraoperative neuromonitoring" is mentioned. The purpose of this book is to provide satisfactory answers to these questions and more by addressing fundamental issues pertaining to intraoperative monitoring, in particular within the framework of clinical audiology. The focus is on neural functions that are most likely encountered by audiologists in conjunction with otology/neurotology and head-and-neck surgery operations, such as auditory function and motor cranial nerve function monitoring. While the facial nerve receives the most attention, other cranial nerves are also discussed in conjunction with certain operative procedures. The book includes descriptions of surgical procedures along with the appropriate neuromonitoring protocols. The author's hope is that the contents of this book will be instructive and that the book will engender sufficient interest and curiosity so that the reader will endeavor to seek additional information about this interesting, growing and clinically effective field. While this book is intended primarily for audiology students and practicing audiologists, its contents will be of assistance and interest to other health care providers seeking information about intraoperative monitoring.
Preface
Acknowlegments
Video List
Chapter 1. Introduction to Interaoperative Monitoring
Chapter 2. Fundamentals of Motor Nerve Monitoring
Chapter 3. Intraoperative Monitoring of Auditory Function
Chapter 4. Fundamentals of Auditory Function Monitoring
Chapter 5. Intraoperative Monitoring for Cochlear Implant Surgery
Chapter 6. Intraoperative Monitoring for Acoustic Neuroma/Vestibular Schwannoma Surgery
Chapter 7. Intraoperative Monitoring for Parotid Surgery
Chapter 8. Intraoperative Monitoring in Thyroid Surgery
Chapter 9. Intraoperative Monitoring of Superior Semicircular Canal Dehiscence
Chapter 10. Intraoperative Monitoring in Hemifacial Spasm Microvascular Decompression Surgery
Chapter 11. Intraoperative Monitoring for Lower Skullbase Neoplasm Surgery
Chapter 12. Managing IOM Artifacts in the Operating Room
Chapter 13. Developing an Intraoperative Monitoring Program
Chapter 14. Clinical Intraoperative Monitoring Protocols
Appendix 14-A. Cochlear Implant and Mastoidectomy IOM Guidelines
Appendix 14-B. Parotidectomy IOM Guidelines
Appendix 14-C. Somatosensory Evoked Potential IOM Guidelines
Appendix 14-D. Thyroidectomy IOM Guidelines
Appendix 14-E. Vestibular Schwannoma IOM Guidelines
References
Index
About The Author
Paul R. Kileny, PhD, CCC-A, BCS-IOM is Professor and Academic Program Director of Audiology and Electrophysiology at the University of Michigan Medical School.