Publication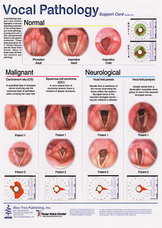 Vocal Pathology I
Details:

CD-ROM
ISBN13:

978-1-59756-169-3
Release Date:

01/01/2001
$145
Overview
Presented by C. Richard Stasney, M. D., F.A.C.S.
Director of the Texas Voice Center in Houston
First in a series, Vocal Pathology I covers general pathology. Includes 30 high quality videos & 80 stills of 11 different pathologies.
Video and Still View
View vocal pathology in action. Each of the eleven types of pathology includes three video examples and still views of the key abducted and adducted view. All stills display in both 320 x 240 and 640 x 480 size. Controls allow you to play videos slow, fast, or even use a slider bar to freeze video at any frame you want. All videos include original sound.
CSL Charts
Every pathology includes a sample of a Kay Elemetrics Computer Speech Lab (CSL) chart. Example is the large 620 x 480 view. All charts can be displayed in either 640 x 480 and 320 x 240 sizes. CSL charts set a standard to make easy comparison of the different effects of vocal pathology.
Rollover Highlight View
Several of the pathology still view examples include a rollover highlight. The condition stands out vividly against a dark background. All highlight views include both a regular 320 x 240 and a large 640 x 480 view for clear and easy identification.
Support Card
A full color, plastic laminated card that details several vocal pathologies. Included with the Vocal Pathology I software or available separately.
Minimum Requirements:
For Microsoft Windows: An Intel Pentium III 800 processor running Windows 98SE, 2000 SP1, XP SP2, or NT version 4.0 SP6 or later; 512 MB of installed RAM; and a color monitor
Soundcard with MIDI
QuickTime 5.0 or better (latest version installed during setup, Mac assumes prior install)
Free space on hard drive 100 MB
About The Authors
---
Founder, Blue Tree Publishing, Inc.