Publication
Clinical Management of Swallowing Disorders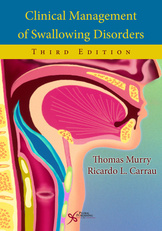 Desk Copy for Instructors
Clinical Management of Swallowing Disorders
Third Edition
Details:

240 pages, Color Illustrations (4 Color), Hardcover, 8.5 x 11"
ISBN13:

978-1-59756-425-0
Release Date:

03/30/2012
$104.95
Overview
THE FOURTH EDITION WILL BE AVAILABLE IN DECEMBER 2016. CLICK HERE FOR MORE INFORMATION.***

The diagnosis and treatment of swallowing disorders continues to evolve into a major medical discipline that traverses multiple medical specialties, especially speech-language pathology and otolaryngology. Clinical Management of Swallowing Disorders, Third Edition is a core textbook that addresses the needs of those who will treat swallowing disorders as well as clinicians who currently treat swallowing disorders in hospitals, rehabilitation centers, nursing homes, and private outpatient clinics. The essential aspects of dysphagia management are presented in a format that both beginners and clinicians needing a practical update on dysphagia will find useful.
The textbook has been extensively revised and expanded, and now includes an entirely new chapter on pediatric feeding and swallowing. Heavily revised chapters on surgical treatment of dysphagia and nutritional aspects of swallowing are also new features. The glossary has been expanded to offer a comprehensive list of definitions of swallowing-related diseases and disorders. The authors, a speech-language pathologist and and otolaryngologist, each bring their specific contributions to this highly successful textbook.
A workbook and CD are also available to aid instructors in the delivery of content and to enhance and reinforce student comprehension.
Lean about the Clinical Management of Swallowing Disorders Workbook, Third Edition.
Learn about Clinical Management of Swallowing Disorders: A Companion CD, Third Edition.
Save 15% when you buy the textbook and workbook together.
Save 15% when you buy the textbook, workbook, and CD together.
Reviews
Alan Micco, M.D.(Northwestern University Feinberg School of Medicine), Doody's (December 2012):
"As swallowing disorders are difficult for many clinicians to manage, this book is a useful tool. The authors describe different management options, highlighting how management varies depending on the patient and underlying etiology of the swallowing disorder. ...This is a well-written book for the intended audience and is a good clinical overview of a challenging medical problem."

Nathan Gonik, MD, Annals of Otology, Rhinology, and Laryngology (2012):
"This edition differs from its predecessor most notably by the inclusion of new outcome data and an additional chapter focusing on pediatric swallowing disorders.... [T]he book should be appropriate for any practitioner trying to better understand the complex array of swallowing disorders."

Ashli O'Rourke, MD, Head & Neck 36: 152 (Jan 2014):
"The Clinical Management of Swallowing Disorders; 3rd edition, by Thomas Murry and Ricardo Carrau, is set apart from other dysphagia texts by its unflagging adherence to a clinical focus on the management of swallowing disorders. It is a difficult task to cover such a broad topic as dysphasia evaluation and management succinctly, but the authors do this well. From two different clinical perspectives, the authors share their vast experience in a straightforward writing style.

This text provides the speech-language pathology students, new practicing speech-language pathologists, medical student, or resident a practical framework for the diagnosis and management of swallowing problems by providing a thorough overview of dyshpagia etiology, an expanded glossary, and easy-to-comprehend explanations of complex disease processes. Study questions at the end of each chapter gives readers the chance to assess their comprehension of the chapter's subject matter, while a discussion question encourages readers to apply this knowledge further. In addition, the authors refer readers to additional resources beyond the text and provide an excellent up-to-date review of the literature. This allows the bibliography for each chapter to become a starting point for further learning.

...More seasoned dysphagia therapists will find this book a quick, practical reference text... This 3rd edition includes a new chapter on pediatric swallowing disorders, which nicely rounds out the topics included in the text... In the end, the authors are able to fluidly distill the complexity of a broad disorder such as dysphagia into a readable format. This book meets the need for a thorough, yet concise, text that conveys the most pertinent information in an accessible manner."

Nadia Ashraf, BMedSci (Hon), DA (SA), MRCS, DOHNS, ENT & Audiology News (September 2014):
"This is a comprehensive and readable text on swallowing disorders. The are boxed key to points to emphasize important areas of knowledge and summary tables throughout. This clinically focused book is likely to be most useful for speech-language pathologists, but would be invaluable to otolaryngologists wishing to have a thorough understanding of swallowing disorders and their management. The textbook has an associated workbook and CD. The workbook provides true/false, multiple chose, written, and project-based questions as a useful way of summarising and consolidating knowledge from each chapter of the book. The CD provides excellent accompanying resources including seven short high-quality video clips of fibreoptic endoscopic evaluation of swallowing (FEES) in various clinical conditions, along with an explanatory powerpoint presentation highlighting key features of each video and condition. This is not just a textbook, but a comprehensive package of knowledge to allow the reader to consolidate and improve his/her understanding of swallowing disorders and teach others from the provided resources."
Preface
Acknowledgments
I. Introduction to and Epidemiology of Swallowing Disorders
Introduction
Need for Early Intervention
Epidemiology
Summary
Study Questions
Discussion Questions
References
II. Anatomy and Function of the Swallowing Mechanism
Introduction
The Normal Swallow
Sphincters
Cranial Nerves Involved in Swallowing
Central Neural Control
Respiration
Summary
Study Questions
Discussion Question
References
III. The Abnormal Swallow: Conditions and Diseases
Introduction
Neurological Disorders
Conditions Found in Critical Care Patients
Esophageal Disorders
Infectious Diseases
Medications
Neoplasms
Swallowing Disorders Following Radiation Therapy
Intubation
Autoimmune Diseases
Summary
Study Questions
Discussion Questions
References
IV. Swallowing Disorders Arising from Surgical Treatment
Introduction
Anterior Cervical Spinal Surgery (ACSS)
Head and Neck Surgery
Floor of the Mouth Surgery
Partial Glossectomy
Palate Surgery
Lip Surgery
Mandibular Surgery
Oropharyngeal Surgery
Hypopharyngeal Surgery
Skull Base Surgery
Tracheotomy
Zenker Diverticulum
Summary
Study Questions
Discussion Questions
References
V. Evaluation of Dysphagia
Introduction
Dysphagia Screening
Case History and Bedside Swallow Evaluation (BSE)
Instrumental Tests of Swallow Function
Summary
Study Questions
Discussion Questions
References
VI. Nonsurgical Treatment of Swallowing Disorders
Introduction
Compensatory Swallowing Therapy
Rehabilitative Swallowing Therapy
Summary
Study Questions
Discussion Questions
References
VII. Prosthetic Management of Swallowing Disorders
Introduction
Oral Prosthodontics and Dentures
Palate Lowering Prostheses
Soft Palate Prostheses
Lingual Prostheses
Speaking Valves
Physical and Environmental Adjustments
Summary
Study Questions
Discussion Questions
References
VIII. Surgical Treatment of Swallowing
Introduction
Vocal Fold Medialization
Palatopexy
Pharyngoesophageal Dilation
Surgical Closure of the Larynx
Gastrostomy
Tracheotomy
Tracheostomy Tubes
Swallowing Following Head and Neck Cancer
Summary
Study Questions
Discussion Questions
References
IX. Pediatric Swallowing and Feeding Disorders
Introduction
Incidence of Feeding and Swallowing Disorders in the Pediatric Populations
Anatomy
Physiology
Instrumental Examination
Radiological Examination
FEES and FEESST Examinations
Treatment of Feeding and Swallowing Disorders
Options and Considerations in Treatment of Feeding Disorders in Infants and Children
Additional Factors in Infant Feeding and Swallowing
Summary
Study Questions
Discussion Questions
References
X. Nutrition and Diets
Introduction
Properties of Liquids and Foods
Oral Nutrition and Dysphagia Diets
Nonoral Diets
Malnutrition and Dehydration
Nutrition in the Aging Population
Summary
Study Questions
Discussion Questions
References
XI. Patients with Voice and Swallowing Disorders
Introduction
Diagnosis
Instrumentation
Personnel
Facilities
Case Studies from Voice and Swallowing Centers
Summary
Study Questions
Discussion Questions
References
Glossary
Appendix I: Eating Assessment Tool (EAT-10)
Appendix II: Reflux Finding Score (RFS)
Appendix III: Reflux Symptom Index (RSI)
Appendix IV-A: Voice Handicap Index (VHI)
Appendix IV-B: Voice Handicap Index (VHI-10)
Answers to Study Questions
Index
About The Authors
Thomas Murry, PhD, is Professor of the Department of Otolaryngology-Head and Neck Surgery at Loma Linda University Health and Co-director of the Voice and Swallowing Center, Loma Linda University. Dr. Murry has distinguished himself as an educator, scientist, and clinician in the areas of swallowing and voice disorders. He received the Honors of the American Speech-Language and Hearing Association, the association's highest honor in 2010.
---
Ricardo L. Carrau, MD, FACS, joined the Department of Otolaryngology-Head and Neck Surgery Department at The Ohio State University as a tenured professor in April 2011. He is Director of the Comprehensive Skull Base Surgery Program and Co-director of the research and education laboratory ALT-VISION (Anatomy Laboratory Toward Visuo-Spatial Innovations in Otolaryngology and Neurosurgery). He also organizes, develops, and promotes the sialendoscopy and salivary disorders program and the swallowing disorders rehabilitation program.