Publication
Dysphagia Assessment and Treatment Planning Workbook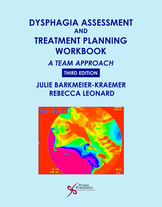 Desk Copy for Instructors
Dysphagia Assessment and Treatment Planning Workbook
A Team Approach
Third Edition
Details:

256 pages, Illustrated (B/W), Spiral Bound, 8.5 x 11"
ISBN13:

978-1-59756-466-3
Release Date:

06/13/2013
$59.95
Overview
This workbook was designed as a companion to the textbook Dysphagia Assessment and Treatment Planning, Third Edition by Rebecca Leonard and Katherine Kendall.Based on Dr. Barkmeier-Kraemer's 14 years of experience teaching and training graduate students and colleagues in the area of dysphagia, a variety of activities and questions were formulated to facilitate understanding and engagement of each chapter in the associated textbook. The workbook includes quiz questions, figure labeling, case-based problem solving, application of videofluorographic and FEES measures or ratings, as well as report writing. Answers or model responses are provided at the end of the workbook for the reader's reference.
The activities provided in the Dysphagia Assessment and Treatment Planning Workbook, Third Edition will help readers improve their understanding and implementation of clinical instruction in the area of dysphagia.

Learn about the textbook Dysphagia Assessment and Treatment Planning, Third Edition.
RELATED TITLE
Case Studies in Dysphagia Malpractice Litigation by Dennis Tanner, PhD
Drawing on his experiences as an expert witness in numerous medico-legal cases, Dr. Tanner provides reviews issues that may lead to malpractice litigation.
Click here for more information.
Introduction
Acknowledgments
Chapter 1: Anatomy & Physiology of Deglutition Questions
Chapter 2: Head and Neck Physical Exam Questions
Chapter 3: Dysphagia in Head and Neck Surgery Patients Questions
Chapter 4: Neurogenic Dysphagia Questions
Chapter 5: Esophageal Phase Dysphagia Questions
Chapter 6: Laryngopharyngeal Reflux Questions
Chapter 7: Nursing Evaluation and Care of the Dypsphagia Patient Questions
Chapter 8: Clinical Swallow Evaluation Questions
Chapter 9: Pediatric Clinical Feeding Assessment Questions
Chapter 10: Nutritional Concerns and Assessment in Dysphagia Questions

Chapter 11: Endoscopy in Assessing and Treating Dysphagia Questions
Chapter 12: Radiographic Evaluation of the Pharynx and Esophagus Questions
Chapter 13: Other Technologies in Dysphagia Assessment Questions
Chapter 14: Dynamic Swallow Study: A Swallow Evaluation with Videofluoroscopy Questions
Chapter 15: DSS Analysis and Interpretation: A Systematic Approach for the Clinician Questions
Chapter 16: Dynamic Swallow Study: Objective Measures and Normative Data in Adults Questions
Chapter 17: Dynamic Swallow Studies: Measurement Techniques Questions
Chapter 18: The Treatment Plan Questions
Answers to Questions
References
About The Authors
Julie Barkmeier-Kraemer, PhD, CCC-SLP, is a professor in the Department of Surgery, Division of Otolaryngology, Voice Disorders Center Clinic Director, and adjunct faculty to the Communication Sciences and Disorders program at the University of Utah. Dr. Barkmeier-Kraemer received her master's and doctorate degrees in Speech Pathology and Audiology from the University of Iowa. She completed postdoctoral research at the National Institutes of Health in the Voice and Speech Section directed by Christy Ludlow, PhD, while serving on the faculty in the Department of Speech, Language, and Hearing Sciences for 14 years at the University of Arizona. Dr. Barkmeier-Kraemer developed and taught courses in Anatomy and Physiology of the Speech Mechanism, Voice Disorders, and Dysphagia and also participated as a faculty member in the Graduate Interdisciplinary Programs in Neuroscience and Biomedical Engineering. Her primary research addresses the sensorimotor controls of the larynx for respiration, voicing, and swallowing with recent involvement in a multisite effort to develop an infant and child feeding and swallowing screening instrument for use by primary care providers.
---
Rebecca Leonard, PhD, CCC-SLP, is a Professor Emeritus in the Department of Otolaryngology at the University of California, Davis, and former Clinical Director of the Voice-Speech-Swallowing Center in the ENT Clinic. Dr. Leonard continues to be actively involved in research activities associated with the center. Her research interests include normal and disordered swallowing, changes in swallowing across the life span, development of quantitative radiographic techniques to assess the upper airway and esophagus during swallowing, aversive effects on structures of the upper airway associated with environmental stimuli (ozone), and the effects of ablative procedures on voice, speech, and swallowing and the rehabilitation of these effects with prosthetic appliances and reconstructive procedures. Her MS and PhD degrees are from Purdue University, and she is a Fellow of the American Speech-Language-Hearing Association.