Publication
Dysphagia in Neuromuscular Diseases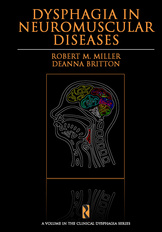 90-Day Exam Copy for Instructors
Dysphagia in Neuromuscular Diseases
Details:

250 pages, Illustrated (B/W), Softcover, 7 x 10"
ISBN13:

978-1-59756-369-7
Release Date:

05/01/2011
Overview
Currently, there are very few resources that provide guidance for practicing clinicians in the area of neuromuscular diseases. Dysphagia in Neuromuscular Diseases approaches the subject in a unique manner, allowing clinicians to develop insights into diseases, syndromes, and neurological conditions that extend even beyond those specifically addressed in the text. Compared to competitive texts, this book uniquely provides in-depth coverage specific to dysphagia research with a much broader spectrum of neuromuscular diseases, and employs a physiologically based taxonomy.
Recognizing there is no universally accepted methodology for classification of neuromuscular diseases, the authors have addressed this dilemma in three ways: (1) outlining the levels of the neuromuscular system, extending from the central nervous system to the muscle, with chapters devoted to diseases that are representative of pathologies at each level; (2) outlining normal respiratory physiology and airway defense mechanisms, with discussion of how these are altered by various neuromuscular disease processes and how this affects risk for secondary medical complications such as pneumonia; and (3) describing the neuromuscular conditions that are associated with the various diseases with discussion of approaches to evaluation, management and treatment that address the nature of the impairment.
With over 50 years of combined clinical practice and extensive experience in working with patients diagnosed with various neuromuscular diseases, the authors offer practitioners the best available evidence to support treatment decisions.
RELATED TITLE
Case Studies in Dysphagia Malpractice Litigation by Dennis Tanner, PhD
Drawing on his experiences as an expert witness in numerous medico-legal cases, Dr. Tanner provides reviews issues that may lead to malpractice litigation.
Click here for more information.
Clinical Approaches to Neuromuscular Disorders

Overview of Neuromuscular Disorders
Evaluation of Neuromuscular Disorders

Clinical Swallow Examination in Neuromuscular Disorders
Role of Instrumental Examinations in Neuromuscular Disorders
Neurological Evaluation

Signs and Symptoms of Dysphagia in Patients with Neuromuscular Disorders

Principles of Care for Patients with Neuromuscular Disorders
Neuromuscular Disorders Which May Result in Dysphagia

Muscle Disorders

Muscular Dystrophies
Inflammatory Myopathies

Neuromuscular Junction

Myasthenia Gravis
Lambert-Eaton Syndrome

Peripheral Nerve

Charcot-Marie-Tooth
Polyneuropathy
Guillain-Barre Syndrome

Central Nervous System

Motor Neuron Diseases
Demyelinating Diseases
About The Authors
Robert M. Miller, PhD, is a Senior Lecturer in the Department of Speech and Hearing Sciences at the University of Washington and holds adjunct faculty positions in Rehabilitation Medicine and Otolaryngology/Head and Neck Surgery. He spent the first thirty-two years of his career in clinical practice for the Department of Veterans Affairs and was Chief of Audiology and Speech Pathology at VA Puget Sound Health Care System. He is a Fellow of the American Speech-Language-Hearing Association and holds board certification from the Academy of Neurologic Communication Disorders and Sciences. He received the 1997 Outstanding Clinical Achievement Award from the Washington Speech and Hearing Association and was honored with the Distinguished Career Award from the Department of Veterans Affairs. In 2005 he was awarded a Visiting Erskine Fellowship from the University of Canterbury, Christchurch, New Zealand. His current areas of teaching are in neural basis for communication and swallowing and dysphagia.
---
Deanna Britton is a Speech-Language Pathologist at the University of Washington Medical Center (UWMC) and doctoral candidate in the Department of Rehabilitation Medicine at the University of Washington (Seattle). In her clinical practice, she sees patients with swallowing, speech, respiratory, language, and other communication problems that occur due to a variety of neurological and other pathological conditions. She is Board Certified in Neurogenic Communication Disorders in Adults by the Academy of Neurological Communication Disorders and Sciences (ANCDS). She has published and presented on topics related to dysphagia, augmentative and alternative communication, respiratory support for speech and swallowing, motor neuron disease, and spinal cord injury.