Publication
Early Development of Children with Hearing Loss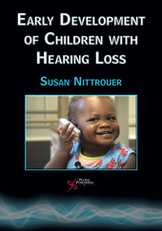 90-Day Exam Copy for Instructors
Early Development of Children with Hearing Loss
Details:

359 pages, Illustrated (B/W), Softcover, 7 x 10"
ISBN13:

978-1-59756-323-9
Release Date:

07/01/2009
Overview
Until recently, congenital hearing loss was a condition that generally curtailed a child's ability to develop the language of the ambient community and to succeed in mainstream educational settings. Two technological advances have radically changed that outlook for children with hearing loss: methods for screening hearing at birth and cochlear implants. This new book, based around a large-scale study, examines how closely the developmental trajectories of children with hearing loss matches those of children with normal hearing.
While the two changes described above have altered prognoses for children with hearing loss, the author also discusses results from relevant areas of psycholinguistic study where there has also been a shift in perspective among psycholinguists studying the processing of speech that could, and perhaps should, affect intervention.
The book unpacks many ideas that have been cornerstones of intervention for young children with hearing loss, and the source of much controversy. It comes at a time when there have been many developments regarding treatment options for children with hearing loss that are difficult to interpret within the context of traditional approaches.
Early Development of Children with Hearing Loss: Interview with Susan Nittrouer, PhD
Douglas L. Beck, AuD, speaks with Dr. Nittrouer about language development, sign language, adoption, cochlear implants, and her new book, Early Development of Children with Hearing Loss (published by Plural Publishing).
Read the interview here, or as PDF.
Interview republished with permission from the American Academy of Audiology. Copyright 2011
Preface
Acknowledgements
Chapter 1 A Shared History: Putting This Book in Cultural Perspective
Chapter 2 The Emergence of Language
Chapter 3 Development of Children with Hearing Loss: State of Our Knowledge
Chapter 4 Participants and Procedures: How Independent Sources of Variability Were Handled
Chapter 5 Behavior, Personality, and Cognition
Chapter 6 Basic Language Measures: Comprehension, Vocabulary, and Intelligibility
Chapter 7 Language in the Real World: What We Learn From Natural Samples
Chapter 8 Real-World Language: Developing Native Competencies
Chapter 9 Treatment Effects
Chapter 10 All About Parents
Chapter 11 Putting It All Together: A Latent Measure of Language Acquisition
Chapter 12 Considering the Past, Planning For the Future
Appendix A Educational and Occupational Scales For Indexing Socio-Economic Status
Appendix B: Decision Tree For Scoring Children's Language Samples
Appendix C: Communicative Acts Used For Scoring Children's Language Samples
Appendix D: Communication Acts Used For Scoring Parental Language Samples
Appendix E: A Slightly Different Version of Figure 12-1
Index
About The Author
Susan Nittrouer is Professor and Director of Research in the Department of Otolaryngology-Head & Neck Surgery at the Ohio State University Medical Center, Columbus.