Publication
Evaluation and Management of Cleft Lip and Palate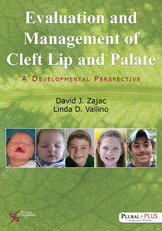 Desk Copy for Instructors
Evaluation and Management of Cleft Lip and Palate
A Developmental Perspective
Details:

418 pages, Color Illustrations (4 Color), Softcover, 7 x 10"
Included Media:

Companion Website
ISBN13:

978-1-59756-551-6
Release Date:

02/15/2016
Overview
Evaluation and Management of Cleft Lip and Palate: A Developmental Perspective provides fundamental knowledge of cleft palate anomalies and the current state of evidence-based practice relative to evaluation and management. This text contains information on the standard of care for children born with craniofacial anomalies from a developmental perspective along with clinical case studies to help facilitate understanding of the material. This graduate-level text targets speech-language pathology students, as well as audiology students, medical students, and graduate students studying communication disorders.
Why adopt this textbook:
Provides a developmental focus that provides a better understanding of the nature of craniofacial problems and the timetable for management and treatment
Covers material in a data-driven and evidenced based format, blending scholarly and clinical information
Well-illustrated with clear colored pictures-many of which are actual structures and people rather than line drawings-including pre- and post-treatment results
Presents the role of the speech-language pathologist in all aspects of care (i.e., before and after surgery from infancy to adulthood)
Emphasizes oral conditions (dental and occlusal) that impact speech in the school-aged child
Full color text with more than 200 images
Compared with other textbooks this book covers:
An entire chapter devoted to adults with cleft lip and palate underscoring quality of life
An entire chapter on the school-aged child
A detailed chapter devoted to alveolar bone graft with detailed photo illustration and discussion of treatment outcome
Detailed chapter on maxillary advancement with detailed photos, discussion of treatment outcomes related to speech, airway, and hearing
Presentation of surgical treatment based on development age
Chapter on hearing offers a practical approach to ear problems and hearing loss associated with cleft and craniofacial anomalies, and provides a summary of hearing tests that should be familiar to the reader and suggestions about counseling families
Chapters on Speech Characteristics and Assessment are written from a speech science perspective and evidence-based

Ancillaru materials on a PluralPlus companion website include:
Accompanying multiple choice and critical thinking questions with guided answers to ensure appropriate understanding of the material
High quality audio clips with case histories
Review
Jacqueline Robins, Msc., CCC-SLP, . (May 2016):
"I'm a licensed SLP who has been practicing for 13 years. I also have a son who was born with a complete cleft of the hard and soft palate. There is no single text that offers such a comprehensive look at cleft lip and palate. The photographs offer some of the clearest pictures I have ever seen of the anatomy, development, devices and surgical repair techniques and in turn, these photographs enhance understanding in here areas. Chapter 10 (school based intervention) should be mandatory study for any SLP wanting to work in schools. It offers guidelines for treatment based functional assessment techniques of a child with a cleft. It is clear and concise while simultaneously providing a plethora of information. Lastly, the chapter on speech and resonance characteristics offers an unbelievable compilation of information. The tables summarize large amounts of information into very readable format. I wish this text had been available when I was in school. I've been looking for a text like this for the last 7 years and finally, I feel like I have the information that I've been looking for."
Preface
Acknowledgements
Contributors
Part I. Fundamentals
Chapter 1. Orofacial and Velopharyngeal Structure and Function
Jamie Perry and David J. Zajac
Chapter 2. Clefts of the Lip and Palate
Chapter 3. Syndromes and Associated Anomalies
Part II. Birth to Age Three
Chapter 4. Feeding the Newborn
Chapter 5. Presurgical and Surgical Management
Chapter 6. Hearing and Otologic Management
Chapter 7. Early Linguistic Development and Intervention
Nancy J. Scherer

Part III. Early to Middle School Age
Chapter 8. Speech and Resonance Characteristics
Chapter 9. Assessment of Speech and Velopharyngeal Function
Chapter 10. School-Based Intervention
Dennis M. Ruscello
Chapter 11. Secondary Management of Velopharyngeal Inadequacy
Chapter 12. Alveolar Cleft Repair
Joseph A. Napoli
Part IV. Adolescents and Adults
Chapter 13. Maxillary Advancement
Joseph A. Napoli and Linda D. Vallino
Chapter 14. The Adult With Cleft Lip and Palate
Glossary of Terms
Index
About The Authors
David J. Zajac, PhD, CCC-SLP, FASHA is Professor in the Department of Dental Ecology, School of Dentistry, and Adjunct Associate Professor in the Division of Speech and Hearing Sciences, Department of Allied Health Sciences, School of Medicine at the University of North Carolina at Chapel Hill. He also serves as director of speech-language pathology in the Craniofacial Center. Dr. Zajac completed his master's degree and PhD in communicative disorders at the University of Pittsburgh. He has over 25 years of experience in the assessment and treatment of children and adults with craniofacial disorders. His research interests include the acoustics and aerodynamics of speech production by normal individuals and those with cleft palate. His research has been funded by the National Institutes of Health for over 20 years. He has presented numerous research papers, written six book chapters, and authored or co-authored over 40 research articles. Dr. Zajac is a Fellow of the American Speech Language Hearing Association and past associate editor for the Journal of Speech, Language, and Hearing Research.
---
Linda D. Vallino, PhD, CCC-SLP/A, FASHA is head of the Craniofacial Outcomes Research Laboratory in the Center for Pediatrics Auditory and Speech Sciences and Senior Research Scientist at Nemours/Alfred I. DuPont Hospital for Children in Wilmington, Delaware where she also serves on the Cleft Palate-Craniofacial Team. She is Clinical Professor of Pediatrics at Sidney Kimmel Medical College-Jefferson Medical University and Adjunct Associate Professor in the Department of Linguistics and Cognitive Sciences at the University of Delaware. Dr. Vallino completed her doctoral degree at the University of Pittsburgh and received a master's degree in Clinical Evaluative Sciences from Dartmouth College. As a clinician and clinical speech scientist, Dr. Vallino has 30 years of experience specializing in children and young adults with cleft palate-craniofacial anomalies. She has published papers, written book chapters, made presentations at scientific meetings in the area of cleft and craniofacial anomalies. Her research interests include speech sound disorders and automated speech recognition technology to assess speech intelligibility in children with cleft palate, and transition of care in young adults with cleft and craniofacial anomalies palate. Dr. Vallino holds the Certificate of Clinical Competence in both Speech-Language Pathology and Audiology and is an ASHA Fellow.
Purchasers of this book receive complimentary access to supplementary materials hosted on a PluralPlus companion website.
The materials include:
Accompanying multiple choice and critical thinking questions with guided answers to ensure appropriate understanding of the material
High quality audio clips with case histories

To access the materials, log in to the website using the URL and Access Code located inside the front cover of your copy of Evaluation and Management of Cleft Lip and Palate: A Developmental Perspective.