Publication
Essentials of Modern Hearing Aids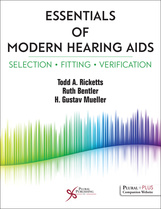 Desk Copy for Instructors
Essentials of Modern Hearing Aids
Selection, Fitting, and Verification
Details:

1000 pages, Illustrated (B/W), Hardcover, 8.5 x 11"
Included Media:

Companion Website
ISBN13:

978-1-59756-853-1
Release Date:

12/29/2017
$159.95
Overview
Essentials of Modern Hearing Aids: Selection, Fitting, and Verification is a comprehensive textbook, ideal for graduate-level amplification courses in audiology programs. It also is the ultimate go-to reference for anyone fitting and dispensing hearing aids. This is truly an "A to Z" textbook, with topics including audiologic pre-fitting testing, needs assessment and treatment planning, hearing aid selection, verification, orientation and counseling, post-fitting follow-up, and real-world validation. Moreover, a substantial portion of the book reviews the underlying up-to-date design and function of digital hearing aid components, circuitry and processing, the wide assortment of hearing aid features, and the many algorithms that make these features work successfully.
The world-renowned authors have included numerous pre-fitting and post-fitting tests that can be conducted along with step-by-step protocols for their administration and scoring. They also review the selection of hearing aid styles and fitting arrangements, explain the process of obtaining an ear impression, and making critical decisions regarding earmolds and hearing aid plumbing. Essentials of Modern Hearing Aids provides guidance for selecting prescriptive fitting approaches and detailed protocols for the use of behavioral measures and real-ear speech mapping to both verify the fitting and assess special hearing aid features. Follow-up care and validation options also are reviewed, with detailed guidelines for using a wide range of outcome measures.
Key Features
Included throughout the text are short paragraphs identified as "Technical Tips," "Key Concepts," "Things to Remember," "Points to Ponder," and "Soapbox" for quick reference.
The text covers both foundation and direct clinical application.
The veteran authors have over 100 years of combined experience in day-to-day patient care and clinical research.
Essentials of Modern Hearing Aids is infused with humor!
The text comes with a PluralPlus companion website with many of the forms and scoresheets needed to facilitate the pre- and post- fitting measures described in the text as well as PowerPoint slides with all of the figures from the text arranged by chapter.

Written in an accessible and easy-to-read style, this text includes not only reference information, but also tools supported by research and clinical experience. The information is presented in a way that is both accessible to clinical students with little experience in the field and with enough depth for even the serious hearing aid researcher. The text is also appropriate as a handy companion for busy clinicians - a friendly resource where they can quickly find critical information needed for the next patient.
Preface
Chapter 1. Evidenced-Based Practice
Chapter 2. The Audiologist and Hearing Aid Provision
Chapter 3. Understanding the Hearing Aid Candidate
Chapter 4. Speech Acoustics
Chapter 5. Pre-Fitting Tests Using Frequency-Specific Measures
Chapter 6. Pre-Fitting Testing Using Speech Material
Chapter 7. Self-Assessment Scales for Pre-Fitting Testing
Chapter 8. Hearing Aid Styles and Fitting Applications
Chapter 9. Ear Impressions, Earmolds, and Associated Plumbing
Chapter 10. Hearing Aid Hardware and Software: The Basics
Chapter 11. Signal Classification and Sound Cleaning Technologies
Chapter 12. More Hearing Aid Features and Algorithms
Chapter 13. Electroacoustic (and Other) Quality Control Techniques
Chapter 14. Prescriptive Formulas and Programming
Chapter 15. Behavioral Assessment During Clinical Fittings
Chapter 16. Probe-Microphone Measures: Rationale and Procedures
Chapter 17. Probe Microphone Clinical Uses
Chapter 18. Hearing Aid Orientation and Troubleshooting
Chapter 19. Validation: Self-Report Outcomes
Chapter 20. Supplemental Information: Corrections, Conversions, and Calculations
References
Index
About The Authors
Todd A. Ricketts, PhD is a professor at Vanderbilt University Medical Center, Vice Chair of graduate studies in the Department of Hearing and Speech Sciences, and the director of the Dan Maddox Hearing Aid Research Laboratory. He is a fellow of the American Speech and Hearing Association and the American Academy of Audiology.
---
Ruth Bentler, PhD is professor in the Department of Communication Sciences and Disorder at the University of Iowa. A native Iowan, Dr. Bentler did not stray far from her roots, as her 40-year professional career has been at the University of Iowa, where she also obtained her professional degrees.
---
H. Gustav Mueller, PhD, is a Professor of Audiology at Vanderbilt University and holds faculty positions with the University of Northern Colorado and Rush University. He is the senior audiology consultant for the Sivantos Hearing Group and contributing editor for AudiologyOnline.

Purchasers of this book receive complimentary access to supplementary materials hosted on a PluralPlus companion website.

To access the materials, log in to the website using the URL located inside the front cover of your copy of Essentials of Modern Hearing Aids.

STUDENTS:
To access the student materials, you must register on the companion website and log in using the access code located inside the front cover of your textbook.

INSTRUCTORS:
To access the instructor materials, you must contact Plural Publishing, Inc. to be verified as an instructor and receive your access code.

Email: information@pluralpublishing.com
Tel: 866-758-7251 (toll free) or 858-492-1555