Publication
Electronystagmography/Videonystagmography (ENG/VNG)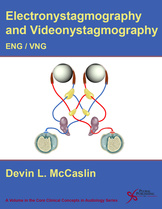 90-Day Exam Copy for Instructors
Electronystagmography/Videonystagmography (ENG/VNG)
Details:

224 pages, Color Illustrations (2 Color), Softcover, 8.5 x 11"
ISBN13: 978-1-59756-412-0

Release date: 09/28/2012
Overview
This book provides a concise guide to conducting and interpreting the electronystamography/ videonystagmography examination. In order to provide a foundation for understanding ENG/VNG test results, the early sections of the text are dedicated to a description of normal and impaired peripheral and central vestibular system function. Also addressed is the process of central nervous system compensation. These sections are followed by a description and interpretation of the ENG/VNG subtests including: ocular motor testing, positional/ing testing and caloric testing. Finally, examples of counseling materials and illustrative case studies that serve to highlight the principles and techniques covered in the manual are provided. This text is designed to be a practical and portable resource for use in the clinic. It may serve as a text for students in training or as a practical summary of existing larger textbooks.
Doug Beck interviews Plural Author Devin McCaslin. Click here to read the full interview.
Reviews
John E FitzGerald BSc PhD CS, Consultant Clinical Scientist, Head of Audiological Services, Norfolk & Norwich University Hospitals, UK, ENT & audiology news, Vol 23 No 5, (November/December 2014):
"This book provides a good reference for anyone starting out in the field of balance assessment, and would be a useful book in any balance assessment clinic as a source of information from anatomy to test interpretation.

Anatomy and physiology are presented clearly in a way that relates to testing performed in the clinic. Clearly labeled diagrams step through the physiological responses from a basic level. Peripheral vestibular impairment and the processes of central nervous system compensation are described thoroughly with clear diagrams to explain the processes....

A section on history taking will help the balance student structure and work through a history to develop an impression of the patient's condition. There is a chapter dedicated to describing ENG and VNG and eye movement examinations with a description of the pathologies indicated, with a few trace examples to show abnormal results.

BPPV in all its various forms is well described with details on the anatomy physiology testing and treatment being covered and well referenced....

There are six appendices which include a selection of useful questionnaires and information leaflets for patients.

... [O]verall this is an ideal book for those wanting to learn about vestibular testing or to develop their knowledge through the reference section."

David S. Velenovsky, PhD, CCC-A, Ear and Hearing, (March/April 2015):
"Electronystagmography and Videonystagmography (ENG/VNG) is written as a practical, comprehensive guide to performing, analyz- ing, and interpreting vestibular evaluations using ENG and VNG. The target audience comprises both clinicians and students. Devin McCaslin, the author, is an associate professor in the Department of Hearing and Speech Sciences, Communicative Disorders, Vander- bilt Bill Wilkerson Center at Vanderbilt University. Over the 10+ years he has been at Vanderbilt, he has performed thousands of ves- tibular evaluations. In addition, he has authored many journal arti- cles on the subject of vestibular disorders and evaluation. He brings a wealth of practical, evidence-based knowledge to the subject area.

Overall, ENG/VNG is clearly written and easy to read. The seven chapters are logically organized with large, clearly labeled headings, making it easy to search through the book to find information on specific topics. There are chapters covering the neural control of eye movement, the anatomy and physiology of the vestibular system, peripheral vestibular impairment and CNS compensation, pretest procedures for VNG, eye movement examination, positional and position testing, and the caloric test. The table of contents and robust index allow fast and easy access to information on desired topics. Relevant research in each area discussed in the book is nicely distilled and woven into the text, and there is a wealth of references should the reader wish to further explore concepts covered in the book. The author also includes six very useful appendices that include a dizziness questionnaire, a patient handout for Benign Paroxysmal Positional Vertigo, the balance disorders patient brochure used at Vanderbilt, patient counseling material regarding an explanation of balance function with the patient's own test results factored in along with recommendations, and, finally, a summary sheet for clinicians on the reliability and localizing value of VNG findings.

In summary, ENG/VNG is nicely organized and executed. The text is current and supported by relevant examples from the literature. The author's writing style is straightforward and approachable. ..."
Audience
Primary Subject:
Audiology
/
Vestibular/Balance Assessment and Rehabilitation
Audience Level:
Professional
Preface
Acknowledgments
1 Neural Control of Eye Movements
Introduction
Hierarchy of the Oculomotor System
The "Final Common Pathway" of the Oculomotor System
Premotor System
Saccade System
Pursuit System
Gaze-Holding: The "Neural Integrator"
Optokinetic System

2 Anatomy and Physiology of the Vestibular System
Introduction
Vestibular Hair Cells
Semicircular Canal Anatomy and Physiology
Otolith Organ Anatomy and Physiology
Primary Vestibular Afferent Projections
Anatomy of the Central Vestibular System
Vestibular Nystagmus
The VOR During Sustained Movement

3 Peripheral Vestibular Impairment and Central Nervous System Compensation
Introduction
Effect of Unilateral Vestibular Lesions
Neural Basis of Vestibular Compensation
Laws of Compensation
Caloric Stimulation of the Vestibular System

4 Pretest Procedures for VNG
Introduction
Case History
Assessment of Dizziness Handicap
Chronic Subjective Dizziness
Gross Eye Movement Examination
Otoscopic Examination
The VNG Environment

5 Eye Movement Examination
Introduction
Instrumentation
EOG/ENG: Corneoretinal Potential
Using the CRP to Record Eye Movements
Saccade Test
Gaze Test
Smooth Pursuit Tracking Test
Optokinetic Test

6 Positional and Positioning Testing
Static Positional Testing
Positioning Testing
Treatment of Benign Paroxysmal Positioning Vertigo

7 The Caloric Test
Introduction
Components of the Caloric Test
Instrumentation
Preparation for the Caloric Test
Caloric Test Technique
Analysis of Caloric Responses
Interpretation of Caloric Responses
Technical Tips for Caloric Testing

Appendix A. Dizziness Questionnaire
Appendix B. A Patient's Guide to Benign Paroxysmal Positional Vertigo (BPPV)
Appendix C. Vanderbilt Balance Disorders Laboratory Patient Brochure
Appendix D. Your Balance in 4 Pages Counseling Material
Appendix E. Example Alerting Tasks for Vestibular Testing
Appendix F. Reliability and Localizing Value of VNG Findings
References
Index
About The Author
Devin Lochlan McCaslin, PhD, Vanderbilt Bill Wilkerson Center, Division of Audiology, Balance Disorders Clinic, Nashville, Tennessee.