Publication
Electronystagmography/Videonystagmography (ENG/VNG)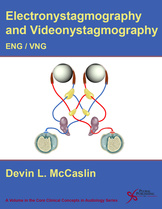 90-Day Exam Copy for Instructors
Electronystagmography/Videonystagmography (ENG/VNG)
Details:

224 pages, Color Illustrations (2 Color), Softcover, 8.5 x 11"
ISBN13: 978-1-59756-412-0

Release date: 09/28/2012
Overview
This book provides a concise guide to conducting and interpreting the electronystamography/ videonystagmography examination. In order to provide a foundation for understanding ENG/VNG test results, the early sections of the text are dedicated to a description of normal and impaired peripheral and central vestibular system function. Also addressed is the process of central nervous system compensation. These sections are followed by a description and interpretation of the ENG/VNG subtests including: ocular motor testing, positional/ing testing and caloric testing. Finally, examples of counseling materials and illustrative case studies that serve to highlight the principles and techniques covered in the manual will be provided. This text is designed to be a practical and portable resource for use in the clinic. It may serves as a text for students training or as a practical summary of existing larger textbooks.
Doug Beck interviews Plural Author Devin McCaslin. Click here to read the full interview.
Audience
Primary Subject:
Audiology
/
Vestibular/Balance Assessment and Rehabilitation
Audience Level:
Professional
Preface
Acknowledgments
1 Neural Control of Eye Movements
Introduction
Hierarchy of the Oculomotor System
The "Final Common Pathway" of the Oculomotor System
Premotor System
Saccade System
Pursuit System
Gaze-Holding: The "Neural Integrator"
Optokinetic System

2 Anatomy and Physiology of the Vestibular System
Introduction
Vestibular Hair Cells
Semicircular Canal Anatomy and Physiology
Otolith Organ Anatomy and Physiology
Primary Vestibular Afferent Projections
Anatomy of the Central Vestibular System
Vestibular Nystagmus
The VOR During Sustained Movement

3 Peripheral Vestibular Impairment and Central Nervous System Compensation
Introduction
Effect of Unilateral Vestibular Lesions
Neural Basis of Vestibular Compensation
Laws of Compensation
Caloric Stimulation of the Vestibular System

4 Pretest Procedures for VNG
Introduction
Case History
Assessment of Dizziness Handicap
Chronic Subjective Dizziness
Gross Eye Movement Examination
Otoscopic Examination
The VNG Environment

5 Eye Movement Examination
Introduction
Instrumentation
EOG/ENG: Corneoretinal Potential
Using the CRP to Record Eye Movements
Saccade Test
Gaze Test
Smooth Pursuit Tracking Test
Optokinetic Test

6 Positional and Positioning Testing
Static Positional Testing
Positioning Testing
Treatment of Benign Paroxysmal Positioning Vertigo

7 The Caloric Test
Introduction
Components of the Caloric Test
Instrumentation
Preparation for the Caloric Test
Caloric Test Technique
Analysis of Caloric Responses
Interpretation of Caloric Responses
Technical Tips for Caloric Testing

Appendix A. Dizziness Questionnaire
Appendix B. A Patient's Guide to Benign Paroxysmal Positional Vertigo (BPPV)
Appendix C. Vanderbilt Balance Disorders Laboratory Patient Brochure
Appendix D. Your Balance in 4 Pages Counseling Material
Appendix E. Example Alerting Tasks for Vestibular Testing
Appendix F. Reliability and Localizing Value of VNG Findings
References
Index
About The Author
Devin Lochlan McCaslin, PhD, Vanderbilt Bill Wilkerson Center, Division of Audiology, Balance Disorders Clinic, Nashville, Tennessee.