Publication
Essential Paths to Life After Residency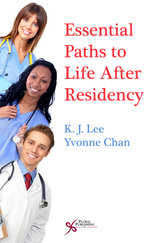 Essential Paths to Life After Residency
Co-Editors: K J Lee, Yvonne Chan
Details:

496 pages, Illustrated (B/W), Softcover, 6 x 9"
ISBN13:

978-1-59756-465-6
Release Date:

09/26/2012
$49.95
Overview
Essential Paths to Life After Residency covers everything from how to prepare for the future during residency, to the various career routes one can take after residency, to the insurance decisions for private practices. It is the ideal reference for students currently in their residency and for those who are interested in starting a practice or entering academia. The breadth of knowledge from the editors and contributors, all of whom have successful, long-standing medical careers, is invaluable.
Dr. K.J. Lee's "common sense pearls" and "common sense nuts and bolts of a usable robust EHR" are included as appendices.
From the Foreword
"Part of the reason recent graduates fear starting a practice or joining a private practice is that they learned nothing about the requirements for success in their training. Training people to do surgery and examine patients is no longer sufficient, no matter the pathway you choose upon graduation. Traditionalists do not see educating trainees in contracting, office management, billing and collection, pension planning, purchasing, and so forth as part of the "academic training". "This book helps set the course for your education. It will enlighten you on the the things that are almost never discussed in medical school or residency."
--Gerald B. Healy, MD, FACS
Professor of Otology and Laryngology, Harvard Medical School
Healy Chair in Otolaryngology Emeritus, Children's Hospital Boston
Reviews
Artur Gevorgyan, MD, MSc, FRCSC, Clinical Fellow, Advanced Rhinology and Skull Base Surgery, Department of Otorhinolaryngology, Academic Medical Centre, University of Amsterdam (January 2013):
"No one has taught us this most vital aspect of being a good physician - running an efficient practice. My generation is lucky to have access to this book. This is the cheapest investment you should make the day you hear you've passed the boards or Royal College exam. In the book, you can find answers to very many questions of which you've never thought. In my case, the book helped me to come up with dozens of questions for the hospital, practice building, colleagues, bankers, lawyers, etc. Systematically asking these questions, picked from the pages of this book, I was able to come up with an educated and organized approach to setting up a practice - something I was never taught through years of residency and schooling prior to it. This book is one investment that will be worth thousands of dollars of saved money not just in the first year, but many years after. Educate yourself in setting up an ENT practice!"

Martha F. Earl, AHIP, Journal of Medical Library Association (January 2014):
"The editors, both otolaryngology professors, at Yale University and at the University of Toronto, respectively, attempt to fill a gap in graduate medical education curricula with this practical book. K. J. Lee, author of ''Essential Otolaryngology'', also lectures on electronic medical records and health policy. Yvonne Chan recently co-edited ''Health Care Reform through Practical Clinical Guidelines: Ear, Nose, and Throat'' with Lee. The editors' goal is to share advice that they received and valued on the topic and to provide recommendations that they wished that they had received…The contributors seek to provide tools for physicians, not politicians, to lead by understanding the business of medicine and the financial options available.

...Doctors graduate with an often unfulfilled need to know about marketing, finance, billing, fee collection, the health insurance industry, hospital administration, contracts, malpractice concerns, salaries, and private practice advantages. In the foreword, Gerald Healy states, "Hospitals will tell you that they understand how to deal with the morass called insurance and thus you should leave it to them and simply work for a salary...They are dead wrong...In this atmosphere, the patient-doctor relationship suddenly erodes" (p. x). The editors admonish readers to be leaders, not followers, and to dispel fear related to considering the possibilities of successful private practice due to lack of knowledge.

The thirty-nine chapters are written by forty-seven contributors, most of whom are otolaryngologists from a range of US and UK academic medical environments and private practice, and representing national professional associations...The book is designed as a practical resource and written in a conversational style. Authors include lessons learned from practice. The goal audience is students who are currently in residency and physicians who are interested in starting a practice. The material provides advice related to the authors' experiences...This title would complement established practice management works...[and] is recommended as a non-core addition for health sciences libraries supporting graduate schools of medicine or teaching hospitals, in particular those with otolaryngology practices, rotations, or fellowships."

LeAnn Jons-Cox, DO, Rocky Vista University College of Osteopathic Medicine, Doody's Review Service (July 2015):
"This book has the noble goal of educating young physicians about the business and legal aspects of medicine and how to transition successfully from residency into practice…It will be most useful to otolaryngology residents, as the career and practice examples are all in this specialty."
Foreword by Gerald Healy
Preface
Contributors

1 From the Eyes of a Resident
2 The Basics of a Practice Setup

Seth M. Brown and Yvonne Chan

3 From the Eyes of a 10-Year Practitioner
4 Academic Practice: Early Career Perspective
5 Academic Practice: A Midcareer Perspective (1)
6 Academic Practice: A Midcareer Perspective (2)
7 Academic Practice: A Chair's Perspective
8 Academic Practice: An Emeritus Perspective
9 What Do You Look for When Recruiting Faculty Members?
10 How Do You Build Succession for Your Department?
11 Solo Practice and Building Up
12 The Solo Practice
13 Transitioning from Solo to Partnership Practice
14 Subspecialty Group
15 Multi-specialty Group Practice: Early Career

Seth M. Brown and Belachew Tessema

16 Multi-specialty Groups: A Midcareer Perspective
17 Multi-specialty Group: A Seasoned Perspective
18 Hospital-Owned Group
19 Analytical Perspective of Academic Medicine, Multispecialty Group Practice, and Hospital-Owned Group
20 Military (and VA) Career

Lee A. Pietrangelo and David Eibling

21 How to Sustain and Grow the Practice Past Ten Years
22 How Do You Wind Down
23 Pros and Cons of Ancillary Services in Otolaryngology

Gavin Setzen, Michael Setzen, Siobhán Kuhar, Adam Weisstuch, and Manderly A. Cohen

24 Understanding Physician Reimbursement
25 Starting a Practice in the Canadian Health Care System
26 Starting a Practice in the UK System — Primary Care Perspective
27 Starting a Practice in the United Kingdom — Specialty Perspective
28 Lifelong Learning

David R. Nielsen and Sonya Malekzadeh

29 Maintenance of Certification
30 Canadian Certification Process
31 How to Work with Software Engineers in Health Information Technology

Gregory J. Clary and K. J. Lee

32 Real Estate

Lloyd Lee, Chieko Yoneyhama, and K. J. Lee

33 Inadequate Insurance or Insurance Poor

Robert F. Eilers Jr., Emily A. Melin, and David Soule

34 Long-Term Care Insurance
35 What Kind of Practice: Legal Entities — Pros and Cons?
36 Practice and Personal Income Tax Planning
37 Now You Have Made It, How to Grow and Protect It

Carolyn A. Matthes and William L. Matthes

38 Ten Tools to Be a Successful Surgeon
39 The Art of Listening and Healing

Appendix A. Common Sense Pearls
Appendix B. Common Sense Nuts and Bolts of a Usable Robust EHR

Index