Publication
Here's How to Provide Intervention for Children with Autism Spectrum Disorder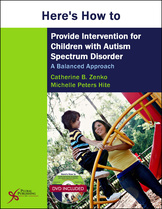 90-Day Exam Copy for Instructors
Here's How to Provide Intervention for Children with Autism Spectrum Disorder
A Balanced Approach
Details:

184 pages, Illustrated (B/W), Softcover, 8.5 x 11"
Included Media:

DVD
ISBN13:

978-1-59756-460-1
Release Date:

08/30/2013
Overview
Here's How to Provide Intervention for Children with Autism Spectrum Disorder is a timely resource for speech-language pathologists working with children on the autism spectrum as well as graduate students preparing to work with this demographic. The authors outline a clear explanation of autism spectrum disorder according to the new DSM-5, showing how it affects communication, socialization, behavior, and learning. Furthermore, they review evidence-based practices and provide tools for instructional strategies. This book doesn't set out to provide a recipe for therapy; rather, guidelines to follow and individualize for each patient.
The video clips on the accompanying DVD allow for multimedia, multisensory learning and provide models for clinicians. The DVD also includes practical applications for the clinical setting derived from research and experience.
Review
Samia Malik, SLT, Mid Yorkshire Hospitals NHS Trust, Royal College of Speech & Language Therapists (2014):
"This is a practical guide to providing intervention for children with autism spectrum disorder. Written in a clear and accessible style, it is packed full of useful ideas, tips and advice. The layout and design of the book means you can pick it up at any stage and find helpful information without the need for any prior reading.

Every chapter provides case studies so you can clearly envisage the application of described strategies. However, what makes this resource truly unique is the supplementary DVD. It includes four case studies of children with varying needs. Not only are there video examples showing how to implement therapy ideas, there are also visual resources such as social stories included as Word/PowerPoint documents that can be adapted to suit a client's needs."
Foreword
Preface
Acknowledgments
Chapter 1 An Overview of Autism Spectrum Disorder
Introduction
Autism Spectrum Disorder (ASD)
Cognitive Characteristics and Learning Styles of Individuals with ASD
Summary: How Does the SLP Fit into the ASD Puzzle?
Learning Tool
Useful Websites
References

Chapter 2 Understanding Behavior
Introduction
What Is Behavior?
Learning Styles, Stress, and Behavior: What's the Connection?
Positive Behavior Support (PBS): What All SLPs Need to Know
Summary
Learning Tool
References

Chapter 3 Assessment
Introduction
Early Identification
Understanding Multidisciplinary Assessments
Assessment of Children with ASD: General Considerations
Designing a Comprehensive Social Communication Assessment
Resources: Speech Language Assessments Helpful for Use with ASD
Informational Story
Learning Tool
References

Chapter 4 Intervention Basics
Introduction
Creating Meaningful Goals
Effective Intervention: Key Concepts
How to Select the Best Evidence-Based Practice Approach
Summary: Ten Basic Intervention Tips to Remember
Learning Tool
References

Chapter 5 Interpersonal Communication
Introduction
The SLP's Role as a Social Communication Interpreter
Emerging Communicators
Early Communicators
Conversational Communicators
Summary
Learning Tool
References

Chapter 6 Communication for Learning
Introduction
Instructional Discourse
Literacy Development in Children with ASD
Integrated Language and Literacy Intervention
Accommodations and Modifications
Summary
Learning Tool
References

Chapter 7 Bringing It All Together: Application and Video Examples
Introduction
Case Study A: F. G.
Case Study B: A. H.
Case Study C: C. S.
Case Study D: M. S.
Summary
Index
About The Authors
Catherine B. Zenko, MS, CCC-SLP is a Florida-licensed speech-language pathologist who has worked with individuals on the autism spectrum for over fourteen years. She is an adjunct lecturer at the University of Florida Dept. of Speech Language Hearing Sciences since 2008 teaching a graduate-level Autism and Augmentative and Alternative Communication (AAC) course and has worked at the University of Florida (UF) Center for Autism and Related Disabilities (CARD) since 2000. While at CARD, Catherine has helped hundreds of individuals with ASD, their families and educators by providing consultation or training opportunities on a myriad of topics relating to best practices and ASD. In addition to her work at CARD, Catherine has conducted training for SLPs, educators, parents and individuals with ASD on local, regional, state, national and international levels. She recently co-authored the revision of Janzen & Zenko (2012) Understanding the Nature of Autism: A guidebook to the Autism Spectrum Disorders, 3rd Edition. San Antonio: Hammill Institute on Disabilities. Catherine received her undergraduate degree in speech-language pathology from The Florida State University and her graduate degree in speech-language pathology from the University of South Florida. She and her husband, Frank live in Gainesville, Florida with their two sons, Tyler and Spencer.
---
Michelle Peters Hite, MS, CCC-SLP has worked as a speech language pathologist (SLP) for over 10 years, specializing in the areas of Autism Spectrum Disorder (ASD) and oral and written language disorders. As a licensed and certified SLP in Florida, she has experience with working directly with families in multiple work settings, including a hospital out-patient clinic and primary and secondary school settings. She has also worked as a consultant at the Center for Autism and Related Disabilities at the University of Florida, and currently as clinical faculty at the University of South Florida (USF) Dept. of Communication Sciences and Disorders. Across the various settings, Michelle has worked with many individuals with ASD, their families, school professionals, and community members. She has conducted numerous trainings and consultations in home, school, and community settings. She has helped create social skills training programs for individuals with ASD, working to improve functional social communication. She currently provides clinical instruction to graduate students in Speech Language Pathology at USF, teaching them to implement evidence-based practices when working with families of children with ASD. Michelle received her undergraduate degree in Communication Sciences and Disorders and her graduate degree in Speech Language Pathology from USF. As a result of her thesis research, she published an article on oral and written language disorders entitled "Spelling patterns in preadolescents with atypical language skills: Phonological, orthographic, and morphological factors" (Silliman, Bahr, & Peters, 2006). Michelle lives in Palm Harbor, Florida with her husband, Robert, and two daughters, Julia and Elise.