Publication
Here's How to Treat Childhood Apraxia of Speech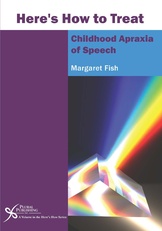 Here's How to Treat Childhood Apraxia of Speech
Details:

316 pages, Illustrated (B/W), Softcover, 8.5 x 11"
ISBN13:

978-1-59756-589-9
Release Date:

09/01/2010
$83.95
Overview
The second edition will be available September 30th!
Little information is available to speech and language pathologists searching for practical ideas about treatment of childhood apraxia of speech. It can be difficult for therapists to determine how to structure treatment sessions, provide reinforcement, use multisensory cues targeted to the learning style of the child, and choose treatment targets based on factors other than phonemes and phonological processes.
Here's How to Treat Childhood Apraxia of Speech empowers speech and language pathologists with a clear vision of systematic treatment approaches to achieve positive outcomes for children with apraxia of speech. Each chapter addresses those questions most commonly posed by speech and language therapists.
The first part of the book defines Childhood Apraxia of Speech (CAS) and describes the characteristics commonly associated with CAS. Guidelines for conducting a motor speech examination are included so that therapists can make treatment plan decisions and develop appropriate goals that address the unique needs of children with apraxia.
The foundations of effective treatment are described, including phoneme sequencing, repetitive practice, intensity of treatment, selection of vocabulary, and use of multisensory cues to facilitate improvement of motor speech skills. Additional considerations are discussed, including vowels, prosody, production of phrases and sentences, and reinforcement/feedback.
A portion of the book provides information that can be distributed to parents in order to help them understand the nature and treatment of CAS in their child. In addition, home program forms and ideas are provided, so that therapists have a structured way of communicating with parents about therapy goals, vocabulary, and extension activities for home practice.
Reviews
Ronna Siegel Woloshin, CCC-SLP, Illinois Speech Language and Hearing Association Newsletter (January 20, 2011):
"...This comprehensive book is very broad in scope, and extremely practical. The author provides very detailed, creative, and practical interventions, while incorporating evidence-based principles of treatment. Detailed sample activities and techniques, and treatment scripts are included, to provide both new and experienced SLPs with practical ways to integrate evidenced-based interventions into their treatment. The author bases these interventions on both published research and her 28 years of clinical experience with the pediatric population. Relevant case studies for a variety of age levels are included throughout the book to support the SLP in developing a comprehensive and highly individualized treatment plan. The author provides extensive lists of activities, games, toys, songs, and books that can be incorporated into treatment, and that offer the child opportunities for repetitive practice. Detailed information on how to write a treatment plan or IEP for children with CAS is shared. Analysis of evaluation results, choosing target utterances for treatment sessions, and progress monitoring charts are among some of the forms that can be immediately put to use. The many visuals of techniques that the author has created and adapted for therapy will save time when planning. The extensive lists of materials and resources for integrating music and repetitive line books into therapy will be extremely valuable.

Here's How to Treat Childhood Apraxia of Speech will help SLPs of all skills levels and experience to gain the knowledge and skills necessary to work more efficiently and effectively with children who have apraxia. This impressive book will be an invaluable resource across a wide variety of therapeutic settings. It can serve as a textbook for students of speech-language pathology, a therapy manual for SLPs who are new to the field, and a resource manual for more experienced SLPs. Readers will gain a much better understanding of CAS, along with many new tools to guide their clinical thinking about every aspect of assessment and intervention. SLPs will come away with a better grasp of traditionally proven methods for intervention, in addition to many creative, practical, and innovative strategies that can immediately be implemented in therapy. The author has done a brilliant job of referencing the research that supports why these interventions are successful with the apraxic population. This book will enable SLPs to enhance their knowledge and skills, and gain confidence when evaluating and treating this complex speech disorder. This outstanding resource should be required reading for every speech-language pathology student and SLP working with apraxic children. Every speech-language pathologist will want to add this valuable book to their collection of therapy resources."

Alicyn Guilfoyle, MS, CCC-SLP, Advance for Speech-Language Pathologists and Audiologists (September 2011):
"Located in the foreword, author Margaret Fish, MS, CCC-SLP, states that the "primary focus of the book is to provide practical suggestions for evaluating children with suspected childhood apraxia of speech (CAS), and planning and implementing effective and efficient treatment for this very challenging population. A number of reproducible forms for analyzing evaluation results, choosing target utterances for treatment sessions, tracking treatment progress, and developing treatment plans are included throughout the book." As a practicing speech-language pathologist, I am often disappointed with the promises of authors who report that reading their book will add to our therapy toolkit, only to be disappointed with the lack of functional sources for therapy with our students and clients. However, I can wholeheartedly promise that Fish will not disappoint you. She maintained her promise and has provided speech-language pathologists with an exemplary and comprehensive overview of the diagnosis and treatment of CAS. Here's How to Treat Childhood Apraxia of Speech is effectively divided into three sections containing separate chapters that guide the reader through all of the challenging diagnostic and therapeutic components of working with a client with CAS. Additionally, there is an extensive glossary that would be helpful for parents, classroom teachers, undergraduate students, or non-professionals who are unfamiliar with the terminology and jargon of the speech pathology world, particularly with CAS. Highly user-friendly reproducible forms are provided in Appendix A, which serve a variety of diagnostic and treatment functions, while Appendix B contains suggestions for materials and resources to "facilitate practice of speech praxis skills." Appendix C contains a chart of the phonetic symbols for American English consonants, pure vowels and diphthongs, as well as a sample word associated with each symbol. Fish has provided speech-language pathologists with a book that is professionally presented with research-based evidence that will assist us with implementing effective diagnostic and therapeutic intervention strategies for students with CAS. I highly recommend this book for all speech-language pathologists, as it will prove to be a valuable resource and a worthwhile addition to your professional library as well as your therapy toolkit."
Audience
Primary Subject:
Speech-Language Pathology
/
Pediatrics
Secondary Subject:
Speech-Language Pathology
/
Speech/Articulation
Audience Level:
Professional
Understanding Childhood Apraxia of Speech

What is Childhood Apraxia of Speech?
Characteristics of Childhood Apraxia of Speech
Assessment of Children with Suspected CAS

P.R.I.S.M: Foundations of Effective Treatment for Childhood Apraxia of Speech

Phoneme Sequencing
Repetitive Practice
Intensity of Treatment
Selection Target Utterances
Multisensory Cueing and Feedback

Additional Considerations in Treatment of Childhood

Addressing Vowel Accuracy
Establishing Normal Prosody
Modifying Complexity of Speech Movements to Build Success
Facilitating Early Production of Phrases and Sentences
Treatment Considerations for Minimally Verbal Children
Addressing Early Literacy Concerns in Children with CAS
Augmentative Communication and Children with CAS
Enhancing Social Language Skills in Children with CAS
Incorporating Books and Music into Treatment
Special Considerations for Children with Autism Spectrum Disorders
Developing an IEP or Treatment Plan
Partnering with Parents to Maximize Treatment Outcomes
About The Author
Margaret Fish, MS, CCC-SLP, is a speech-language pathologist working in private practice in Highland Park, Illinois. She has more than 30 years of clinical experience working with children with severe speech-sound disorders, language impairments, and social language challenges.