Publication
Health Care Reform Through Practical Clinical Guidelines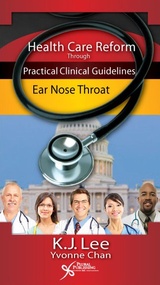 Health Care Reform Through Practical Clinical Guidelines
Ear Nose Throat
Co-Editors: K. J. Lee, MD, FACS, Yvonne Chan
Details:

656 pages, Illustrated (B/W), Softcover, 4.5 x 8"
ISBN13:

978-1-59756-376-5
Release Date:

04/01/2010
$49.95
Overview
Health Care Reform Through Practical Clinical Guidelines: Ear Nose Throat is a practical set of clinical guidelines for ENT doctors, arranged by symptom. It is the first book to attempt to define what good healthcare reform should be, in order to increase quality, decrease inefficiency, and build a financial model to achieve this.
The Editor and his team of expert contributing authors take into consideration the great variation among clinicians in diagnosing as well as treating a symptom. They bring to bear their many years experience in the treatment of patients without resorting to unnecessary tests and procedures, while still not overlooking a diagnosis. In so doing, they present a set of practical clinical guidelines that will change a very fragmented profession into a more cohesive one, with resultant cost-savings and increase in efficiency.
Currently, it takes the work of a committee of specialists, brought together by a medical society, working for around a year and costing some $100,000 in order to develop a set of "evidence-based guidelines for one symptom." Simply, medical reform in otolaryngology cannot wait for the 30-plus years it could take to develop practical clinical guidelines for the more than 30 symptoms presented by patients to otolaryngologists. This book cuts to the chase and attempts to efficiently and appropriately bring consistency and cohesiveness into the current health care system.
This book covers the various symptoms presented in clinic; develops a list of differential diagnoses; explains how to systematically rule out each differential diagnosis, chooses the most cost-effective route; and presents the most cost-effective treatment for each.
Contributors include: Seilesh Babu, Eric Berg, Kevin Brown, Yvonne Chan, Edward Ermini, Marion Boyd Gillespie, Gregory Grillone, Ashutosh Kacker, David Karas, Howard Kotler, David Kutler, Steven Levine, Vincent Lin, Rodney Lusk, Robert McRae, Vikash Modi , David Nielsen, Krishna Patel, Gregory Randolph, Samuel Selesnick, Mark Shrime, Robyn Smith, MG Stewart, Elizabeth Toh, Robert Ward, Eiji Yanagisawa and Ken Yanagisawa.
"In the wake of the newly-minted comprehensive health reform bill, Dr. K.J. Lee and colleagues hit the ground running on the heart of health care reform: restoring the doctor-patient relationship to its rightful place at the center of health care. This book -- written by clinicians for clinicians -- offers practical clinical guidelines that address the cost and quality conundrum in a refreshing, common-sense way. Patients and health care professionals alike will appreciate the integrity and dedication to better patient care at lower cost encompassed in this book."

-Congresswoman Rosa L. DeLauro, CT-03
"For years K.J. Lee, MD, FACS has thought deeply and cared passionately about the health care dilemma in the United States. In this book, he concentrates on one segment: how physicians can continue to offer the best care while minimizing costs. He offers the notion of "Practical Clinical Guidelines" which will allow patients to be treated "in the most economical way, with the best possible outcome."
-The Rev. Kendrick Norris, M.Div., S.T.M., D.Min., Ph.D.
"In this volume, Dr. Lee has responded to healthcare dilema by gathering together doctors in his field who are trusted for their clinical expertise, judgment and ethical standing to create stellar guidelines for practitioners today. A doctor, a pioneering reformer and a healer, K. J. Lee's contributions to health care span generations and continue to be an ever-present balm to patients, colleagues and all those committed to the well-being of humanity."
-Rev. Susan J. Murtha
Practical Clinical Guidelines: Concepts
1. The Impact of Health Care Reform on Providers (Doctors)
K.J. Lee
2. What are Evidence-Based Guidelines?
Michael G. Stewart
3. Evidence-Based Performance in Practice
David R. Nielsen
Symptoms
4. Hearing Loss
Kevin D. Brown and Samuel H. Selesnick
5. Tinnitus
Kevin D. Brown and Samuel H. Selesnick
6. Dizziness
Vincent Lin and Simon Greenberg
7. Ear Blockage and Pressure
Eiji Yanagisawa and Ken Yanagisawa
8. Ear Drainage and Bleeding
Ken Yanagisawa and Eiji Yanagisawa
9. Ear Pain
Robert McRae and Erik Berg
10. Facial Nerve Paralysis
Elizabeth H. Toh
11. Congenital Hearing Loss
Seilesh Babu and K. J. Lee
12. Bleeding From the Ear, Nose and Throat
Howard Kotler
13. Nasal and Sinus Infections, Pain, Pressure
Yvonne Chan
14. Postnasal Drip
Edward Ermini
15. Nasal Obstruction
Ashutosh Kacker
16. Lack of Smell/Taste
Yvonne Chan
17. Facial Pain and Headache
KJ Lee and Robyn M. Smith
18. Lump in the Neck
Mark G. Shrime
19. Sensation of a Lump in the Throat
KJ Lee and Robyn M. Smith
20. Swallowing Difficulty and Testing
Steven B. Leder
21. Burning Sensation in the Mouth and Distorted Taste
Yvonne Chan
22. Benign Oral Lesions
Gregory A. Grillone and Jeffrey S. Jumaily
23. Malignant Lesions of the Oral Cavity
M. Boyd Gillespie
24. Voice Problems
Yvonne Chan
25. Cough from an ENT Perspective
Steven B. Levine
26. Throat Discomfort
Edward Ermini
27. Airway Obstruction in Children and Adults
Rodney Lusk
28. Foreign Bodies in Otolaryngology
Vikash K. Modi and Robert F. Ward
29. Current Thoughts on Tonsillectomy, Adenoidectomy and Myringotomy with and without Tube Insertion
David Karas, Yvonne Chan and KJ Lee
30. Salivary Gland Diseases
David I. Kutler
31. Parapharyngeal Masses
Howard Kotler
32. Thyroid Mass
David Goldenberg and Greg Randolph
33. Facial and Nasal Fractures
Krishna Patel
34. Bony Cysts and Tumors of the Maxilla and Mandible
Mark G. Shrime
Conclusion
35. Guidelines Go Digital
KJ Lee and Yvonne Chan