Publication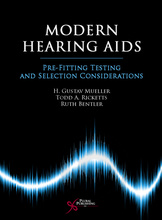 Desk Copy for Instructors
Modern Hearing Aids
Pre-Fitting Testing and Selection Considerations
Details:

472 pages, Illustrated (B/W), Hardcover, 8.5 x 11"
ISBN13:

978-1-59756-138-9
Release Date:

06/28/2013
Overview
Modern Hearing Aids: Pre-Fitting Testing and Selection Considerations focuses on when the patients walk in the door and ends when they complete their post-fitting self-assessment surveys. The world renowned authors discuss the initial patient history and counseling, and a wide range of measures that can be used to determine patient needs. They have included numerous pre-fitting tests that can be conducted along with step-by-step protocols for their administration and scoring. They also review the selection of hearing aid styles and fitting arrangements, explain the process of obtaining an ear impression, and making critical decisions regarding earmolds and hearing aid plumbing.
Key Features
Included throughout the texts are short paragraphs identified as "Technical Tips", "Key Concepts", "Things to Remember", "Points to Ponder", and "On the Soapbox".
Interesting tidbits of information not quite relevant enough to include in the chapters, but yet too good to toss aside, are featured in the back of the book as "Endnotes".
Infused with humor!
Written in an accessible and easy-to-read style to be welcoming to university faculty and their students by including not just reference information, but tools supported by research and clinical experience, presented in a way that was accessible to clinical students with little experience in the field.
Contains enough depth that even the serious hearing aid researcher would also find many pearls.

The text is intended to be a handy companion for busy clinicians--a friendly resource where they can quickly find critical information needed for the next patient. The book is also appropriate as a supplementary textbook on amplification for graduate programs in audiology.

H. Gustav Mueller, Todd Ricketts and Ruth Bentler discuss how they got into the profession of audiology and what inspired them to write their new 3-volume series of textbooks on Modern Hearing Aids in this interview.
Preface
Chapter 1: The Audiologist and Hearing Aid Provision
Chapter 2: Understanding the Hearing Aid Candidate
Chapter 3: Speech Acoustics
Chapter 4: Pre-Fitting Tests Using Frequency-Specific Measures
Chapter 5: Speech Recognition Measures
Chapter 6: Self-Assessment Scales for Pre-Fitting Testing
Chapter 7: Hearing Aid Style and Fitting Applications
Chapter 8: Ear Impressions, Ear Molds and Associated Plumbing
End Notes
References
Appendix
Index
About The Authors
H. Gustav Mueller, PhD, is a Professor of Audiology at Vanderbilt University and holds faculty positions with the University of Northern Colorado and Rush University. He is the senior audiology consultant for the Sivantos Hearing Group and contributing editor for AudiologyOnline.
---
Todd A. Ricketts, PhD is a professor at Vanderbilt University Medical Center, Vice Chair of graduate studies in the Department of Hearing and Speech Sciences, and the director of the Dan Maddox Hearing Aid Research Laboratory. He is a fellow of the American Speech and Hearing Association and the American Academy of Audiology.
---
Ruth Bentler, PhD is professor in the Department of Communication Sciences and Disorder at the University of Iowa. A native Iowan, Dr. Bentler did not stray far from her roots, as her 40-year professional career has been at the University of Iowa, where she also obtained her professional degrees.