Publication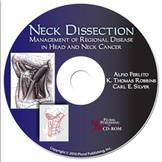 Overview
The neck dissection has evolved over time by defining its applications, tailoring it to the extent and location of regional disease, thereby using this information to expand or reduce the magnitude of the surgery itself. It has been labeled radical, functional, modified and selective depending on the sacrifice or preservation of certain muscles, nerves or vessels. The aim, however, has always been to encompass the lymph nodes at risk of harboring cancer. It has been described as elective (N0) or therapeutic (N+). It has been declared useful and appropriate for treating the neck in conjunction with cancers arising in the thyroid, the skin, the salivary glands, and the mucosa of the upper aerodigestive tract. In Neck Dissection: Management of Regional Disease in Head and Neck Cancer, Drs. Ferlito, Robbins and Silver have done a masterful job in compiling the collective wisdom of the best minds in the discipline; past and present. The information contained in the various chapters enlightens, inspires and challenges us.
This book addresses the subject of node metastasis, its diagnosis, pathology, treatment and outcomes. Nothing is more important to the head and neck surgeon than to have a basic understanding of, and a "hands-on" familiarity with the various surgical options for treatment of cancer in the neck. The authors make it perfectly clear however, that it is still a work in progress. This progress comes with a price. Surgeons today are confronted with many choices or options regarding management of the neck in any particular case. No longer is only one type of dissection to be applied to all circumstances. In addition, many of these new choices are more tedious and technically challenging than the standard radical neck dissection. A poorly performed selective or modified neck dissection can result in an inadequate number or an inappropriate level of nodes removed, thus defeating its purpose.
"[T]he Editors have assembled a comprehensive volume, written by recognized authorities in their respective fields, delineating the current status of management of cervical metastatic disease in head and neck cancer. As to the future, we should remember that most meaningful progress is made in small increments. The reality today concerning neck dissections is a good example."
--From the Foreword by Robert M. Byers, MD
Review
Jennifer R Decker, M.D. (Northwestern University Feinberg School of Medicine), Doody's Review Service (2010):
"The highlights of this text include the interesting background of the development of the neck dissection approaches as well as the real-world data and up-to-date recommendations regarding staging and management of cancer. ... The references and authority are of the highest quality."
History and Evolution of Neck Dissection. Carl E. Silver, Alessandra Rinaldo, Jatin P. Shah, and Alfio Ferlito
Biology of Cervical Metastasis in Head and Neck Cancer. Lisa Pitelka and Guy J. Petruzzelli
Neck Dissection Classification. K. Thomas Robbins and Ohad Ronen
Diagnostic Procedures for Detection of Lymph Node Metastasis in Cancer of the Head and Neck. Robert P. Takes
Sentinel Node Biopsy for Head and Neck Cancer. Francisco J. Civantos
Pathology of Neck Dissections. Kenneth O. Devaney, Alfio Ferlito, and Alessandra Rinaldo
Radical and Modified Radical Neck Dissection. Carl E. Silver and K. Thomas Robbins
Extended Neck Dissection. K. Thomas Robbins and Carl E. Silver
Selective Neck Dissections. Jesus E. Medina
Endoscopic Neck Dissection. J. Drew Prosser and David J. Terris
Complications of Neck Dissections. Randall P. Owen, Carl E. Silver, Alfio Ferlito, and Alessandra Rinaldo
Elective Neck Dissection for Squamous Carcinoma of the Head and Neck. Alfio Ferlito, Jesus E. Medina, Carl E. Silver, Alessandra Rinaldo, and Vinidh Paleri
Neck dissection for thyroid cancer. . Silver, Randal P. Owen, and Avi Khafif
Neck Dissection for Salivary Gland Cancer. Patrick J. Bradley
Management of Regional Lymph Nodes in Cutaneous Melanoma of the Head and Neck. Carl E. Silver, Carol R. Bradford, and Jesus E. Medina
Radiotherapeutic Management of the Neck. William M. Mendenhall, Robert J. Amdur, Anthony A. Mancuso, Anamaria R. Yeung, John W. Werning, and Douglas B. Villaret
Neck Dissection Following Chemoradiation: Indications and Approach. K. Thomas Robbins, Carl E. Silver, Alfio Ferlito, and Alessandra Rinaldo
Surgical Management of Recurrent Cancer in the Neck. Phillip K. Pellitteri and Thomas L. Kennedy
Outcome of Patients with Neck Metastasis. Carlos Suárez and Joan Pablo Rodrigo
Neck Dissection and Distant Metastasis. Marita Teng and Eric M. Genden
Metastatic Squamous Carcinoma in the Neck from an Occult Primary. Ashok R. Shaha, Alessandra Rinaldo, and Alfio Ferlito
Quality of Life after Neck Dissection. Prabhat K. Bhama, Allen D. Hillel, and Ernest A. Weymuller, Jr.
Index.
About The Editors
Alfio Ferlito, MD is Director of the Department of Surgical Sciences, Professor and Chairman of the ENT Clinic at the University of Udine School of Medicine. He graduated in medicine at the University of Bologna. After two years at the University of Trieste, he worked at the ENT Department of Padua University from 1970 to 1997.
He has collaborated in writing articles, editorials, commentaries, letters to the editor, special issues, book chapters and books with 323 international experts.
He has edited a three-volume book entitled Cancer of the Larynx (CRC Press, Boca Raton, 1985) and three other books entitled Neoplasms of the Larynx (Churchill Livingstone, Edinburgh, 1993), Surgical Pathology of Laryngeal Neoplasms (Chapman and Hall, London, 1996) and Diseases of the Larynx (Arnold, London, 2000), and co-authored two books entitled Granulomas and Neoplasms of the Larynx (Churchill Livingstone, Edinburgh, 1988) and Surgery for Cancer of the Larynx and Related Structures together with Dr. Carl E. Silver (Saunders, Philadelphia, 1996). He is editor with Dr. Marvin P. Fried of The Larynx (Plural Publishing). He has been the author or co-author of 383 refereed publications in 46 medical journals and 48 chapters in various books.
---
Dr. Robbins is currently director of the Simmons Cooper Cancer Institute at Southern Illinois University, and has served as chairman of the Departments of Otolaryngology Head and Neck Surgery at the University of Tennessee, Memphis, the University of Florida, and Southern Illinois University. He is a past president of the American Head and Neck Society and chaired the Committee for Head and Neck Surgery and Oncology of the American Academy of Otolaryngology Head and Neck Surgery, and the Otolaryngology Head and Neck Surgery Council of the American College of Surgeons. Dr Robbins' academic interests have focused on modifications for conservation neck dissection and neck dissection nomenclature, as well as targeted (intra-arterial) chemotherapy protocols for advanced head and neck cancer. He has been a leader in development of a standardized classification system for neck dissection.
---
Dr. Silver is Professor Emeritus of Surgery and Otolaryngology Head and Neck Surgery at the Albert Einstein College of Medicine, and was chief of Head and Neck Surgery at the Montefiore Medical Center in New York. He has published extensively on numerous issues concerning diagnosis and management of head and neck cancer. Dr. Silver has coordinated multi-institutional studies on radiographic diagnosis of cervical metastatic disease, and the efficacy of selective neck dissection. He is best known as author of five books on head and neck cancer. His "Surgery for Cancer of the Larynx" (New York, Churchill Livingstone 1981) was considered a "contemporary classic" (Annals of Surgery). Dr. Silver has been guest lecturer and visiting professor at institutions in Australia, Brazil, France, Great Britain, Germany and India, as well as in the United States.
Related Titles

Edited by: Guy J. Petruzzelli
656 pages, Color Illustrations (4 Color), Hardcover, 8.5 x 11"