Publication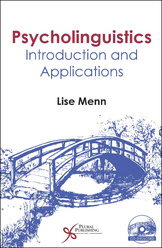 Desk Copy for Instructors
Psycholinguistics
Introduction and Applications
Details:

506 pages, Illustrated (B/W), Softcover, 7 x 10"
Included Media:

CD
ISBN13:

978-1-59756-283-6
Release Date:

10/01/2010
$104.95
Overview
***The second edition published on January 1, 2016. Click here for more information.***
-------------------------------------------------------------------------------------------------------------------

For students in speech-language pathology, language education, psychology, linguistics, as well as for working language professionals, this text provides a clear and attractive introduction to current thinking on how our brains process language in speaking, understanding, and reading. It presents a completely integrated, self-contained account of psycholinguistics and its clinical and pedagogical applications, within a unifying framework of the constant interplay of bottom-up and top-down processing across all language uses and modalities. References to applications throughout the foundational chapters keep the reader connected to real-world, clinical, and language-teaching applications; this is especially valuable for working professionals who are using the book for self-study and for students in applied fields who need to master and use key concepts from linguistics and psychology. After establishing the basics of language description and normal language processing, the text and its accompanying CD present classical and recent research on first-language development, the differences between learning first and second languages, and the effects of brain damage on the use of language. The author writes vividly and directly, drawing on her experience as a classroom teacher, interdisciplinary researcher, author, and international lecturer. Technical terms are clearly explained in context and also in a large reference glossary.

The book opens with a substantial chapter on the aspects of phonetics, phonology, morphology, syntax, semantics, and pragmatics that will be used to describe and understand the errors made by normal speakers, first- and second-language learners and people with acquired language disorders. The exposition is firmly grounded in examples, including many from languages other than English, and the CD provides additional sound files and links to help with learning the International Phonetic Alphabet. The second chapter introduces the brain as a ceaselessly active, wide-ranging information processor with automatically spreading activation, constantly integrating both bottom-up (sensory) information and top-down (stored) information; the concepts introduced here are used throughout the remainder of the book to explain phenomena as diverse as oral apraxia, overgeneralization, semantic category priming, perseveration, garden-path sentences, proofreader's errors, and failure to generalize training. The third and fourth chapters develop a classic (Garrett/Levelt/Bock) multi-level speech production model, using normal speech error data to motivate each level, from concept activation to phonetics. The fifth chapter introduces the basics of experimental design in the context of a carefully selected set of classic and modern psycholinguistic experiments, providing an understanding of sentence memory, priming, the word superiority effect in letter recognition, and the integration of lexical retrieval with sentence production as indicated by eye-tracking. (For readers who do not need an introduction to basic experimental design, a more compact alternative version of the introductory part of this chapter is presented on the CD.)
These five core chapters form the foundation for chapters on each of four research areas of applied psycholinguistics: aphasia, first language development, reading, and second language learning. The final chapter demonstrates how linguistics and psycholinguistics can and should inform classroom and clinical practice in test design and error analysis, while also explaining the care that must be taken in translating theoretically based ideas into such real-world applications. For all of these topics, the CD provides links to recent publications and relevant Web sites for readers to explore on their own.
Instructors, why adopt this text?
Glossary of technical terms that are also clearly explained throughout the text.
Written by a professor with the student curriculum in mind.
CD includes sound files, links to help with learning the International Phonetic Alphabet, and a more compact alternative version of the introductory section.
Clear and attractive layout of clinical and pedagogical applications.
Coverage on a range of phenomena, such as oral apraxia, overgeneralization, semantic category priming, perseveration, garden-path sentences, proofreader's errors, and failure to generalize training.
Linguistics, Psycholinguistics, and Language Processes: Interview with Lise Menn, PhD
Douglas L. Beck, AuD, speaks with Dr. Menn about her new book, Psycholinguistics-Introduction and Applications, as well as cognitive processes, top-down compensation for bottom-up sensory deficits, language development, and more.
Read the interview here, or view as PDF.
Interview republished with permission from the American Academy of Audiology. Copyright 2011
Review
Gary B Kaniuk, Psy.D., Cermak Health Service, Doody's Review Service (April 2011):
"Unique features include a detailed table of contents, extensive glossary of terms, a CD with audio and video material that helps readers understand experiments, and links to Web sites, a reference list, and exercises. The book is easy to read with interesting tables and figures. Each chapter has exercises at the end that help reinforce learning. With the exercises at the end of each chapter, the CD with helpful materials, and a 68-page glossary, this is a practical book that covers a wide array of topics in psycholinguistics. 4 Stars!"
Introduction: how psycholinguistics can help us understand the kinds of problems people can have with language

0.1 Everyday language problems
0.2 What is the difference between linguistics and psycholinguistics?
0.3 What's an example of a psycholinguistic explanation of a language problem?
0.4 The plan of this book
0.5 In defense of my writing style/Apologia pro stilo sua

Chapter 1
Introduction, phonetics, and phonology

1.0 Terminology: Strategy for learning about language
1.1 Divide and (more-or-less) conquer: Levels of spoken language
1.2 The level of speech sounds: The sounds of spoken words
1.3 Syllables and how to count them

Larger units, from morphemes to languages

1.4 Morphemes: the meaningful units of speech
1.5 Words
1.6 Utterances: Phrases, clauses, and sentences in speech
1.7. Basic syntactic and semantic roles: The jobs that words do in clauses
1.8 Pragmatics
1.9 The gap between what people know and what they do: Kinds of linguistic knowledge
1.10 Language families and language types

Chapter 2
How brains work

2.1 Thinking about the brain: a quick history
2.2 What does it mean to say that the brain processes information?
2.3 How can a bunch of cells learn or know something?
2.4 Activation and its spread
2.5 Top-down and bottom-up processing
2.6 Using our knowledge of language patterns in conversation
2.7 Language areas in the brain
2.8 Summary

Chapter 3
Normal speech errors and how they happen I: From idea to word

3.1 What is normal? (And why don't we say 'abnormal')?
3.2 Language production: Describing the basic processes
3.3 Choosing what to put into words and what to focus on: The Message Level
3.4. The Functional Level, Part I – Lemmas
3.5 The Functional Level, Part II – Semantic Functions
3.6 Summary of language production so far
3.7. Applying our model to an aphasic speech production problem

Chapter 4
Normal speech errors and how they happen II: Words and phrases in the brain

4.0 High-speed grammar: making phrases and sentences in a few tenths of a second
4.1 Getting words into the right (and wrong) order
4.2 Errors in word-making: Word-assembly crashes
4.3 Errors in word sounds: A herrible mess at the level of phonological encoding or a foul-up in articulation?
4.4 Double whammies and worse: Multiple-source errors vs. self-monitoring

Chapter 5
Experimental studies of normal language production and comprehension: introduction to experimental psycholinguistics and neurolinguistics

5.0 The plan for this chapter
5.1 Introduction to psycholinguistic experiments: Why do people do them and how people come up with the ideas for them?
5.2 Memory experiments
5.3 Production experiments I: Finding needed words – or not
5.4 Production experiments II: Planning sentences
5.5 Comprehension experiments I: Discriminating between similar speech sounds and recognizing words
5.6 Comprehension experiments II: How understanding unfolds in time
5.7 What brain imaging adds to psycholinguistic studies: A first look at neurolinguistics
5.8 Summary

Chapter 6
Studying aphasic speech and communication: the psycholinguistics of adult language disorders

6.0 The high cost of being slow and sounding weird: Who do they think I am?
6.1 Introduction to aphasia
6.2 Aphasic language is not like child language
6.3 Aphasic speech production
6.4 Figuring out the psycholinguistics behind aphasic speech errors
6.5 Psycholinguistic experiments on aphasic comprehension
6.6 Classifying aphasias: The classical syndromes and some reasons why there are controversies about them
6.7 Aphasia in native bilingual and second-language speakers
6.8 Trying to predict communicative success: Interaction, gesture, and communication
6.9 Brain plasticity and new hopes for therapy

Chapter 7
Developmental psycholinguistics: studies of first language acquisition

7.0 A wealth of studies, a rich topic
7.1 Output, input, intake, imitation: How do we find out what toddlers know about language?
7.2 Building a grammar: What toddlers say
7.3 Do toddlers have grammar in the first year of speaking?
7.4. Language from the third trimester to the beginning of speech: First the sounds, then their meanings
7.5 Phonological development in toddlers
7.6 Learning more about word meanings
7.7 Summary and conclusion

Chapter 8
The psycholinguistics of reading and learning to read

8.0 Introduction: why teaching reading is controversial
8.1 Reading as a psycholinguistic process
8.2 Reading for meaning: What happens after a word is activated?
8.3 Psycholinguistics and the phonics vs. whole word teaching controversy
8.4 Where reading errors come from: Activation and competition in reading
8.5 When sounding out words won't work for you and your students: Orthographic dazzle, dialect awareness, speech rate, and hyperdistinct speech
8.6 Morphology and reading
8.7 Reading Chinese, Japanese, and Korean
8.8 Reading, dyslexia and language disorders
8.9 Summary

Chapter 9
First and second language acquisition: A psycholinguistic approach to their similarities and differences

9.0 Why is learning a first language different from learning a second language?
9.1 How does learning your first language change your brain?
9.2 What happens when a new data set meets an experienced brain?
9.3 What else is different about the older learner?
9.4 What first-language learners and second-language learners have in common
9.5 Language processing in bilingual speakers
9.6 Accent reduction: Psycholinguistics meets the sociolinguistics of identity, politics and prejudice
9.7 Psycholinguistics and learning to read and write in a second language
9.8 Summary

Chapter 10
Using psycholinguistics in testing, teaching, and therapy: Understanding what we do, thinking of ways to do it better, and checking whether new ideas are working

10.0 Introduction
10.1 What does it mean to look 'psycholinguistically' at language tasks?
10.2 Aphasia testing: Clinical testing and its problems
10.3 'Translating' language tests and some problems with bilingual aphasia testing
10.4 The long road from a psycholinguistic idea to a teaching or remediation method
10.5 Summary/Conclusion

Afterword: Other important areas for applying psycholinguistics in the clinic and the classroom

First language under stress

Politics, ethics, and the diagnosis of first language problems in multilingual/multilectal/multicultural settings
The validity of developmental tests
The impact of sensory impairments: children who are hard-of-hearing, deaf, or blind
The puzzles of Specific Language Impairment and dyslexia

Language, aging, and hearing loss

Glossary
Index


CD Contents:
Chapter 1A

How to Describe Language Use and Langauge Knowledge: **:Introduction, Phonetics, and Phonology
Chapter 1B

How to Describe Language Use and Language Knowledge: **:Meaningful Units of Language
Chapter 3

Normal Speech Errors and How They Happen I: From Idea to **:Word
Chapter 4

Normal Speech Errors and How They Happen II: Saying Words **:and Sounds in the Right Order
Chapter 5

Experimental Studies of Normal Language Production and **:Comprehension: An Introduction to Experimental Methods in **:Psycholinguistics and Neurolinguistics
Chapter 6

Analyzing Aphasic Speech and Communication: The **:sycholinguistics of Adult Acquired Language Disorders
Chapter 7

Developmental Psycholinguistics: Studies of First Language **:Disorders
Chapter 8

The Psycholinguistics of Reading and Learning to Read
Chapter 9

First and Second Language Acquisition: A Psycholinguistic **:Approach to Their similarities and Differences
Chapter 10

Using Psycholinguistics in Testing, Teaching, and Therapy


CD Contents:
All Through the Night (.pdf, .midi)
An die Musik (.pdf, .midi)
Sospiri di foco (.pdf, .midi)
GRAMLite Help File (.pdf)
About The Author
Lise Menn, PhD, professor emerita of linguistics and fellow of the Institute for Cognitive Science at the University of Colorado, Boulder; while there from 1986 to 2007, she taught courses and supervised doctoral dissertations in phonetics, general linguistics, language development, psycholinguistics, and neurolinguistics. Her work on phonological development and cross-linguistic comparison of agrammatic aphasia has contributed fundamentally to the understanding of phonological disorders in children and aphasia in adults.