Publication
Research in Communication Sciences and Disorders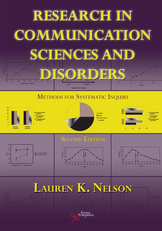 Desk Copy for Instructors
Research in Communication Sciences and Disorders
Methods for Systematic Inquiry
Second Edition
Details:

264 pages, Illustrated (B/W), Softcover, 7 x 10"
ISBN13:

978-1-59756-491-5
Release Date:

09/28/2012
$84.95
Overview
THE THIRD EDITION WILL BE AVAILABLE IN SEPTEMBER 2016. CLICK HERE FOR MORE INFORMATION.***

This popular text, now in its second edition, arose from the author's inability to find a textbook that fully met her students' needs. Overly comprehensive texts generate blank faces, while excessively concise texts fail to fully meet the need for an effective depth of learning.
This text achieves a great balance between depth of coverage and readability, but balance is not the only reason this book is needed. Reflecting the movement toward evidence-based practice in audiology and speech-language pathology, the author has ensured that the concepts associated with evidence-based practice are integrated throughout the chapters (not just added as a separate chapter or course segment). Also included are features that help students be more active in learning the material. Each chapter has a set of review questions or case scenarios that can be used as homework, as probe questions in class, or as group activities. Importantly, the author has included lists of supplemental readings from the research literature in the field.
The second edition has been updated with new references and resources throughout. The chapter on research ethics was expanded to include broader coverage of responsible conduct of research and the impact of HIPAA. Additional information reflecting current practices in evidence-based practice has been added to the chapters on research questions, research design, statistics, and reporting research. The author has added two cases studies designed to promote discussion to the chapters on research ethics and quantitative research design. Tables illustrating example studies from communication sciences and disorders journals have been added to the chapters on nonexperimental and experimental design, and the coverage of qualitative research designs has been expanded. Chapter 10 now includes a section on preparing a review of literature.
With its many added features and updated, enhanced content, Research in Communication Sciences and Disorders: Methods for Systematic Inquiry, is the ideal textbook for research-related courses.
Reviews
James Mahshie, PhD, CCC-SLP, George Washington University, Doody's Review Service (2009):
"The straightforward way the topics are presented is a strength of the book. ... The topics are integrated well to give a broad picture of the research landscape. ... By demonstrating the connection between these topics, the author makes qualitative research understandable, and helps students understand its strengths and limitations as compared to quantitative research. [Refers to First Edition]"

Doody's (2015):
"Named to Doody's Core Titles in the Health Sciences 2015 list"

Claire Rowland, Highly Specialist SLT (research and audit lead), Stammering Support Centre, Royal College of Speech and Language Therapists Bulletin (Aug 2013):
"This book seeks to address common concerns often raised by students undertaking the author's research course. It presents a succinct overview of the research process within the field of communication sciences and disorders. Beginning at the foundations, the author encourages the reader to reflect on the valuable role of research within clinical practice. She then guides the reader through the practical stages of carrying out a research project. Interestingly, she introduces qualitative approaches to design first, which I found particularly refreshing. The author presents highly readable chapters, laid out in an accessible format so the reader can easily 'dip in' to find information. She supports further study by review questions and learning activities, and the chapter on literature searching provides guided tutorials. As an introduction, the book provides a clear overview for students and clinicians new to research."
Contents
Preface
Chapter 1. Empirical and Nonempirical Research: An Overview

Systematic Inquiry
Some Roles for Research
Types of Research
Variables
Getting Started with Research
Summary

Chapter 2. Ethical Considerations

Protection of Human Participants
Special Protections
Historical Perspective
Institutional Review Boards
Research Integrity
Avoiding Conflicts of Interest
Credit for Intellectual Effort
Attribution of Ideas
Accuracy in Reporting Information
Data Management
Confidentiality and Privacy
Health Insurance Portability and Accountability Act
Summary
Appendix 2–1: Research Scenario

Chapter 3. Identifying and Formulating Research Questions

Identifying Important Questions
Formulating Research Questions
Ways to Formulate a Research Problem
Evidence-Based Practice Questions
Criteria for Well-Formed Questions
Establishing Validity and Reliability
Summary

Chapter 4. Completing a Literature Search

Purposes of a Literature Search
Planning and Conducting a Search
Search Tools
Designing a Search Strategy
Organizing and Documenting Your Literature Search
Summary
Appendix 4–1: Electronic Literature Search

Chapter 5. Nonexperimental Research Design

Nonexperimental Research Designs
Survey Research
Case Studies
Longitudinal Research
Correlation and Regression
Group Comparisons
Causal-Comparative Research
Qualitative Research
Ethnography
Grounded Theory
Case Study
Phenomenology
Conversation Analysis
Scientific Rigor in Qualitative Research
Summary

Chapter 6. Experimental Research and Levels of Evidence

Experimental Research Designs
Posttest-Only Designs
Pretest-Posttest Randomized Control Group Design
Solomon Randomized Four-Group Design
Switching Replications Design
Factorial Designs
Importance of Experimental Control
History
Maturation
Statistical Regression
Instrumentation
Selection
Mortality
Quasi-Experimental Approaches
Nonequivalent Control Group Designs
Repeated Measures Group Design
Single Subject Designs
Experimental Designs and Levels of Evidence
Summary
Appendix 6–1: Research Scenario
Chapter 7. Research Participants and Sampling
Populations and Samples
Sample Characteristics
Sampling Methods
Simple Random Sampling
Systematic Sampling
Stratified Random Sampling
Cluster Sampling
Purposive Sampling
Random Assignment
Sample Size
Summary

Chapter 8. Data Analysis: Describing Different Types of Data

Levels of Measurement
Visual Representation of Data
Descriptive Statistics
Frequencies and Percentages
Measures of Central Tendency
Measures of Variability
Shapes of Distributions
Summary

Chapter 9. Data Analysis: Inferential Statistics

Inferential Statistics
Measures of Association
Pearson Product-Moment Correlation Coefficient
Coefficient of Determination
Spearman Rank-Order Correlation
Chi Square and Contingency Coefficient
Simple Regression and Multiple Regression
Testing for Differences Between Two Samples
Independent and Paired t-Tests
Mann-Whitney U
Sign Test and Wilcoxin Matched-Pairs Signed-Ranks Test
Testing for Differences among Three or More Samples
Statistical Analysis for Factorial Designs
Additional Tools for Analyzing Clinical Data
Caution in the Use and Reporting of Statistics
Summary

Chapter 10. Research Outcomes: Clinical Guidance, Research Reports

Knowledge Base for Evaluating Clinical Research
Critical Appraisal
How Applicable Are the Findings
Reporting Research Findings
Components of a Research Report
More on the Review of Literature
Writing Guidelines and Writing Style
Disseminating Research Findings
Summary

Index
About The Author
Lauren K. Nelson, PhD, is an associate professor and head of the Department of Communication Sciences and Disorders at the University of Northern Iowa (UNI). Since coming to UNI in 1990, she has taught courses in articulation and phonological disorders, child language disorders, phonetics, prevention of communication disorders, and research methods. Her educational background includes a BS degree from Northern Michigan University and an MA degree from Central Michigan University. After working for 2 years in an Iowa area education agency, she returned to school and completed her PhD studies at Memphis State University (now University of Memphis).