Publication
Home|
Speech and Voice Science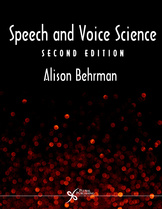 Instructors: click here to request your Desk Copy of this book.
Speech and Voice Science
Second Edition
Details
504 pages, Illustrated (B/W), Softcover, 8.5 x 11"
Included Media: Instructor's CD
ISBN13: 978-1-59756-481-6
Release date: 08/15/2012
$72.95
Overview
Speech and Voice Science, now in its second edition, is the definitive speech science and acoustics textbook for students and professionals. Heavily referenced and based on current research and knowledge, the text presents a comprehensive study of acoustics, anatomy and physiology, and biomechanics of all major subsystems of speech production – breathing, phonation, resonation, and articulation.
After providing an introduction to the science of speech and voice production and creating a foundation of knowledge in basic concepts of acoustics and physics, the author gives extensive attention to the examination of imaging, kinematic, and acoustic instrumentation used in research and clinical settings. The author includes a generous number of spectrograms (vowels, consonants, and coarticulatory effects). Two key chapters on phonation present the most in-depth exploration of voice and laryngeal dynamics available in any existing text.
The author fully integrates concepts of speech motor control and speech perception into relevant chapters on vowels and consonants. Historical and current theories of speech production and perception, and many of the issues central to research in these areas, are addressed thoroughly. Discussions of clinical and research instrumentation are integrated into each chapter, helping the reader understand how information presented in each chapter is obtained, and how the abilities and limitations of instrumentation shape our knowledge of speech and voice science.
Instructors and students benefit greatly from the substantial number of critical review questions following each chapter, and the accompanying PowerPoint slides facilitate teaching and learning.
The second edition has been revised and updated to be a better resource for students and instructors alike. In addition to a comprehensive updating of research and references, the second edition contains changes to help engage students in the learning process. The most significant enhancements include:
A reorganization of the introductory chapters
The inclusion of ample student study material
Classroom group activities
Each chapter now contains section study questions in addition to the end-of-chapter review questions, which have themselves been expanded. The section study questions are designed to help focus students on the key concepts and to assess their learning.
The second edition also includes website recommendations and Instructor-Facilitated Classroom Learning Activities at the end of each chapter. New material has been added as well, including a chapter on Advice for Students on Effective Study Techniques.
Bringing together all of the knowledge crucial to the study of speech and voice science in one concise and readable textbook, this book is essential for courses in speech and voice science and acoustics and will effectively supplement courses in voice disorders. The depth of knowledge presented here is also highly appropriate for doctoral students and professionals in the field.
Reviews
Doody Enterprises, Inc.:
"* * * * Four stars from Doody's Review Service! [First Edition]"

Lynn Helding, Journal of Singing, (2009):
"Someone has finally done it: written 'Voice Science for the Non-Scientific (Yet Nevertheless Intelligent) Person'.... Both the set up scheme and graphic features of this book should guarantee its use by many different populations within the larger community of voice studies, for these allow the reader to navigate quickly to topics of interest without having to wade through clinical or technical language to get there. [Refers to First Edition]"

Richard Zraick, University of Arizona Little Rock, (2013):
"I think it is an excellent textbook, and superior to the competing one by Ferrand."

Frank Goldacker, Eastern Illinois University, (2013):
"Excellent detail. I like how she ties in speech science concepts with evaluation and disorders. The illustrations are very good. The questions at the end of each chapter are helpful."

Michelle Harmon, Mississippi University for Women, (2013):
"The thing that really impressed me with the book, besides the content, of course, was the wonderful artwork and the questions at the end of the chapters."
Audience
Primary Subject:
Voice
Secondary Subject:
Speech-Language Pathology / Speech/Articulation
Secondary Subject:
Singing & The Performing Arts
Audience Level:
Academic
Preface to the Second Edition
Preface to the First Edition
1: Introduction
The Clinical Usefulness of Speech and Voice Science
Defining Speech Science
Advice for Students on Effective Study Techniques
2: Sound Waves
Describing Motion: Speed, Velocity, Acceleration, Deceleration, and Momentum
Vibration
The Nature of Waves
Transfer of Energy in Waves
Visualizing a Sound Wave
Properties of Sound Waves
Perception of Sound Waves
Pure and Complex Tones
Behavior of Sound Waves
Resonance
Recommended Internet Sites for Further Learning
Instructor-Facilitated Learning Activities
3: Breathing
Introduction
Respiration
Balloons or Boyle's Law?
Anatomy of the Lower Airway
The Biomechanics of Breathing
The Biomechanics of Speech Breathing
Neural Control of Breathing
The Work of Breathing
Instrumentation for Measuring Breathing Kinematics
Recommended Internet Sites for Further Learning
Instructor-Facilitated Learning Activities
4: Phonation I: Basic Voice Science
Overview
Anatomy of the Larynx
Neural Control of Phonation
Theories of Voice Production
Biomechanical Stress-Strain Properties of Vocal Fold Tissues
Physiology of Phonatory Control
Voice Quality
Recommended Internet Sites for Further Learning
Instructor-Facilitated Learning Activities
5: Phonation II: Measurement and Instrumentation
Measurement of F0 and Intensity
Measurement of Phonatory Aerodynamics
Instrumentation for Exploring the Dynamics of the Vocal Folds
Vocal Registers
Recommended Internet Sites for Further Learning
Instructor-Facilitated Learning Activities
6: The Production and Perception of Vowels
Introduction
Acoustic Theory of Speech Production
Vowels
The Vocal Tract as a Regulator of Intensity
Acoustic Filters
Instrumentation for Measuring Vocal Tract Acoustics
Vocal Tract Imaging: Current Research and Future Trends
Recommended Internet Sites for Further Learning
Instructor-Facilitated Learning Activities
7: The Production and Perception of Consonants
Introduction
Three Sources of Speech Sounds
Phonetic Description of Consonants
Acoustic Representation of Consonants
Suprasegmentals
Instrumentation and Measurement of Vocal Tract Aerodynamics
Instrumentation for Measuring Articulation
Recommended Internet Sites for Further Learning
Instructor-Facilitated Learning Activities
8: Theories and Models of Speech Production
Introduction
Theories and Models
Theoretical Issues for Consideration
Investigational Considerations
Influences from Connectionist Models
Language and Speech
Recommended Internet Sites for Further Learning
Instructor-Facilitated Learning Activities
9: Theories of Speech Perception
Introduction
Topics in Speech Perception
Theories of Speech Perception
What Babies Can Tell Us About Perception
Recommended Internet Sites for Further Learning
Instructor-Facilitated Learning Activities
Glossary
Appendix A: Measurement Conversions
Appendix B: Reading Passages
Appendix C: Frequencies of the Musical Scale
Appendix D: The International Phonetic Alphabet
Appendix E: Answer Key
Appendix F: Speech Science Taboo
Index
About The Author
Alison Behrman, PhD, CCC-SLP, is Assistant Professor in Speech Communication Studies at Iona College, where she teaches courses in presentation skills, speech science, anatomy, and clinically focused topics in communication disorders. She received her M.A. in Speech-Language Pathology from New York University, and her PhD in speech physiology from Columbia University. She was Principal Investigator of an NIH grant exploring outcomes of voice therapy for patients with benign vocal fold lesions, and has ongoing research projects in voice disorders and accent management, with publications in peer-reviewed speech pathology, linguistics, and otolaryngology journals. Dr. Behrman maintains a private practice in corporate presentation skills, voice therapy, and accent modification.