Publication
Strategic Practice Management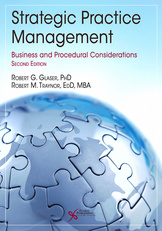 Desk Copy for Instructors
Strategic Practice Management
Second Edition
Details:

576 pages, Illustrated (B/W), Hardcover, 7 x 10"
ISBN13:

978-1-59756-522-6
Release Date:

03/31/2013
Overview
The second edition of this informative text is an appropriate resource for any health care practitioner considering a start-up venture, purchasing an ongoing practice, reinventing their current practice or for those interested in sharpening their clinical service delivery model in the competitive arena that is today's health care marketplace.
Whether a student, an independent practitioner, a clinician employed in an Audiology-ENT practice, hospital-based, educational audiologist or managing a University-based Audiology clinic, this text contains critically important information essential to the operational and business management of your practice setting. The authors have decades of practical experience in their successful practices and have presented seminars on practice management throughout the country and abroad. Their insight and experience coupled with an assembly of contributors without peer in their respective fields, provides the reader with an enlightening resource on practice management including: developing an appropriate business plan; startup and long term planning; essential legal considerations; fiscal monitoring and methods to assess the ongoing financial health of the practice; reimbursement capture; patient and referral source management; human resource issues including compensation strategies and much more.
In this interview, Robert G. Glaser and Robert M. Traynor discuss what is new and improved in this edition of Strategic Practice Management, and in particular, how changes in the healthcare environment are reflected in this new edition.
Strategic Practice Management: Interview with Robert G. Glaser, PhD
Douglas L. Beck, AuD, speaks with Dr. Glaser about his book on strategic practice management, as well as bank loans, business plans, pricing, and more.
Read the interview here, or view as PDF.
Interview republished with permission from the American Academy of Audiology. Copyright
Strategic Practice Management and Business and Procedural Considerations: Interview with Robert M. Traynor, MBA, EdD. Click here to read the interview.
Reviews
Foreword by Brad A. Stach
Acknowledgments
Contributors
Prologue: Leadership and Successful Practice Management
by Robert G. Glaser, PhD
1. The Economic Realities and Competitive Landscape of Audiology Private Practice
Robert M. Traynor, EdD, MBA
2. Strategic Business Planning
Robert M. Traynor, EdD, MBA
3. Legal Considerations in Practice Management
Glenn L. Bower, JD, and Michael G. Leesman, JD
4. Ethical Considerations in Private Practice
Jane M. Kukula, AuD
5. Fundamentals of Marketing the Audiology Practice
Robert M. Traynor, EdD, MBA
6. Effective Marketing: Developing and Growing the Practice
Kevin D. St. Clergy, MS
7. Optimizing Pricing Strategies for the Practice
Robert M. Traynor, EdD, MBA
8. Fiscal Monitoring: Cash Flow Analysis
Robert M. Traynor, EdD, MBA
9. Coding, Reimbursement, and Practice Management
Debra Abel, AuD
10. Policy and Procedures Manual
Robert G. Glaser, PhD
11. Patient Management
Robert G. Glaser, PhD
12. Supporting Practice Success: Counseling Considerations for Patient and Employee Management
John Greer Clark, PhD
13. Referral Source Management
Robert G. Glaser, PhD
14. Personnel Management
Robert G. Glaser, PhD
15. Career Management: What It Takes to Make It
Patrick N. Mangino, AuD
16. Compensation Strategies
Robert M. Traynor, EdD, MBA
17. Hearing Instrument Manufacturers and Suppliers
Robert G. Glaser, PhD
18. Practice Management Considerations in a University Audiology Clinic
Gail M. Whitelaw, PhD, MHA
19. Transitions: Optimizing Entry and Exit Strategies
Gail M. Whitelaw, PhD, MHA
Index
About The Authors
Robert G. Glaser, PhD is the President & CEO, Audiology Associates of Dayton, Inc, (dba) Audiology & Speech Associates
---
Robert M. Traynor, EdD, MBA is the President & CEO, Audiology Associates of Greeley