Publication
Fitting and Dispensing Hearing Aids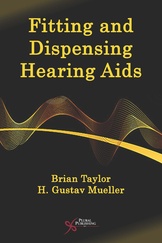 90-Day Exam Copy for Instructors
Fitting and Dispensing Hearing Aids
Details:

464 pages, Illustrated (B/W), Softcover, 7 x 10"
ISBN13:

978-1-59756-347-5
Release Date:

05/27/2011
Overview
THE SECOND EDITION WILL BE AVAILABLE IN SEPTEMBER 2016. CLICK HERE FOR MORE INFORMATION.***

Fitting and Dispensing Hearing Aids is an introductory book written for ENTs, prospective hearing instrument specialists studying to obtain their state license, audiology assistants, and speech pathologists working with hearing impaired adults. It also is an excellent introduction for Au.D. students or practicing audiologists just beginning work with hearing aid dispensing.
This extremely practical and engaging book logically takes the reader from beginning to end of the entire hearing aid selection and fitting process. The chapters sequentially provide the reader with the essential knowledge needed to fit modern hearing aids, along with links to handy websites for further study and reference.

The authors are experienced in the day-to-day fitting of hearing aids and have taught hundreds of students with a variety of backgrounds. They provide a consistent overview of the fundamentals of the entire hearing aid selection process. The chapters provide step-by-step guidelines covering both the art and science of hearing aid fitting.
Fitting and Dispensing Hearing Aids: Interview with Brian Taylor, AuD
Douglas L. Beck, AuD, speaks with Dr. Taylor about his new book, Fitting and Dispensing Hearing Aids, co-authored by H. Gustav Mueller.
Read the interview here, or view as PDF.
Interview republished with permission from the American Academy of Audiology. Copyright 2011.
Reviews
Douglas L. Beck Au.D., Board Certified Audiology, American Academy of Audiology (June 2011):
"The new book from Drs. Brian Taylor and Gus Mueller uniquely fills the need for an up-to-date, well written and comprehensive text for students and new practitioners interested in modern approaches, advances and technology with regard to hearing aid amplification."

Rose L. Allen, International Journal of Audiology ((2011)):
". . . a valuable contribution to the present literature on hearing aids. The work is clinically based and provides step-by-step instructions and procedures. These protocols can be easily adapted to private practices, ENT physician offices, and university clinics . . . The authors accomplished what they set out to do--provide the audiology community with a text that is educational yet entertaining . . . The text reads well and the 'readability' is enhanced by the infusion of humor as well as a 'theme' for each chapter. From country western song lyrics to wine tasting to baseball and basketball, the authors have woven these 'themes' into the information to provide us a text that is entertaining and inspiring. This text rates a 10 on the RI (Readability Index, not to be confused with the Rollover Index) . . . I would highly recommend this text to those in academia who want to add a course in hearing aids to their undergraduate programs or who would like to infuse more information on hearing aids into an undergraduate aural rehabilitation course. It is also a valuable resource for those working as audiology assistants or technicians. Hearing aid license boards may want to consider adopting some of the chapters in this text as mandatory reading for the license examinations. This text is a great addition to our selection of resources on hearing aids."
Chapter 1: Psychology of Hearing Loss

Overview of the Market Place
Common Traits of the Adult Hearing Impaired Population
Counseling Strategies

Chapter 2: Basic Acoustics

Properties of Sound
The Decibel
The Speech Spectrum

Chapter 3: Anatomy and Physiology of the Ear

Outer Ear
Middle Ear
Inner Ear
Central Auditory Pathways

Chapter 4: The Measurement of Hearing

The Audiometer & Audiogram
Air and Bone Conduction Testing
Speech Audiometry

Chapter 5: Common Hearing Disorders and Audiogram Interpretation

Disorders of the Outer Ear
Disorders of the Middle Ear
Cochlear Disorders
Retrocochlear Pathologies

Chapter 6: The Hearing Aid Selection Process

Case History
Candidacy Issues
Pre-Fitting Considerations
Pre-Fitting Testing

Chapter 7: Hearing Aid Styles

Styles
Earmolds
Earmold Modification
Earmold Techniques

Chapter 8: 8. Introduction to Hearing Aid Design

Basic Components
Gain
Output
Bandwidth and Distortion
Compression
Expansion

Chapter 9: Advanced Hearing Aid Features and Special Options

Multiple Channels of Compression
Multi-memory
Digital Noise Reduction Technology
Directional Microphone Technology
Adaptive Feedback Technology
Data Logging
Trainable Hearing Aids and Wireless Technology
Open Canal Technology
Implantable Hearing Aids and Cochlear Implants
CROS/BI-CROS

Chapter 10: Hearing Aid Fitting Procedures

2 cc Coupler Measures
Programmability (NOAH, Hi-Pro)
Threshold Based Prescriptive Fitting Procedures
Verification Methods – Probe Microphone Measures
Hearing Aid Orientation and Counseling Process

Chapter 11: Outcome Assessment and Post-Fitting Issues

Laboratory Measures of Outcome
Self-Reports of Outcome
Aural Rehabilitation
Auditory Training

Chapter 12: Solving Common Hearing Aid Problems

Occlusion Effect
Acoustic Feedback
Problems Related to Loudness
Speech Intelligibility in Quiet and Noise

Appendix
About The Authors
Brian Taylor, AuD, is the Senior Director of Clinical Affairs at Turtle Beach. He is also a clinical audiology advisor for the Fuel Medical Group. He is an adjunct professor for A.T. Still University Arizona School of Health Sciences and editor of Audiology Practices, the quarterly journal of the Academy of Doctors of Audiology.
---
H. Gustav Mueller, PhD, is a Professor of Audiology at Vanderbilt University and holds faculty positions with the University of Northern Colorado and Rush University. He is the senior audiology consultant for the Sivantos Hearing Group and contributing editor for AudiologyOnline.