Publication
The Vocal Athlete and The Vocal Athlete: Application and Technique for the Hybrid Singer Bundle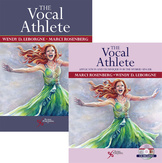 Desk Copy for Instructors
The Vocal Athlete and The Vocal Athlete: Application and Technique for the Hybrid Singer Bundle
Details:

350 pages, Illustrated (B/W), Softcover, 8.5 x 11" 2 lbs
Included Media:

CD
Release Date:

07/15/2014
$107.95
Overview
The Vocal Athlete and the companion book The Vocal Athlete: Application and Technique for the Hybrid Singer are written and designed to bridge the gap between the art of contemporary commercial music (CCM) singing and the science behind voice production in this ever-growing popular vocal style.
Watch Wendy LeBorgne's TEDx talk on "Vocal Branding: How Your Voice Shapes Your Communication Image"

About The Authors
Wendy D. LeBorgne, PhD, CCC-SLP, is a voice pathologist, a singing voice specialist, and director of the Blaine Block Institute for Voice Analysis and Rehabilitation and The Professional Voice Center of Greater Cincinnati.
---
Marci Daniels Rosenberg, BM, MS, CCC, is a trained singer and senior speech-language pathologist at the University of Michigan Departments of Otolaryngology and Speech-Language Pathology.