Publication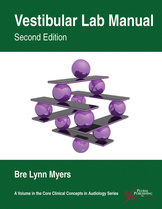 Desk Copy for Instructors
Vestibular Lab Manual
Second Edition
Details:

170 pages, Illustrated (B/W), Spiral Bound, 8.5 x 11"
ISBN13:

978-1-63550-080-6
Release Date:

07/13/2018
$79.95
Overview
Previously known as the Vestibular Learning Manual, the Vestibular Lab Manual, Second Edition provides a review of all major of areas of basic and advanced vestibular evaluation. It is designed to be a systematic, practical application of theoretical knowledge commonly taught in vestibular curriculum of graduate audiology programs. The book is full of high-quality pictures of equipment, patient positioning, and outcome data.
Key Features:
Case studies allow the reader to apply diagnostic results to develop and strengthen clinical problem-solving and interpretation skills
"Guided Practice" and "Reflection and Review" exercises facilitate active learning of concepts
Spiral-bound workbook format allows for ease of use

New to the Second Edition:
Three new chapters covering:

Video head impulse test (vHIT)
Canolith repositioning techniques
Reporting results Effectively

Updated references, oVEMP protocols, and images

This easy-to-use manual is part of the Core Clinical Concepts in Audiology Series and is of great value to audiology students as well as an excellent refresher for practicing clinicians.
Foreword to the First Edition
Preface
Acknowledgements
Part I. Basic Vestibular System Assessment
Chapter 1. Orientation to the Vestibular Lab
Chapter 2. Observation of a VNG Battery
Chapter 3. Observation of an ENG Battery
Chapter 4. Ocular Motor and Gaze Evaluation
Chapter 5. Positioning Evaluations
Chapter 6. Static Positional Evaluation
Chapter 7. Air Caloric Evaluation
Chapter 8. Water Caloric Evaluation
Chapter 9. Bedside/Screening Vestibular Evaluations
Part II. Advanced Vestibular Assessment
Chapter 10. Rotational Chair – Sinusoidal Harmonic Acceleration (SHA) Evaluation
Chapter 11. Rotational Chair – Step Velocity Evaluation
Chapter 12. Advanced Rotational Chair – Visual Effects
Chapter 13. Auto Head Rotation
Chapter 14. Video Head Impulse Test (vHIT)
Chapter 15. Computerized Dynamic Posturography
Chapter 16. Dynamic Visual Acuity
Chapter 17. Advanced Rotational Chair – Subjective Visual Vertical Measures
Chapter 18. Vestibular Evoked Myogenic Potentials
Part III. Vestibular Rehabilitation
Chapter 19. Canolith Repositioning Maneuvers
Chapter 20. Basic Vestibular Rehabilitation Concepts
Part IV. Putting It All Together
Chapter 21. Case Studies in Diagnostics and Rehabilitation
Chapter 22. Report Writing Strategies
References
Index
About The Author
Bre Lynn Myers, AuD, PhD, CH-AP completed her undergraduate and Master's degree in Audiology at Bloomsburg University in 2003. She completed her clinical doctorate in audiology (AuD) in 2006, and PhD in Biomedicine in 2013 at Salus University. She is currently Assistant Professor in the Osborne College of Audiology at Salus University. Her areas of teaching and research include vestibular diagnostics, best clinical practices, and inter-professional education. Dr. Myers has been an invited lecturer at several state and national conferences. When she is not lecturing or researching the vestibular system, she enjoys exercising her own vestibular system by being an active member of her local roller derby league.