Publication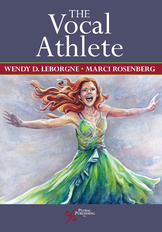 Desk Copy for Instructors
The Vocal Athlete
Details:

328 pages, Illustrated (B/W), Softcover, 7 x 10" 1 lbs
ISBN13: 978-1-59756-458-8

Release date: 06/04/2014
$59.95
Overview
The Vocal Athlete and the companion book The Vocal Athlete: Application and Technique for the Hybrid Singer are written and designed to bridge the gap between the art of contemporary commercial music (CCM) singing and the science behind voice production in this ever-growing popular vocal style. This book is a must have for the speech pathologist, singing voice specialist, and vocal pedagogue. Heavily referenced, this text is ripe with current research on singing science as it relates to the CCM voice.
In addition to general singing science, The Vocal Athlete is the first book of its kind to address the unique vocal and physiologic demands of commercial singing from a sound scientific and pedagogical standpoint. Historical review of classical vocal pedagogy is interwoven and transitioned to current pedagogy of CCM. Anyone who trains singers will gain insight into the current research and trends regarding the commercial music artist. Specifically, promotion and maintenance vocal wellness unique to the high demands of the CCM artist are provided for career longevity. Readers are provided additional resources on the multidisciplinary roles relative to managing vocal injury for this high risk group of singers.
The Vocal Athlete distinguishes itself from other pedagogy texts by incorporating current peer reviewed literature in the area of CCM and its studio application. Also unique to this text are chapters on body alignment, traditional and holistic medicine, the lifecycle of the voice, and the physiology of belting.
The companion book The Vocal Athlete: Application and Technique for the Hybrid Singer is a practical array of vocal exercises and techniques described by experienced CCM vocal pedagogues. This book comes with a CD of the singing exercises to further enhance understanding of techniques and skills used in training these singers. (Learn more about The Vocal Athlete: Application and Technique for the Hybrid Singer).
These books are invaluable tools for anyone who uses or trains the singing voice.
Review
Barbara Fox DeMaio Caprilli, DMA, Assistant Professor of Voice University of Central Oklahoma, Artistic Director American Singers' Opera Project, NC, DMA Vocal Pedagogy Shenandoah Conservatory, (August 16, 2014):
"I will be using ''The Vocal Athlete'' for my Vocal Pedagogy class in the Spring. For many years I have been looking for a book that was the right combination of vocal science and classical pedagogy, yet at the same time an accessible read for the college classroom. This is the book; indeed, I have the feeling that this will become the go-to Vocal Pedagogy textbook for many years to come. The book is one of the first to address the unique challenges of the modern Contemporary Commercial Music field, but there is also an extensive chapter on the history of classical Vocal Pedagogy. This book has it all; and don't forget the workbook which is full of very useful exercises for the modern voice studio, indispensable for your students as they begin to teach."
Audience
Primary Subject:
Singing and the Performing Arts
Secondary Subject:
Voice
Secondary Subject:
Speech-Language Pathology
/
Voice and Voice Therapy
Audience Level:
Academic
Preface
Acknowledgments
Contributors
Section I. Structure and Function of the Voice

Chapter 1. The Singer's Body: Alignment, Movement, and Intention

Introduction
Posture and Alignment
Assessing Posture and Alignment
Beyond Posture
Chapter Summary
References
Chapter 2. Respiratory Kinematics

Introduction
Historical Overview of Respiratory Pedagogy
Contemporary Respiratory Pedagogical Training
Respiratory Pedagogical Summary
Anatomy and Physiology of the Respiratory Mechanism for the Singer
Respiratory Kinematics for Vocal Athletes—What the Research Tells Us
Chapter Summary
References
Chapter 3. Laryngeal Anatomy, Physiology, and Function during Singing

Introduction
Role of the Larynx
Basic Laryngeal Anatomy and Physiology
Review of Nerve Supply to the Intrinsic Muscles
Microstructure of the Vocal Folds
Vocal Fold Vibration
Phonatory Onset
Vibrato
Chapter Summary
References
Chapter 4. Neurologic Control of Voice Production

Working from the Top Down: From the Singer's Brain to the Singer's Body
Central Nervous System
Peripheral Nervous System
Autonomic Nervous System
Summary of Neuromotor and Neurosensory Pathways for Voice Production
Musical Performance Anxiety and Emotional Aspects of Singing
References
Chapter 5. Resonance and Vocal Acoustics

Introduction
Resonators and Resonance
Focus and Placement
Chapter Summary
References

Section II. Vocal Health and Fitness

Chapter 6. Impact of Phonotraumatic Behaviors on Vocal Health and Singing

Introduction
What Is Phonotrauma?
Risk for Phonotrauma
Impact of Phonotraumatic Behaviors on Voice and Singing
When Is Vocal Rest Indicated?
Voice Rest and Vocal Fold Surgery
Wound Healing Physiology
Vocal Rest versus Vocal Exercise
Management of Phonotrauma
Behavioral Intervention
Direct Voice Therapy
Medical and Surgical Management
Chapter Summary
References
Chapter 7. Laryngopharyngeal Reflux: What the Singer Needs to Know

Adam D. Rubin and Maria Cristina Jackson-Menaldi

Introduction
Symptoms
Complications of Reflux
How Do I Know if I Have Reflux?
Treatment
Chapter Summary
References
Chapter 8. The Singer's Guide to Anesthesiology and Voice

Introduction
Basics of Anesthesia
Procedures that Require Airway Devices
Singer Concerns
Airway and Vocal Tract Complications
Chapter Summary
References
Chapter 9. The Life Cycle of the Singing Voice

Overview
The Pediatric Performer: Considerations for Vocal Performing in Children Through Adolescence
Aspects of the Aging Voice and the Nonclassical Singer
Chapter Summary
References
Chapter 10. Medicine, Myths, and Truths

Introduction
Medications and the Voice
Reflux Medications
Herbal Supplements and Vitamins
References
Chapter 11. Multidisciplinary Care of the Vocal Athlete

Introduction
Chapter Summary
References

Section III. Vocal Pedagogy for the 21st-Century Vocal Athlete

Chapter 12. History of Classical Voice Pedagogy

Overview
Chapter Summary
References
Appendix 12-A. Classical Vocal Pedagogy Resources
Chapter 13. Belting Pedagogy: An Overview of Perspectives

Introduction
Increasing Demand for Commercial Pedagogy and Belting
Overview of History and Pedagogical Approaches for Belting
Chapter Summary
References
Chapter 14. Belting: Theory and Research

Introduction
Belting—Perceptual Research
Laryngeal Muscle Activity and Action during CCM Singing
Voice Source Information on Belting
Formants and Harmonic Findings/Singers Formant/Formant Tuning
Intensity Findings
Vibrato Findings
Timbre/Spectral Slope Findings
Nasality Findings
Registration Findings
The Science Behind the Singing: Inertance and Compliance Theories
Chapter Summary
References
Chapter 15. Exercise Physiology Principles for Training the Vocal Athlete

Introduction
Muscle Fibers and Laryngeal Function
Skeletal (Limb) Muscles
Basic Training Principles for Exercise Science
Research on Exercise Science for Voice
Application of Exercise Physiology Principles for Training Vocal Athletes
Vocal Warm Ups
Voice Fatigue
Monitoring Vocal Effort
Chapter Summary
References
Chapter 16. Application of Motor Learning Principles to Voice Training

Introduction
Motor Performance versus Motor Learning
Stages of Motor Learning
Establishing Training Goals
Structuring a Lesson
The Forgetting Hypothesis
Feedback and Cueing
Reducing Learner Dependency
Directing Learners' Attention
Chapter Summary
References
Chapter 17. The Art of Perfection: What Every Singer and Voice Teacher Should Know about Audio Technology

Introduction
Audio Engineers and the Art of Perfection
Recording in the Early 20th Century
Modern Recording Methods
Live Performance
Opera
Listening Levels
Understanding Modern Recording Technology
Signal Processing
The Basics of Live Sound Systems
Teaching with Audio Equipment
Chapter Summary
References

Index