Publication
Voice Science, Acoustics, and Recording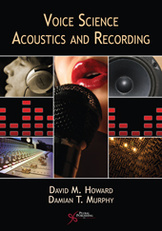 Voice Science, Acoustics, and Recording
Details:

206 pages, Illustrated (B/W), Hardcover, 7 x 10"
ISBN13:

978-1-59756-078-8
Release Date:

11/01/2007
Overview
Written for voice professionals, their teachers and those who care for their voices, this unique book covers voice acoustics, the effect of the acoustics of spaces on the voice, and how to make a voice recording properly. The book is wholly practical and written in a manner which is rooted in science but which is designed to enable understanding by non-scientists and voice practitioners alike.
The authors provide an outline of acoustics and the human voice, before going on to cover ways in which voice users - from professional and amateur singers and performers, through lawyers, to school teachers - the largest group reporting to clinics with vocal problems - can improve vocal efficiency, regardless of location, and vocal health. Also covered are methods of amplification, whether through microphones, or simply by posture or stance and best methods for sound recording.
Review
Adrienne B. Hancock, PhD (George Washington University), Doody's Review Service (2008):
"...A wonderful overview of acoustics and how to understand human voice produciton and the effects various spaces have on measuring vocal acoustics.... A useful resource for professionals involved in voice performance or recording. I also suspect that speech-language pathology undergraduate acoustic/speech science courses would benefit from using this book."
Overall scope.
Introductory acoustics.
The performer's voice.
The human voice.
Voice production.
Acoustics of the vocal output.
Speech and singing.
Tactics for maintaining a healthy voice.
The voice on location.
Acoustics of spaces.
Modifying the acoustics of a space.
The spoken word in different spaces.
Singing in different spaces.
Tactics for working the space to best advantage.
Making a voice recording.
Microphones.
Recording equipment.
Recording for the market.
Recording for research.
Tactics for making a high-quality recording.
Amplifying the voice.
Loudspeakers and equipment.
Public address.
Sound reinforcement.
Foldback.
Tactics for achieving high-quality voice amplification.
References.
Glossary of terms.
About The Authors
David M. Howard, PhD is Professor in the Department of Electronics, University of York. (www.davidmhoward.com)
---
Damian T. Murphy, PhD, is a professor in the Department of Electronics, University of York.