Publication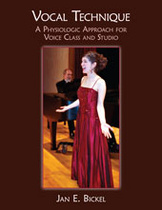 90-Day Exam Copy for Instructors
Vocal Technique
A Physiologic Approach for Voice Class and Studio
Details:

184 pages, Illustrated (B/W), Softcover, 8.5 x 11"
ISBN13:

978-1-59756-190-7
Release Date:

02/01/2008
Overview
This book is intended for teaching the college or university level singer, but would also be appropriate for teaching younger students who wish to learn a healthy vocal technique. At the university level, Vocal Technique: A Physiologic Approach is currently used to teach vocal pedagogy courses as well as voice classes and studio lessons for voice majors and minors. From the outset, the reader will discover clear and careful explanations of the physiologic singing process, including detailed information regarding anatomy, posture, breath support, phonation, resonance production and articulation. Having this knowledge will enable singers to maintain optimum technical skill and vocal health throughout a long singing or teaching career. The reader will find extensive information on voice classifications, with appropriate ranges, and a description of appropriate stage characters for each category. Within the chapter on articulation, the author provides extensive information on using the International Phonetic Alphabet, as applied to the English and Italian languages. The final chapters are dedicated to health concerns for singers and becoming an artistic performer. Here the young singer will find suggestions regarding nutrition, physical conditioning, preventing stage fright, appropriate performance attire, stage deportment, interpretation, and relating to the audience. Throughout the book, the reader will find abundant resources including clear illustrations, a specific process for learning and memorizing vocal repertoire, diction worksheets, vocal exercises, appendices of musical terms and music reading skills, as well as important terms and references at the back of each chapter. There is a full bibliography, and an index.
Reviews
Debra Greschner, Journal of Singing (2009):
"Vocal Technique has many comendable qualities. The volume is comprehensive, yet comprehensible. Bickel covers the gamut of subjects germane to singing technique in a manner that is not intimidating. ... An excellent guide for beginning voice students at the university level."

Naomi Copeland, Chicago State University, Music Educators Journal (March 2011):
"Jan Bickel has developed an essential reference in her book Vocal Technique: A Physiologic Approach for Voice Class and Studio. This textbook is a user-friendly guide to the basics of vocal pedagogy and covers a wide range of topics, including physiology, breath management, tone quality, production, and even how to maintain a healthy lifestyle to sustain your instrument. Within the nine chapters, Bickel includes effective graphics and relevant exercises, and she ends each chapter with a concise summary, a list of important terms, and several additional sources for further reference. A welcome aspect of this text is Bickel's inclusion of an often-neglected facet of vocal health and training. Another essential section of her book for the novice singer is chapter 2, "Anatomy of the Singer's Instrument: Design and Function". This section is extremely comprehensive and well explained, with easy-to-understand figures of the entire physiological mechanism involved in singing. Although this textbook should not be the only written source of information on vocal technique for students, it is a valuable reference that all aspiring singer with limited formal training should add to their libraries."
Preface.
Singer Information Sheet for Voice Class
Some Answers to Questions Before We Begin to Learn How to Sing
Anatomy of the Singer's Instrument Design and Function
Establishing Correct Posture for Singing
Breath Management for Singers
The Physiology of Vocal Tone Production
Articulation for Singers
Developing Beautiful Tone Quality, Resonance, and Freedom
Health Concerns for Singers
Beyond Vocal Technique—Becoming an Artistic Performer
Appendix I: Musical Terminology for the Voice Student
Appendix II: Music Reading Skills for Beginning Singer/Musicians
Appendix III: Vocal Performance Evaluation
Bibliography
Index
About The Author
Mezzo-Soprano Jan Bickel, DMA is Professor/Director of Vocal Studies emerita at Saint Xavier University (SXU) in Chicago, where she taught applied voice, voice class for vocal and instrumental music majors and minors, lyric diction, voice pedagogy, and art song and opera literature; conducted choral ensembles; and directed the opera workshop. Dr. Bickel received the Teaching Excellence, Excellence in Scholarship, Excellence in Research, and the SXU Award for outstanding service during her 32-year tenure with the university. She holds a DMA in Vocal Performance from the American Conservatory of Music, the MM in Vocal Performance from the Chicago Conservatory of Music, and a BA in Vocal Music from Saint Mary's College-Notre Dame. Her performance credits as soloist and/or opera singer include the Chicago Opera Theatre, Chamber Opera Chicago, Des Moines Metro Opera, Chicago Symphony, Chamber Orchestra Chicago, and many others. She is currently a member of the National Association of Teachers of Singing and the Voice Foundation.