Publication
Dysphagia Assessment and Treatment Planning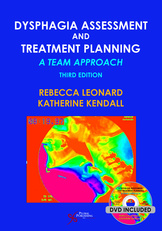 Desk Copy for Instructors
Dysphagia Assessment and Treatment Planning
A Team Approach
Third Edition
Edited by: Rebecca Leonard, Katherine Kendall
Details:

384 pages, Color Illustrations (4 Color), Hardcover, 7 x 10"
Included Media:

DVD
ISBN13:

978-1-59756-525-7
Release Date:

03/01/2013
$159.95
Overview
This textbook, now in its third edition, is ideal for graduate dysphagia courses in speech-language pathology programs. The unique value of this book is the multidisciplinary approach it presents. Too often, speech-language pathologists function clinically with insufficient interaction with, or understanding of, the roles of other professionals involved with their patients. This text incorporates information pertinent to the roles, tools, and views of a multidisciplinary dysphagia team, including physicians, speech pathologists, nurse specialists, and dieticians, that works together on a daily basis.
For the third edition, the authors have added a companion workbook that includes practical exercises accompanying each chapter--for example, a step-by-step tutorial for making objective measures of timing and displacement from fluoroscopic swallow studies. The exercises are designed to clarify and expand on information presented in the text and should be of interest not only to students but to practicing clinicians hoping to add new skills to their repertoires.
Previous chapters have also been thoroughly revised and updated, including new information on the following topics:
Effects of head and neck cancer, chemotherapy, and radiation therapies on swallowing
Clinical and bedside assessments
Survey instruments used by patients and clinicians
How surgeries/treatments affecting the head and neck (e.g., cervical spine, thyroid) affect swallowing
Greatly expanded information pertinent to unique features of dysphagia associated with CVA, neurogenic and neuromuscular disorders
New information regarding reflexive interactions between esophagus and larynx that potentially influence swallowing
Assessment in infants and children
New tools for nonoral feeding
Recommendations for dysphagia diets, and practical ways to implement these
Rheologic characteristics of foods and how this information is incorporated in assessment and treatment planning
The utility of endoscopy in assessment and treatment; how and why critical endoscopic observations (i.e., aspiration, penetration) may differ from fluoroscopy
Greater discussion of radiation and need/recommendations for exposing patients to radiation
The value and validation of the anterior-posterior esophageal screen
New technologies and improvements in existing technologies for oral-pharyngeal and esophageal dysphagia assessment
New information regarding swallowing in the normal elderly, with particular attention to utility of information in differentiating normal from disease
Contribution of objective measurement data in treatment planning (in particular, the use of objective data to predict aspiration even when not observed on fluoroscopy)
New tools for making measures in dynamic swallow studies that streamline the measurement process
A comprehensive overview of behavioral, medical, and surgical approaches to dysphagia
The DVD includes an animated tutorial demonstrating techniques for objective measures from fluoroscopy studies. In addition, it includes both normal and patient fluoroscopy studies for review and measurement. The patient studies selected are representative of impairments typically observed in clinical practice (inpatient and outpatient). Other media clips illustrate each instrumental assessment technique introduced in the book (e.g., endoscopic, transnasal esophagoscopy, high resolution manometry), performed on a variety of dysphagic patients. View an example of video clip here.
As noted, a separate workbook is also available to reinforce student learning of the concepts presented in the textbook and DVD. Learn more about the Dysphagia Assessment and Treatment Planning Workbook, Third Edition.
With its updated and expanded content, Dysphagia Assessment and Treatment Planning, Third Edition highlights the most current evidence-based research as it applies to a team-based approach to clinical practice.
RELATED TITLE
Case Studies in Dysphagia Malpractice Litigation by Dennis Tanner, PhD
Drawing on his experiences as an expert witness in numerous medico-legal cases, Dr. Tanner provides reviews issues that may lead to malpractice litigation.
Click here for more information.
Reviews
Introduction
1. Anatomy and Physiology of Deglutition
Katherine Kendall
2. Head and Neck Physical Exam
Katherine Kendall
3. Dysphagia in Head and Neck Cancer Patients
Katherine Kendall
4. Neurogenic Dysphagia
Jacqui Allen
5. Esophageal Phase Dysphagia
Peter C. Belafsky and Catherine J. Rees
6. Laryngopharyngeal Reflux
Catherine J. Rees and Peter C. Belafsky
7. Nursing Evaluation and Care of the Dysphagic Patient
Ann E. F. Sievers
8. Clinical Swallow Evaluation
Susan J. Goodrich and Alice I. Walker
9. Pediatric Clinical Feeding Assessment
Janet Pitcher, Margie Crandall, and Susan J. Goodrich
10. Nutritional Concerns and Assessment in Dysphagia
Beverly Lorens
11. Endoscopy in Assessing and Treating Dysphagia
Rebecca Leonard
12. Radiographic Evaluation of the Pharynx and Esophagus
Jacqui Allen
13. Other Technologies in Dysphagia Assessment
Peter C. Belafsky and Catherine J. Rees
14. Dynamic Swallow Study: Swallowing Evaluation with Videofluoroscopy
Susan McKenzie and Rebecca Leonard
15. DSS Analysis and Interpretation: A Systematic Approach for the Clinician
Susan McKenzie
16. Dynamic Swallow Study: Objective Measures and Normative Data in Adults
Rebecca Leonard, Katherine Kendall, and Susan McKenzie
17. Dynamic Swallow Studies: Measurement Techniques
Rebecca Leonard
18. The Treatment Plan
Rebecca Leonard, Katherine Kendall, Susan McKenzie, and Susan Goodrich
DVD Contents:
Chapter 1.
Example of a "straw drinking task," on fluoroscopy, that illustrates the highly organized, **:sequential act of swallowing typical of normal swallow.

Chapter 5.
Example of "GOOSE," that is, "Guided Observation of Swallowing in the Esophagus." During this exam, *:Dr. Belafsky is asking the patient to swallow bolus material (including capsule, applesauce), and *:then observing its course through the esophagus. (At the end of the clip, the scope is inserted *:through the lower esophageal sphincter (LES) and retroflexed to observe a capsule entering the *:stomach through the LES.)

Chapter 11.
Included here are examples of FEES exams, and brief clips illustrating assessment of "valves and *:chambers" involved in swallowing in a non-dysphagic subject. The model of swallowing structures *:as a series of valves and chambers is discussed throughout the text.

Chapter 13.
Example of a simultaneous fluoroscopic-manometric study ("manofluoro"). The reader can move through *:the clip slowly, or frame by frame (in Quicktime) and observe changes in pressure associated with *:events noted on fluoro, e.g. pharyngeal constriction from the nasopharynx to the hypopharynx, *:opening of the esophagus (with associated drop in pressure at upper esophageal sphincter).

Chapter 16.
Fluoroscopic exam, "DSSnormswall," demonstrating timing of bolus transit and swallow gesture *:events.
Chapter 17.
:Materials included here represent practice activities for making fluoroscopic measures of timing *:and displacement. Normal studies of individuals under and over age 65 yrs, with our measures for *:comparison (DSSNRMSwallows), and patient studies (DSSPTSwallows), with histories, are included. *:"DEMOSwallow" is the swallow used in chapter and workbook to illustrate measurements. *:"DSSOBJMEASURES" is an animated tutorial illustrating techniques for displacement measures.

Chapter 18.
"DSSPTSTRAT" illustrates various compensatory swallowing strategies in patients. *:"TreatmentMediaClips" includes a clip of a double-balloon dilation. SED clips in this folder *:illustrate effects of a manual swallow expansion device on esophageal opening as filmed with *:fluoroscopy and endoscopy, respectively. In these two examples, patient is not swallowing… but *:using the SED to manually open the upper esophagus.
About The Editors
Rebecca Leonard, PhD, CCC-SLP, is a Professor Emeritus in the Department of Otolaryngology at the University of California, Davis, and former Clinical Director of the Voice-Speech-Swallowing Center in the ENT Clinic. Dr. Leonard continues to be actively involved in research activities associated with the center. Her research interests include normal and disordered swallowing, changes in swallowing across the life span, development of quantitative radiographic techniques to assess the upper airway and esophagus during swallowing, aversive effects on structures of the upper airway associated with environmental stimuli (ozone), and the effects of ablative procedures on voice, speech, and swallowing and the rehabilitation of these effects with prosthetic appliances and reconstructive procedures. Her MS and PhD degrees are from Purdue University, and she is a Fellow of the American Speech-Language-Hearing Association.
---
Katherine A. Kendall, MD, FACS, completed her residency in Otolaryngology at the University of California, Davis. After residency, she joined the faculty at the University of California, Davis, where she was the medical director of the dysphagia team and the Voice, Speech and Swallowing Center and, along with co-author Dr. Rebecca Leonard, developed the Laryngology and Swallowing Assessment program. In 2004, Dr. Kendall joined the otolaryngology department at Park Nicollet Clinic in Minnesota. As director of laryngology services, Dr. Kendall was actively involved in education and training of speech pathologists in the area of voice and swallowing. Dr. Kendall joined the otolaryngology faculty at the University of Minnesota in 2007 and created a Voice Clinic at the Minneapolis VA Medical Center, offering multidisciplinary evaluation and treatment of voice and swallowing disorders. Dr. Kendall joined the Division of Otolaryngology at the University of Utah in 2012 and continues her work on the treatment of voice and swallowing disorders.