Publication
Dysphagia Assessment and Treatment Planning Bundle (Textbook and Workbook)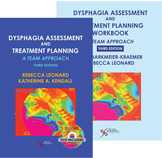 Dysphagia Assessment and Treatment Planning Bundle (Textbook and Workbook)
Third Edition
Details:

Color Illustrations (4 Color)
Release Date:

06/13/2013
$178.41
Overview
(Bundle price cannot be combined with other discounts.)
Save 15% when you buy the Dysphagia Assessment and Treatment Planning, Third Edition textbook and workbook together.
Dysphagia Assessment and Treatment Planning, now in its third edition, is ideal for graduate dysphagia courses in speech-language pathology programs. The unique value of this book is its multidisciplinary approach, incorporating information pertinent to physicians, speech pathologists, nurse specialists, and dieticians who work together on a daily basis. For the third edition, the chapters have been thoroughly revised and updated, including new information on many topics related to dysphagia in various medical conditions and patient populations, the latest assessments and instruments, and the current best practices in the treatment of swallowing disorders.

A DVD included with the text provides an animated tutorial demonstrating techniques for objective measures from fluoroscopy studies. In addition, it includes both normal and patient fluoroscopy studies for review and measurement. The patient studies selected are representative of impairments typically observed in clinical practice (inpatient and outpatient). Other media clips illustrate each instrumental assessment technique introduced in the book (e.g., endoscopic, transnasal esophagoscopy, high resolution manometry), performed on a variety of dysphagic patients.
Learn more about Dysphagia Assessment and Treatment Planning, Third Edition.
A companion workbook is also available (sold separately) that includes practical exercises accompanying each chapter—for example, a step-by-step tutorial for making objective measures of timing and displacement from fluoroscopic swallow studies. The exercises are designed to clarify and expand on information presented in the text and should be of interest not only to students but to practicing clinicians hoping to add new skills to their repertoires.
Learn more about Dysphagia Assessment and Treatment Planning Workbook, Third Edition.
RELATED TITLE
Case Studies in Dysphagia Malpractice Litigation by Dennis Tanner, PhD
Drawing on his experiences as an expert witness in numerous medico-legal cases, Dr. Tanner provides reviews issues that may lead to malpractice litigation.
Click here for more information.
About The Authors
Rebecca Leonard, PhD is a professor in the Dept. of Otolaryngology/HNS at the University of California, Davis. She is also the Clinical Director of the Voice-Speech-Swallowing Center in the ENT Clinic at the U. C. Davis Medical Center. She is a member of the American Speech, Language and Hearing Association, and she is an ASHA Fellow.
---
Dr. Katherine Kendall is a staff member in the Division of Otolaryngology at the University of Utah. She has formerly served as the Medical Director of the Dysphagia Team and the Voice, Speech and Swallowing Center at UC Davis and Director of the Park Nicollet Voice Clinic in Minneapolis.