Publication
Hegde's PocketGuide to Treatment in Speech-Language Pathology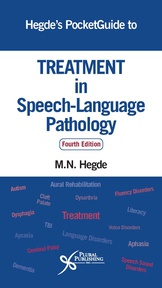 90-Day Exam Copy for Instructors
Hegde's PocketGuide to Treatment in Speech-Language Pathology
Fourth Edition
Details:

Color Illustrations (2 Color), Softcover, 4.5 x 8"
ISBN13:

978-1-94488-312-6
Release Date:

03/31/2018
$89.95
Overview
Now in its fourth edition, Hegde's PocketGuide to Treatment in Speech-Language Pathology is a renowned resource, the first of its kind, and now a classic in communication sciences and disorders.
This revised PocketGuide, like the other two classic guides, blends the format of a dictionary with the contents of a textbook and clinical reference book. With this guide, both the students and the professional clinicians may have, at their fingertips, the encyclopedic knowledge of the entire range of treatment concepts and approaches, general treatment guidelines and specific procedures, treatment evaluation and selection criteria, detailed and multiple treatment procedures for all disorders of communication, and guidelines on treating ethnoculturally diverse individuals.

The SLP that has this handy guide in his or her pocket will have a quick as well as a detailed reference to general and specific treatment procedures and many brief, task-specific treatment procedures that a clinician may readily use in serving any individual of any age. The information may easily be reviewed before the clinical sessions or examinations, because the entries in the guide are in the alphabetical order.

Features:
Current knowledge on treatment philosophies, approaches, and techniques
Alphabetical entries for ease of access
Underlined terms that alert the reader for cross-referenced entries on related concepts and procedures
Step-by-step treatment procedures
Multiple treatment options for each disorder

New to the fourth edition:
Updated entries to reflect current practice and procedures
Newer and multiple treatment concepts and procedures
Methods by which treatment procedures are evaluated
Criteria for selecting an effective treatment procedure among available alternatives
New 4.5x8 inch trim size for easier portability

Also available:
Hegde's PocketGuide to Assessment in Speech-Language Pathology, Fourth Edition
Hegde's PocketGuide to Communication Disorders, Second Edition
About The Author
M.N. Hegde, PhD, is Professor Emeritus of Speech-Language Pathology in the Department of Communicative Disorders at California State University, Fresno. A highly regarded author in speech-language pathology, his books include leading texts in academic courses and valuable resources for clinicians. His books have been used in worldwide in speech-language pathology programs.