Publication
Language and Literacy Development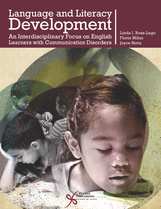 90-Day Exam Copy for Instructors
Language and Literacy Development
An Interdisciplinary Focus on English Learners with Communication Disorders
Details:

424 pages, Illustrated (B/W), Softcover, 6 x 9"
ISBN13:

978-1-59756-332-1
Release Date:

02/29/2012
$114.95
Overview
In Language and Literacy Development, the authors discuss evidence-based practical strategies in the identification, assessment and intervention of ELs with communication disorders. Written from the perspective of two disciplines, Communication Sciences and Disorders (CSD) and English as a Second Language (ESOL), the authors merge their expertise to discuss the knowledge, skills and competences each professional must demonstrate in order to facilitate language and literacy development in ELs with communication disorders.
Few resources have directly and intentionally addressed the merging of the two disciplines - speech-language pathology and English as a second language - in effecting change in language and literacy. This book fills this need.
The primary audience for this book is for school-based speech-language pathologists. The book is also intended for all professionals who are responsible for teaching language and literacy skills, such as, the ESOL professional, general and special educators, bilingual teachers, reading coaches and school administrators. The text can also be used as a textbook in academic programs.
Foreword
Organization of the Text
Acknowledgments
1. English Learners - The Merging of Two Disciplines
2. English Learners - Perspectives from Two Disciplines
3. English Learners in the United States - Preschool Through Grade 12
4. First and Second Language Acquisition: Theoretical and Practical Considerations for SLPs and ESOL Professionals
5. Literacy Development in a Second Language
6. An Interdisciplinary Approach to the Assessment of English Learners
7. An Interdisciplinary Approach to Assessment of English Learners with Communication Disorders
8. Approaches and Practical Strategies to Facilitate Language and Literacy Development in English Learners
9. The Power of Two: Directions for an Effective Collaboration Between SLPs and ESOL Professionals
Appendix A. ASHA and TESOL Position Statements
Appendix B. Professional Standards
Index
About The Authors
Linda I. Rosa-Lugo, EdD, CCC-SLP is an Associate Professor in the Department of Communicative Disorders at the University of Central Florida. Prior to joining the faculty at UCF, she worked in a variety of settings, providing direct services to Spanish- and English-speaking infants, school-aged children, deaf and hard of hearing students, and geriatric patients with communication disorders, as well as supervising student clinicians. Her research interests include dialect acquisition and usage in culturally and linguistically diverse students, language and literacy development in Hispanic youngsters who are deaf/hard of hearing, and first and second language acquisition in English language learners. She can be reached at lrosa@mail.ucf.edu.
---
Dr. Mihai received his PhD in Multicultural and Multilingual Education from the Florida State University and holds a BA in English and Romanian from Alexandru Cuza University in Iasi, Romania. Dr. Mihai has taught English as a Second/Foreign Language classes, as well as courses in applied linguistics, language assessment, introduction to education, and ESOL in the content area. His research interests include the influence of globalization on foreign language curriculum development, implications of form-focused instruction, language, and content-area assessment for English language learners, and pre- and in-service teacher education.
---
Joyce W. Nutta is Associate Professor of English for Speakers of Other Languages (ESOL) and the ESOL Coordinator of the College of Education at the University of Central Florida, where she teaches ESOL Education courses at the graduate level. She holds a bachelor's degree in Mass Communications, a master's degree in Applied Linguistics, and a Ph.D. in Second Language Acquisition/Instructional Technology.