Publication
Medical Speech-Language Pathology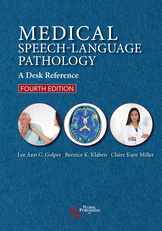 90-Day Exam Copy for Instructors
Medical Speech-Language Pathology
A Desk Reference
Fourth Edition
Details:

Illustrated (B/W), Spiral Bound, 7.5x9
ISBN13:

978-1-94488-376-8
Release Date:

08/31/2018
$109.95
Overview
Medical Speech-Language Pathology: A Desk Reference, Fourth Edition is an easily accessible quick reference that details procedures, practices and terminology aimed specifically at the needs of the medically based speech-language pathologist. The purpose of this text is to advance the practices of SLP clinicians and help them to become comfortable with the principles and practices found in hospitals and related settings so they can practice their profession and take their place among other health care providers with confidence and competence.
Key Features:
Find what you need quickly with concise, comprehensive definitions that are practical and well-organized.
Includes information related to working with children and newborns in almost every chapter.
Reinforce skills related to career development with the Clinical Competencies discussed at the end of each chapter.

In medical settings, the speech-language pathologist's treatment decisions may directly affect health and safety as well as communication; thus, clinicians who work in medical settings should have a basic understanding of the conditions that bring patients to the hospital or clinic and what is being done to manage them. This text is intended to provide that basic understanding as a handy reference for clinicians who are practicing or are in training to practice speech-language pathology in hospitals and in other health care-related facilities, such as rehabilitation programs, private practice, outpatient clinics, nursing homes, and home health agencies. It is also intended as a desk reference for clinicians who work in school and preschool settings, where children with medically related communication and swallowing disorders are a part of the caseload.
About The Authors
-
---
Bernice K. Klaben, PhD, is an associate professor in the Department of Otolaryngology-Head and Neck Surgery at the University of Cincinnati Medical Center (UCMC) and associate director for the UC Voice and Swallowing Center. She is an adjunct instructor in the College of Allied Health Sciences in the UC Communication Science Department. Her specialty is in the areas of voice, dysphagia, and head and neck cancer. She is board recognized in swallowing and swallowing disorders. In addition to coauthoring this text, she has also authored research articles and text chapters relating to voice disorders. She has given numerous presentations and seminars in the area of voice and swallowing and has served as mentor to many students in the field of speech pathology.
---
-