Publication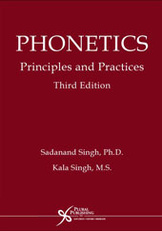 Desk Copy for Instructors
Phonetics
Principles and Practices
Third Edition
Details:

255 pages, Illustrated (B/W), Softcover, 7 x 10"
ISBN13:

978-1-59756-020-7
Release Date:

11/01/2005
$83.95
Overview
Phonetics: Principles and Practices, Third Edition, introduces students to the study of speech sounds and explains why the study is important and necessary. This text is a launching point for study in the field of phonetics. It introduces readers to the key elements in phonetic study, providing an overview of phonetic transcription, anatomy of speech production and perception, the physics of sound, properties of vowels, diphthongs, and consonants, stress and intonation, and connected speech.
One of the strengths of this text is the variety of exercises, which are designed with student self-learning in mind. Chapters include fill-in-the-blank, true/false, multiple choice, and transcription reading and writing exercises.

Study objectives introduce each chapter
Exercises at the end of each chapter with answer key at the back
A concise readable style aids student learning
Uniquely features a joint speech-language pathology and audiology perspective

Chapters are now available for individual purchase (order PDFs above).
Reviews
Doody Enterprises, Inc.:
"* * * Three stars from Doody's Review Service!"

Speech and Language Therapy in Practice, UK:
"This is an ideal book for first year students to introduce the principles of phonetics and is a good reference guide for other students and clinicians. This easy to read, enjoyable book is very beneficial for students as the application of phonetics in the clinical setting is discussed throughout. It is also excellent value for money."

Biljana Cubrovic, The Journal of International Phonetic Association (2010):
"Singh & Singh's practical textbook of phonetics is both innovative and easily accessible not only to language students, but also to expert phoneticians, especially to those interested in the story of the sounds of American English...this book successfully provides its user with the phonetic and phonological knowledge every speech-language pathologist or linguistics student should be equipped with. It deals with all major phonetic subfields and also provides some insight into phonology, which makes it a modern, accessible and comprehensive textbook."
Preface to the Third Edition
Acknowledgements
Preface to the Second Edition
Preface to the First Edition
1) Introduction to Phonetics.
2) Introduction to the International Phonetic Alphabet.
3) Articulatory Aspects of Speech Production.
4) Articulatory Aspects of Phonetics: Vowels and Diphthongs.
5) Acoustic Aspects of Phonetics.
6) Perceptual Phonetics.
7) Distinctive Features and Patterns of Acquisition for Consonants and Vowels.
8) Stress Intonation
9) Dynamics of Connected Speech.
Appendix A; International Phonetic Alphabet (revised to 1993, updated 1996)
Appendix B: Answers to Exercises
Index
About The Author
Sadanand Singh, PhD, (1934-2010) was a fellow of the American
Speech-Hearing-Language Association (ASHA) and an active member to the direction of that organization. Dr. Singh was chairman of Plural Publishing and had been a professor at The Ohio State University, professor and department chair at Howard University, professor and director at the University of Texas Health Science program, and professor and chairman of the Communicative Disorders Department at San Diego State University. He also served on advisory boards with leading scientists, clinicians, and professors in several areas of key academic and clinical concentration. Dr. Singh authored undergraduate and graduate texts in phonetics, phonology, measurements, and clinical procedures.