Publication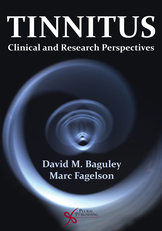 Tinnitus
Clinical and Research Perspectives
Co-Editors: David M. Baguley, Marc Fagelson
Details:

364 pages, Illustrated (B/W), Softcover, 7 x 10" 1 lbs
ISBN13:

978-1-59756-721-3
Release Date:

11/20/2015
Overview
Tinnitus: Clinical and Research Perspectives summarizes contemporary findings from basic and clinical research regarding tinnitus mechanisms, effects, and interventions. The text features a collection of international authors, active researchers, and clinicians who provide an expansive scope of material that ensures relevance for patients and professionals. Reviews and reports of contemporary research findings underscore the text's value for classroom use in audiology and otolaryngology programs. Patients and students of audiology will benefit from the text's coverage of tinnitus mechanisms, emerging practice considerations, and expectations for outcomes--for example, recent successes of cognitive behavioral therapy, neuromodulation, and hearing aid use. These and other topics, such as the effects of noise and drugs on tinnitus, are reported in a way that enhances clinicians' ability to weave such strategies into their own work. The influence of tinnitus on all aspects of life is explored, from art to medicine and communication to isolation, thereby providing clinicians and patients a deeper understanding of and greater facility managing a tinnitus experience. Finally, this text includes case studies that provide a practical view of tinnitus effects and management approaches. The editors hope that the consideration of mechanisms, interventions, and outcomes resonates with patients, clinicians, and students of audiology.
Chapters such as Tinnitus in Literature, Film, and Music make clear the ubiquity of the tinnitus experience and reinforce for patients that while tinnitus may be isolating, it is a shared experience. Other chapters, such as Musical Hallucination, and Acoustic Shock, address problems experienced by patients who experience not only tinnitus, but unusual auditory system behaviors that may be confused with tinnitus, or that can exacerbate a patient's emotional response to tinnitus. Chapters covering conditions that complicate tinnitus management provide clinical findings that support intervention strategies. Subtypes of tinnitus that require medical attention are reviewed in order to clarify sources of the sounds, as well as the appropriate referrals that should follow the identification of such sensations.
Reviews
Congratulations to Dr. Baguley and Dr. Fagelson on compiling such a comprehensive and readable text. It covers information that will be both useful to the beginning clinician and to the audiologist who has been working with tinnitus patients for years. The text presents an excellent balance of basic and applied science and also addresses both assessment and treatment of tinnitus and hyperacusis. As an audiologist that sees a large population of patients with tinnitus and hyperacusis, I see this text as an outstanding resource to learn more about areas that patients report but are somewhat unique in the realm of audiology, such as acoustic trauma, musical hallucinations, and middle ear myoclonus. The chapter on hearing aids and the tinnitus patient provides practical guidance that should be of benefit to every audiologist that fits hearing aids; based on how often tinnitus is present in patients with hearing loss. The chapter on tinnitus in childhood also provides a strong foundation for audiologists working with pediatric patients and a great reminder about addressing tinnitus in this population.
Gail M. Whitelaw, PhD
Department of Speech and Hearing Science
The Ohio State University
The editors of this text wisely chose topics reflecting the breadth of contemporary knowledge about tinnitus from a variety of biopsychosocial viewpoints, serving as a great resource for clinicians, researchers, and students. In addition to the presentation of current concepts underlying proposed neural mechanisms and generators, the chapter authors use an evidence-based approach for discussing currently available tinnitus management strategies from a multidisciplinary perspective. Moreover, the practical suggestions for tinnitus management offered throughout the text will be of assistance to both the seasoned and novice clinician alike.
Craig W. Newman, PhD
Section Head, Audiology
Head and Neck Institute
Cleveland Clinic
Professor, Cleveland Clinic Lerner College of Medicine
Case Western Reserve University
This book provides a series of review chapters on a wide range of topics related to tinnitus, including causes, mechanisms, animal models, treatments, and avenues for research. The authors have diverse backgrounds and all are authorities in the areas covered. The editors have ensured a consistent and accessible writing style. The book provides a very valuable resource both for those wishing to improve their knowledge and understanding of tinnitus and for active researchers in the field.
Brian C. J. Moore, PhD, FMedSci, FRS
Emeritus Professor of Auditory Perception
University of Cambridge
Department of Experimental Psychology
Reviews
Siobhan McGinnity, Audiology Now (2016):
"The breadth of topics covered in Tinnitus: Clinical and Research Perspectives follows suit with previous works by the authors, collating a diverse and multidisciplinary approach to the management and understanding of tinnitus. The book thoroughly explores topics often skimmed over in other textbooks, including musical hallucinations, acoustic shock and somatic modulation of tinnitus. Engaging summaries of evidence-based practice, such as the nine-point list of recommendations for tinnitus hearing aid fittings, converted easily to real life practice. In fact, the rate in which chapters turned over into practical application was rewarding. I sought the book out more than once when complex or unusual cases arose, knowing the answer would likely be found more easily there than any publication search or wayward scroll through Google...I would happily recommend it to any clinician or related scientist stuck wading their way through the overwhelming plethora of research on the topic. Tinnitus: Clinical and Research Perspectives is a concise yet in-depth compendium that can be reached for in a moment of need, or used as a reliable source for the latest information on tinnitus and all its related sub-facets."

Olaf Zagolski, Department of Otolaryngology, St. John Grande's Hospital, in the International Journal of Audiology (2016):
"...this book broadens the readers' perspective to the impact of tinnitus on literature, film, and music. The chapter on tinnitus in culture is novel and impressive. Similarly, other chapters present deeper and more complex insight into the discussed problems than would be indicated by strict rules of evidence-based medical texts. The chapter on clinical aspects of somatic modulation of tinnitus is the most compelling. It summarizes the use of mechanisms associated with tinnitus modulation by means of multiple nonauditory pathways, opening new insights into the notion of effective tinnitus therapy in some subgroups of the sufferers..."

Dr. Jeff Davies, Lecturer in Audiology, De Montfort University, Leicester, UK, ENT & Audiology News, Vol 26 No 2 (May/June 2017):
"This book encapsulates the many facets of tinnitus from its enigmatic neurophysiological underpinnings to its cognitive effects and treatment approaches. The editors' multidisciplinary approach in recruiting field experts from a variety of clinical and research backgrounds provides the reader with a true sense of the current tinnitus climate, where consensus and certainty are still somewhat distant concepts. . . . Overall, ''Tinnitus: Clinical and Research Perspectives'' is an informative and valuable resource. It surveys many aspects of tinnitus, drawing upon up-to-date evidence from prominent figures in the international tinnitus community. Although appearing shiny and new at present, I am sure that my copy of this book will be dog-eared and worn in no time, a sure sign of a good book!"
Preface
Contributors

Chapter 1. Tinnitus and Hyperacusis in Literature, Film, and Music
David M. Baguley

Chapter 2. The Mechanism and Time Course of Tinnitus Associated With Hearing Impairment
Larry E. Roberts

Chapter 3. Animal Models of Tinnitus and Hyperacusis
Thomas J. Brozoski and Carol A. Bauer

Chapter 4. Psychological Mechanisms and Tinnitus
Gerhard Andersson, Hugo Hesser, and Laurence McKenna

Chapter 5. Tinnitus in Military and Veteran Populations
Marc Fagelson

Chapter 6. Drug-Induced Tinnitus
Kelly Radziwon, Sarah H. Hayes, Adam M. Sheppard, Dalian Ding, and Richard Salvi

Chapter 7. Clinical Aspects of Somatic Modulation of Tinnitus
Tanit Ganz Sanchez

Chapter 8. Influences of Amplified Music
Marc Fagelson and David M. Baguley

Chapter 9. Middle Ear Myoclonus and Tonic Tensor Tympani Syndrome
Myriam Westcott

Chapter 10. Pulsatile Tinnitus
Tobias Kleinjung

Chapter 11. Acoustic Shock
Don McFerran

Chapter 12. Hearing Aids for Tinnitus
Grant D. Searchfield

Chapter 13. Cochlear Implants and Tinnitus
Francka J.J. Kloostra, Rosemarie Arnold, and Pim van Dijk

Chapter 14. Self-Help Interventions for Tinnitus
Magdalena Sereda and Derek J. Hoare

Chapter 15. Misophonia and Phonophobia
Don McFerran

Chapter 16. Musical Hallucinations
Thomas E. Cope, William Sedley, and Suhkbinder Kumar

Chapter 17. Managing Tinnitus in Childhood
Rosie Kentish

Chapter 18. Managing Tinnitus in Adults: Audiological Strategies
Graznya M. Bartnik

Chapter 19. Managing Tinnitus in Adults: Psychological Strategies
Rilana F.F. Cima

Chapter 20. Emerging Approaches to Treating Tinnitus
Derek J. Hoare and Magdalena Sereda

Chapter 21. Tinnitus in the Future
David M. Baguley and Marc Fagelson

Index