Publication
Scientific Foundations of Audiology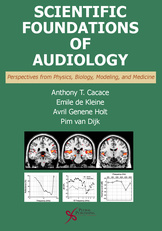 Overview
With advancements across various scientific and medical fields, professionals in audiology are in a unique position to integrate cutting-edge technology with real-world situations. Scientific Foundations of Audiology provides a strong basis and philosophical framework for understanding various domains of hearing science in the context of contemporary developments in genetics, gene expression, bioengineering, neuroimaging, neurochemistry, cochlear and mid-brain implants, associated speech processing and understanding, molecular biology, physics, modeling, medicine, and clinical practice.
Key features of this text include:
Highly technical information presented in a cohesive and understandable manner (i.e., concepts without complex equations)
Discussion of integrating newly developed technology within the clinical practice of audiology
State-of-the-art contributions from a stellar array of international, world-class experts

Scientific Foundations of Audiology is geared toward doctoral students in audiology, physics, and engineering; residents in otolaryngology, neurology, neurosurgery, and pediatrics; and those intermediaries between innovation and clinical reality.
Read "The Physics, Biology, Modeling, and Medicine of Audiology: Interview with Anthony T. Cacace,PhD," by Douglas L. Beck, AuD, in The Hearing Review. 2016;23(8):38.
Review
Tendai Ngwerume, Head of Paediatric Audiology, Derby Teaching Hospitals, UK, ENT & Audiology News (March/April 2018):
"'Scientific Foundations in Audiology: Perspectives from Physics, Biology, Modeling, and Medicine' is a unique textbook which discusses a wide range of state-of-the-art topics in hearing, vestibular and brain science. The editors purport that this book is geared towards doctoral students, medics and those operating between innovation and clinical practice. Indeed, the overall impression is that the book assumes a great deal of prior theoretical and practical understanding regarding various facets of audiology. As such, it excludes many of the basic concepts found in common audiology textbooks, to focus on emerging concepts in practice such as developments in genetics, imaging, auditory implants, and speech processing, amongst others. The success of the book owes much to the fact that the issues of translating basic research to clinical practice in each of these topics are discussed in a clear and straightforward manner by all the contributors. . . . I would highly recommend this textbook as a solid background reading to post-graduate students wishing to research and of the topics covered within."
Introduction
Contributors
Chapter 1. Middle-Ear Reflectance: Concepts and Clinical Applications
Jont B. Allen, Sarah R. Robinson, Judi A. Lapsley Miller, Patricia S. Jeng, and Harry Levitt
Chapter 2. Otoacoustic Emissions: Measurement, Modeling, and Applications
Glenis Long and Bastian Epp
Chapter 3. The Audiogram: What It Measures, What It Predicts, and What It Misses
Anthony T. Cacace and Robert F. Burkard
Chapter 4. Contemporary Issues in Vestibular Assessment
Faith W. Akin, Owen D. Murnane, and Kristal Mills Riska
Chapter 5. Genetics of Deafness: In Mice and Men
Mirna Mustapha and Avril Genene Holt
Chapter 6. Molecular-Based Measures for the Development of Treatment for Auditory System Disorders: Important Transformative Steps Toward the Treatment of Tinnitus
Avril Genene Holt, Catherine A. Martin, Antonela Muca, Angela R. Dixon, and Magnus Bergkvist
Chapter 7. Medical and Surgical Treatment of Inner Ear Disease
Lawrence R. Lustig
Chapter 8. The Future of Cochlear Implants
Richard Tyler, Paul R. Kileny, Aniruddha K. Deshpande, Shruti Balvalli Deshpande, Camille Dunn, Marlan Hansen, and Bruce Gantz
Chapter 9. Novel Approaches for Protection and Restoration of Hearing
Min Young Lee and Yehoash Raphael
Chapter 10. The Olivocochlear System: A Current Understanding of Its Molecular Biology and Functional Roles in Development and Noise-Induced Hearing Loss
Douglas E. Vetter
Chapter 11. Current Progress With Auditory Midbrain Implants
Hubert H. Lim, James F. Patrick, and Thomas Lenarz
Chapter 12. Perception and Psychoacoustics of Speech in Cochlear Implant Users
Deniz Baskent, Etienne Gaudrain, Terrin Nichole Tamati, and Anita Wagner
Chapter 13. Theoretical Considerations in Developing an APD Construct: A Neuroscience Perspective
Dennis J. McFarland and Anthony T. Cacace
Chapter 14. Normal Sound Processing: fMRI
Stefan Uppenkamp and Roy D. Patterson
Chapter 15. Tinnitus Neurophysiology According to Structural and Functional Magnetic Resonance Imaging
Dave R.M. Langers and Emile de Kleine
Index
About The Editors
Anthony T. Cacace, PhD, is an audiologist and research professor of communication sciences and disorders at Wayne State University. He was staff scientist at the Advanced Imaging Center, the Neurosciences Institute, Department of Neurology, and was director of oto-neurological research in the Division of Otolaryngology at Albany Medical College before transitioning to Wayne State University. Dr. Cacace's interests include auditory processing disorders, psychoacoustics, electroacoustics (otoacoustic emissions, middle ear power reflectance), electrophysiology, neuroimaging, and tinnitus.
---
Emile de Kleine, PhD, is a medical physicist-audiologist at the University Medical Center Groningen, The Netherlands. He earned his degree in applied physics at University of Twente, The Netherlands, and subsequently completed his doctorate and his training in audiology at the Department of Otorhinolaryngology at the University Medical Center Groningen. Dr. de Kleine's interests include otoacoustic emissions, cochlear implantation, tinnitus, and hyperacusis.
---
Avril Genene Holt, PhD, is an Associate Professor of Anatomy and Cell Biology at Wayne State University School of Medicine and Research Health Specialist at the John D. Dingell VA Medical Center. Her research in the field of auditory neuroscience has included studies of the anatomy, physiology, neurochemistry and gene expression of the central auditory system. Specifically, she has expertise in deafness related changes in the gene expression and production of neurotransmitters and ion channels in the auditory brainstem. Dr. Holt has expanded her research to include identifying and measuring correlates of tinnitus, including examining neuronal activity, volume, and oxidative stress in central auditory pathways using imaging approaches. Her ultimate goal is to modulate neuronal excitability in an effort to prevent or reverse the maladaptive neuroplasticity frequently observed with conditions such as hearing loss and tinnitus.
---
Pim van Dijk, PhD, is a medical physicist-audiologist at the University Medical Center Groningen and a professor of audiology at the University of Groningen, The Netherlands. His interests include the biophysics of hearing, clinical audiology, and the neuroscience of tinnitus. Dr. van Dijk's recent work includes otoacoustic emission research in various vertebrate species and neuroimaging studies in tinnitus patients.