Publication
Strategic Practice Management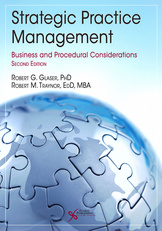 Desk Copy for Instructors
Strategic Practice Management
Second Edition
Details:

576 pages, Illustrated (B/W), Hardcover, 7 x 10"
ISBN13:

978-1-59756-522-6
Release Date:

03/31/2013
Overview
THE THIRD EDITION WILL BE AVAILABLE IN DECEMBER 2017. CLICK HERE FOR MORE INFORMATION.***

The second edition of this informative text is an appropriate resource for any health care practitioner considering a start-up venture, purchasing an ongoing practice, reinventing their current practice or for those interested in sharpening their clinical service delivery model in the competitive arena that is today's health care marketplace.
Whether a student, an independent practitioner, a clinician employed in an Audiology-ENT practice, hospital-based, educational audiologist or managing a University-based Audiology clinic, this text contains critically important information essential to the operational and business management of your practice setting. The authors have decades of practical experience in their successful practices and have presented seminars on practice management throughout the country and abroad. Their insight and experience coupled with an assembly of contributors without peer in their respective fields, provides the reader with an enlightening resource on practice management including: developing an appropriate business plan; startup and long term planning; essential legal considerations; fiscal monitoring and methods to assess the ongoing financial health of the practice; reimbursement capture; patient and referral source management; human resource issues including compensation strategies and much more.
In this interview, Robert G. Glaser and Robert M. Traynor discuss what is new and improved in this edition of Strategic Practice Management, and in particular, how changes in the healthcare environment are reflected in this new edition.
Strategic Practice Management: Interview with Robert G. Glaser, PhD
Douglas L. Beck, AuD, speaks with Dr. Glaser about his book on strategic practice management, as well as bank loans, business plans, pricing, and more.
Read the interview here, or view as PDF.
Interview republished with permission from the American Academy of Audiology. Copyright
Strategic Practice Management and Business and Procedural Considerations: Interview with Robert M. Traynor, MBA, EdD. Click here to read the interview.
Reviews
Barry Freeman, Lamar University (2013):
"I find the addition of multiple chapter authors to be an excellent addition to the text."

Eugenia Royer, Ozark Technical Community College (2013):
"I personally really have enjoyed what I have read."

Jonathan Le Brun, Business Development Director, Starkey Hearing Technologies, William F. Austin House, Stockport, UK, ENT and Audiology News (July/August 2017):
"The book is very detailed and focuses on influential strategic writing about the core subjects, then relating them to the private audiological market in the US. This gives the reader a much broader understanding of the different decisions that can be taken, depending on the exact market conditions. Importantly, the reader also gets a working knowledge of the fundamentals of each subject, allowing them to understand how decisions may have to change if conditions alter. For me, the best chapters of the book cover what considerations need to be made when putting together a business plan (including profit and loss forecasts) for a new audiological shop and then understanding the fundamentals of marketing and growing the new company. Potential new business owners would have more successful starts and stronger future businesses if they had a better understanding of these areas and had a clear image of their unique selling proposition so they could promote this differentiation to their potential customers. The book is of interest to anyone thinking about running their own private retail practice and covers all of the areas where critical decisions will need to be made. The book requires not only an investment in its retail price but also time. However, I think this book gives a strong positive return."
Foreword by Brad A. Stach
Acknowledgments
Contributors
Prologue: Leadership and Successful Practice Management
by Robert G. Glaser, PhD
1. The Economic Realities and Competitive Landscape of Audiology Private Practice
Robert M. Traynor, EdD, MBA
2. Strategic Business Planning
Robert M. Traynor, EdD, MBA
3. Legal Considerations in Practice Management
Glenn L. Bower, JD, and Michael G. Leesman, JD
4. Ethical Considerations in Private Practice
Jane M. Kukula, AuD
5. Fundamentals of Marketing the Audiology Practice
Robert M. Traynor, EdD, MBA
6. Effective Marketing: Developing and Growing the Practice
Kevin D. St. Clergy, MS
7. Optimizing Pricing Strategies for the Practice
Robert M. Traynor, EdD, MBA
8. Fiscal Monitoring: Cash Flow Analysis
Robert M. Traynor, EdD, MBA
9. Coding, Reimbursement, and Practice Management
Debra Abel, AuD
10. Policy and Procedures Manual
Robert G. Glaser, PhD
11. Patient Management
Robert G. Glaser, PhD
12. Supporting Practice Success: Counseling Considerations for Patient and Employee Management
John Greer Clark, PhD
13. Referral Source Management
Robert G. Glaser, PhD
14. Personnel Management
Robert G. Glaser, PhD
15. Career Management: What It Takes to Make It
Patrick N. Mangino, AuD
16. Compensation Strategies
Robert M. Traynor, EdD, MBA
17. Hearing Instrument Manufacturers and Suppliers
Robert G. Glaser, PhD
18. Practice Management Considerations in a University Audiology Clinic
Gail M. Whitelaw, PhD, MHA
19. Transitions: Optimizing Entry and Exit Strategies
Gail M. Whitelaw, PhD, MHA
Index
About The Authors
Robert G. Glaser, PhD, FAAA, has been an independent practitioner for over 35 years and is well known for his leadership on behalf of the profession of audiology. He has served as president of the American Academy of Audiology, the Ohio Academy of Audiology, and two terms as chairman of the Ohio Board of Speech-Language Pathology and Audiology. He received the Kent State University Alumni Leadership Award presented by the College of Education, Health and Human Services in 2016 and was the first recipient of the Margaret Roberts Leadership Award presented by the Ohio Board of Speech-Language Pathology and Audiology. Dr. Glaser received his BS in speech pathology and audiology in 1969 from Bowling Green State University, MA in audiology from Kent State University in 1971, and PhD in audiology from Kent State University in 1974. He believes the strength of the profession lies in our members' ability to participate as independent providers, earning respect and confidence within their professional communities by beneficial outcomes for all patients served. Widely respected for his innovative approach to the profession through writings, presentations, and seminars on practice management given across the country, he was the owner of Audiology & Speech Associates of Dayton, Inc. for 35 years and continues serving as a consultant to varied health care practitioners as well as the hearing care industry.
---
Robert M. Traynor, EdD, MBA, FNAP, has been the owner and CEO of Audiology Associates of Greeley, Inc. in Greeley, Colorado, since 1972. Dr. Traynor holds degrees from the University of Northern Colorado (BA, 1972; MA, 1973; EdD, 1975) and the University of Phoenix (MBA, 2006), as well as postdoctoral study in audiology at Northwestern University (1984). He was a professor of audiology at the University of Northern Colorado (1973-1982) and the University of Arkansas for Medical Sciences (1976-77) and directed the audiology program at Colorado State University from 1982 to 1993. He served 20 years in the U.S. Army Reserve as a military audiologist retiring as a Lt. Colonel in 1998. Currently, Dr. Traynor serves as an adjunct professor of audiology at the University of Florida, the University of Colorado-Boulder, and the University of Northern Colorado. In addition to his practice and academic responsibilities, he was the Senior International Audiology Consultant to a major hearing instrument manufacturer for 17 years, lecturing in over 45 countries on all aspects of audiology and providing product orientation for distributors and staff. In 2011, Dr. Traynor became a founding member and Section Editor for Hearing International at The Blogs at Hearing Health and Technology Matters. In 2014, he was the recipient of the Lifetime Achievement Award from the Colorado Academy of Audiology, and in 2017, he was inducted into the Audiology Academy of the National Academies of Practice. He is the 2017 Chair of the Board of Governors for the American Board of Audiology. Dr. Traynor is well known for his contributions to the field of audiology as a professor, consultant, clinician, and practice manager for over 40 years.