Publication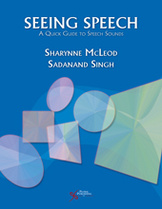 90-Day Exam Copy for Instructors
Seeing Speech
A Quick Guide to Speech Sounds
Details:

40 pages, Spiral Bound, 5.5 x 8.5"
ISBN13:

978-1-59756-322-2
Release Date:

11/01/2008
$54.95
Overview
This flip chart enables ready comparison of key images for each consonant and vowel. It is of particular importance for speech-language pathologists working with adults and children to change their articulation of sounds and for students of phonetics as they develop an understanding of the similarities and differences between sounds.
Review
Sarah Braithwaite, NHS Tower Hamlets, Speech and Language Therapy in Practice magazine (Spring 2011):
"Each sound is represented on each side of the divided pages. Each side can be 'flipped' independently so any two sounds can be compared. The sound is described together with a photograph, diagram, ultrasound image and EPG frame. Older children and adults would find the photo and diagram useful...Useful to brush up on exactly how a sound is produced and possibly for training other professionals."
About The Authors
Sharynne McLeod is a professor of speech and language acquisition at Charles Sturt University, Australia. She is an elected Fellow of the American Speech-Language-Hearing Association and Speech Pathology Australia and is the Vice President of the International Clinical Linguistics and Phonetics Association.
---
Sadanand Singh, PhD, (1934-2010) was a fellow of the American
Speech-Hearing-Language Association (ASHA) and an active member to the direction of that organization. Dr. Singh was chairman of Plural Publishing and had been a professor at The Ohio State University, professor and department chair at Howard University, professor and director at the University of Texas Health Science program, and professor and chairman of the Communicative Disorders Department at San Diego State University. He also served on advisory boards with leading scientists, clinicians, and professors in several areas of key academic and clinical concentration. Dr. Singh authored undergraduate and graduate texts in phonetics, phonology, measurements, and clinical procedures.
Related Titles

255 pages, Illustrated (B/W), Softcover, 7 x 10"

Edited by: Nicole Müller

184 pages, Illustrated (B/W), Softcover, 7 x 10"