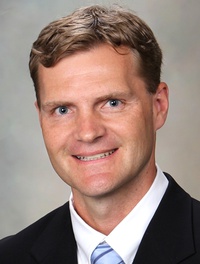 David G. Lott, MD, is an assistant professor of otolaryngology at Mayo Clinic College of Medicine. Dr. Lott is a consultant in the Department of Otolaryngology-Head and Neck Surgery, and also serves as the director of the Voice Program and director of the Larynx and Trachea Regeneration Laboratory at the Mayo Clinic in Arizona. He also serves as medical director of the Arizona State University/Mayo Clinic Speech Pathology Voice Internship.
Dr. Lott received his medical degree from the University of Iowa Carver College of Medicine and completed a residency in Otolaryngology-Head and Neck Surgery at the Cleveland Clinic Head and Neck Institute. He received further fellowship training in laryngeal surgery and professional voice at Harvard Medical School-Massachusetts General Hospital.
Dr. Lott's practice and areas of interest include voice and swallowing restoration, laryngeal cancer, laryngotracheal reconstruction, and laryngeal regenerative techniques-including laryngeal transplantation and larynx bioengineering. He has given more than 40 national and international presentations, and authored or co-authored several publications on those topics.
---
Books by David G. Lott