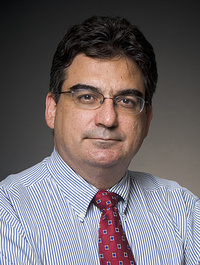 Dr. Petruzzelli received a Bachelor of Science degree with honors in Biological Sciences from St. Louis University in 1981. For the next six years he attended Rush Medical College in Chicago earning both an MD and PhD. In 1988, following an internship in General Surgery, Petruzzelli began training in the Department of Otolaryngology at the University of Pittsburgh. In 1992 he was awarded a Fellowship in Advanced Head and Neck Oncology and Cranial Base Surgery by the American Cancer Society and the Joint Council for Approval of Advanced Training in Head and Neck Oncologic Surgery. In 1993 Petruzzelli joined the Loyola University Medical Center faculty in the Department of Otolaryngology - Head & Neck Surgery as an Assistant Professor. In 1996 he was appointed as the Program Director for Head and Neck Oncology at Loyola's Cardinal Bernardin Cancer Center and in 2000 was promoted to the rank of Full Professor in the Departments of Otolaryngology and Surgery. He received an MBA in Health Care from Benedictine University in 2001. In August 2001 Petruzzelli became Acting Director of the Cardinal Bernardin Cancer Center and in 2002 became Chairman of the Department of Otolaryngology-Head & Neck Surgery at the Loyola University Medical Center.
In December 2006 Dr. Petruzzelli returned to the Rush University Medical Center as the Chief of the Section of Head, Neck and Skull Base Surgery and the Director of the Rush Head and Neck Tumor Clinic.
His main clinical interests are head, neck, and skull base tumor surgery, combined modality treatments for head and neck cancer, reconstruction following major head and neck surgical procedures, and surgery of thyroid tumors. Petruzzelli has collaborated with basic sciences colleagues in the areas of head and neck tumor angiogenesis, tumor induced immuno-suppression, mediators of invasion and metastasis, and cytokine production. Petruzzelli has contributed extensively to the scientific and clinical literature on various aspects of head and neck cancer treatment and research topics. He is Board Certified in Otolaryngology, a Fellow of the American College of Surgeons and a Diplomat of the American Board of Otolaryngology. He is also a member of many academic and subspecialty societies including the American Head and Neck and North American Skull Base Societies. Petruzzelli is on the editorial boards of the following journals: Head and Neck, The American Journal of Otolaryngology, ORL-Journal of Oto-Rhino-Laryngology, and Laryngoscope.
---
Books by Guy Petruzzelli