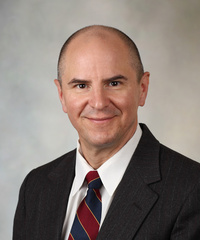 Michael Hinni, MD, is professor at the Mayo Clinic College of Medicine. Dr. Hinni is a consultant in the Department of Otolaryngology-Head and Neck Surgery and program director of the ENT residency program at the Mayo Clinic in Phoenix, Arizona. He received his medical degree from the University of Missouri in Kansas City and completed his residency at the Mayo Clinic in Rochester, Minnesota. He then completed a fellowship in Head, Neck and Base of Skull Surgery at the Johannes Gutenberg University Hospital in Mainz, Germany.
Dr. Hinni has been an active member of several societies: American Academy of Otolaryngology-Head and Neck Surgery, American College of Surgeons, American Head and Neck Society, Triological Society, and the American Bronchoesophagological Association. He has been director of more than 20 head and neck surgical educational courses and has invented surgical tools and laryngoscopes. In addition, he serves on the editorial staff of multiple journals.
Dr. Hinni's clinical and research activities focus mainly on endoscopic transoral surgery for cancer and endocrine surgery. He has authored or coauthored 66 papers in peer-reviewed journals as well as seven book chapters, and has delivered more than 200 national and international lectures and proffered papers.
---
Books by Michael Hinni