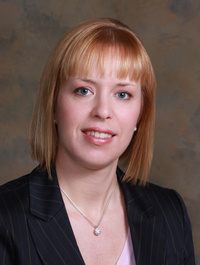 Dr. Wise grew up in Houston, Texas. She graduated magna cum laude from Texas A&M University with a degree in Biochemistry. Dr. Wise obtained her MD degree at the University of Texas Health Science Center in San Antonio in 2001. She completed residency in Otolaryngology-Head and Neck Surgery at Emory University in 2006 and Rhinology fellowship at the Medical University of South Carolina in 2007, under the direction of Dr. Rodney Schlosser. Dr. Wise is currently on the faculty of the Department of Otolaryngology-Head and Neck Surgery at Emory University, specializing in rhinology, allergy, and endoscopic skull base surgery. She also obtained a Master of Science in Clinical Research from Emory University in 2012. Dr. Wise serves as the Assistant Residency Program Director and Director of Resident Education and Research in the Emory Department of Otolaryngology.
She is active in the American Rhinologic Society, where she is currently a Consultant to the Board of Directors and editor of the ARS Nose News. She is also a member-at-large of the American Academy of Otolaryngologic Allergy Board of Directors.
Dr. Wise's clinical research interests include evaluation of 3D endoscopy, clinical outcomes with sublingual immunotherapy, and office-based rhinology procedures. Her basic science research focus is intercellular junctional proteins and wound resealing in sinonasal epithelium, including their regulation of epithelial permeability, inflammatory mediator interactions, and role in the pathophysiology of nasal polyposis.
---
Books by Sarah Wise