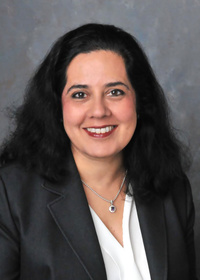 Sujana S. Chandrasekhar, MD, FACS, FAAO-NHS attended medical school at Mount Sinai School of Medicine in New York City, graduated at the age of 22, and completed her residency in Otolaryngology-Head and Neck Surgery at New York University Medical Center in New York and fellowship in Otology and Neurotology at the House Ear Clinic and Institute in Los Angeles, California. She served on the full-time academic faculty of both UMDNJ-New Jersey Medical School and Mount Sinai School of Medicine before entering private practice in New York City in October 2004. She is currently Director of New York Otology, Director of Neurotology at the James J. Peters Veterans Administration Medical Center, Otologist/Neurotologist at the New York Head and Neck Institute, and Clinical Professor at Hofstra-Northwell School of Medicine. Her clinical interests include management of disorders of hearing, balance, tinnitus, facial nerve, and lateral skull base, as well as cochlear and Baha implants.
Dr. Chandrasekhar's research interests include hearing loss, tinnitus, vertigo, skull base tumors and temporal bone histopathology. She has published several papers, monographs, and book chapters in otology/ neurotology and otolaryngology including a landmark paper on sudden hearing loss and four Clinical Practice Guidelines. She has also written on, and is funded for, gender research in otolaryngology.
Dr. Chandrasekhar was honored with the AAO-HNS's Distinguished Service Award in September 2006 and 2012, with the Helen Krause Trailblazer Award from the AAO-HNS Women in Otolaryngology Section in 2012, and with the Physician Mentor Recognition Award, American Medical Association Women Physicians Section in 2013.
Dr. Chandrasekhar served as President of the American Academy of Otolaryngology-Head and Neck Surgery 2015-2106. She is the third woman and the first person of Indian descent to hold that office. She has a husband, Kris Ramanathan, and four children, ranging in age from 21 to 12.
---
Books by Sujana S. Chandrasekhar