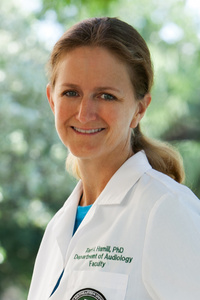 Teri A. Hamill, PhD, Professor Emeritus of Audiology at Nova Southeastern University, recently took early retirement. She had taught AuD students for 21 years at Nova Southeastern University, and taught at two other universities and was a hospital-based audiologist.
Dr. Hamill's knowledge of instrumentation was furthered by having worked with engineers: Her post-doctorate in 1987 to 1988 was with Project Phoenix/Nicolet, which produced a commercially unsuccessful fully digital hearing aid. Her knowledge of digital signal processing also comes from being married to a computer scientist.
Dr. Hamill retired in order to sail at least half the year on her antique Shannon 38 cutter-rigged sailboat, and to have more time to read about hair-cell physiology.
---
Books by Teri A. Hamill