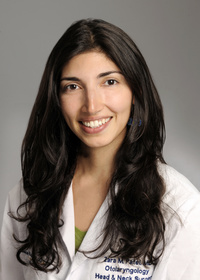 Dr. Patel is originally from St. Louis, MO and attended the University of Missouri at Columbia for her undergraduate years, where she graduated magna cum laude. She moved to Portland, OR where she attended medical school at Oregon Health and Science University, and then to New York for residency training in Otolaryngology/Head and Neck Surgery at Mount Sinai Medical Center. She then undertook a Rhinology fellowship at Stanford University in California under the mentorship of Dr. Peter Hwang, to become a specialist in Endoscopic Sinus and Skull Base Surgery. She then joined the faculty of the Department of Otolaryngology/Head and Neck Surgery at Emory University in Atlanta, where she has taken on the role of Director of the Resident Sinus and Skull Base Dissection Course.
Dr. Patel's clinical research interests surround evidence based Rhinology, treatment patterns for immunosuppressed patients with sinusitis, treatment outcomes in patients with sinonasal cancer, and novel instrumentation used in rhinologic procedures.
She is an active member of the American Rhinologic Society, and has served as faculty for several national and regional rhinologic meetings.
She also is beginning to take a leadership role in promoting surgical advocacy on the national level by serving on the Legislative Committee for the Board of Governors.
---
Books by Zara Patel