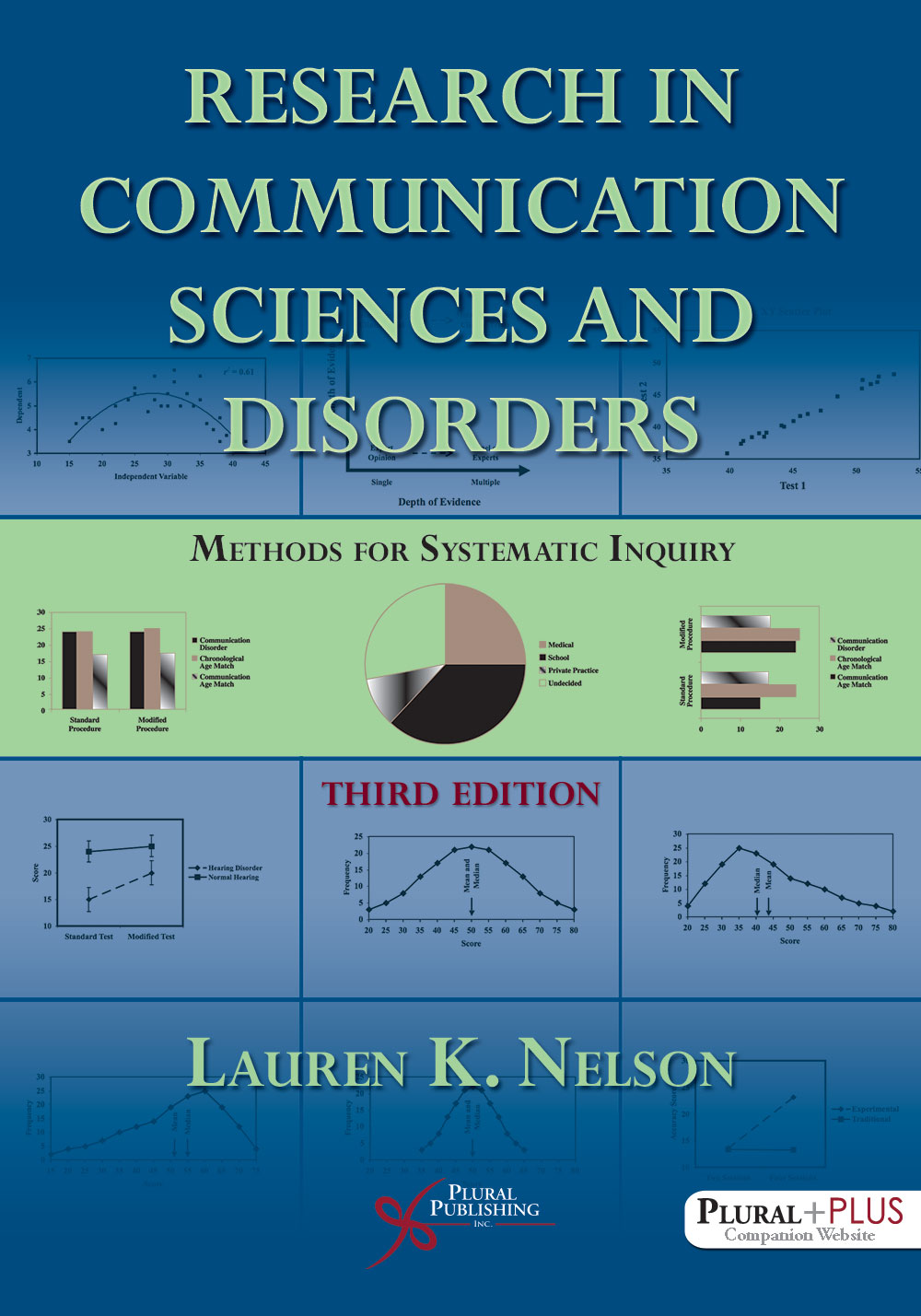 Research in Communication Sciences and Disorders: Methods for Systematic Inquiry
Third Edition
Lauren K. Nelson
Details: 272 pages, B&W, Softcover, 7" x 10"
ISBN13: 978-1-59756-726-8
© 2017 | Available
For Instructors
Price: $94.95
Research in Communication Sciences and Disorders: Methods for Systematic Inquiry, Third Edition is a comprehensive yet comprehendible text meant for instructors and students of research methods in the field of communication sciences and disorders. This forward-thinking text reflects the movement toward evidence-based practice in audiology and speech-language pathology.
The author ensures that the concepts associated with evidence-based practice are integrated throughout the chapters. Rather than treating empirical research and searching for clinical evidence as separate topics, this text presents both as different applications of a process of scientific inquiry. The order of the chapters reflects the steps a researcher or clinician might complete when conducting an investigation. Also included are features that help students be more active in learning the material. Each chapter has a set of review questions or case scenarios that can be used as homework, as probe questions in class, or as a basis for group activities. In addition, the author provides lists of supplemental readings from the research literature in the field.
The third edition benefits instructors and students alike with the addition of a PluralPlus companion website. The website provides convenient presentation slides for each chapter and answers to review questions for instructors. For students, the website lists the key words for each chapter, provides links to supplemental websites and documents, and displays interactive versions of many of the figures within the text.
Other changes to the third edition include
Incorporating the recent information on evidence-based practice
Updating the statistics chapter with additional contemporary procedures
Revising the chapter on research design
Generally updating references and information in all chapters
Review
"I LOVE this textbook! I had not adopted it for my class last semester, but will be using it for my Graduate research course. Of all the research textbooks that I have looked at, Nelson provides descriptions of research topics which are well described and helpful to increase my students' comprehension of the subject matter. I appreciate the abundance of online resources as well."
—Suzanne M. Welty M.A., Ed.D., CCC, Associate Professor Communication Sciences and Disorders, Biola University, La Mirada, CA
Preface
Chapter 1. Empirical and Nonempirical Research: An Overview
Systematic Inquiry
Some Roles for Research
Types of Research
Variables
Getting Started with Research
Summary
Review Questions
References
Chapter 2. Ethical Considerations
Protection of Human Participants
Special Protections
Historical Perspective
Institutional Review Boards
Research Integrity
Avoiding Conflicts of Interest
Credit for Intellectual Effort
Attribution of Ideas
Accuracy in Reporting Information
Data Management
Confidentiality and Privacy
Health Insurance Portability and Accountability Act HIPAA
Summary
Review Questions
Learning Activities
References
Appendix 2-1. Research Scenario
Responsible Conduct of Research Scenario
Discussion Questions
Chapter 3. Identifying and Formulating Research Questions
Identifying Important Questions
Formulating Research Questions
Ways to Formulate a Research Problem
Evidence-Based Practice Questions
Criteria for Well-Formed Questions
Establishing Validity and Reliability
Summary
Review Questions
Learning Activities
References
Chapter 4. Completing a Literature Search and Literature Review
Purposes of a Literature Search
Planning and Conducting a Search
Designing a Search Strategy
Organizing and Documenting Your Literature Search
Summary
Review Questions
Learning Activities
References
Appendix 4-1. Electronic Literature Search
Chapter 5. Nonexperimental Research Design
Nonexperimental Research Designs
Survey Research
Case Studies
Longitudinal Research
Correlation and Regression
Group Comparisons
Casual-Comparative Research
Qualitative Research
Summary
Review Questions
Learning Activities
References
Chapter 6. Experimental Research and Levels of Evidence
Experimental Research Designs
Importance of Experimental Control
Quasi-Experimental Approaches
Experimental Designs and Levels of Evidence
Summary
Review Questions
Learning Activities
References
Appendix 6-1. Research Scenario
Chapter 7. Research Participants and Sampling
Populations and Samples
Sample Characteristics
Sampling Methods
Sample Size
Summary
Review Questions
Learning Activities
References
Chapter 8. Data Analysis: Describing Different Types of Data
Levels of Measurement
Visual Representation of Data
Descriptive Statistics
Measures of Central Tendency
Measures of Variability
Means as Estimates
Shapes of Distributions
Summary
Review Questions
Learning Activities
References
Chapter 9. Data Analysis: Inferential Statistics
Inferential Statistics
Measures of Association
Testing for Differences Between Two Samples
Testing for Differences Among Three or More Samples
Statistical Analysis for Factorial Designs
Additional Tools for Analyzing Clinical Data
Caution in the Use and Reporting of Statistics
Summary
Review Questions
Learning Activities
References
Chapter 10. Research Outcomes: Clinical Guidance, Research Reports
Knowledge Base for Evaluating Clinical Research
Reporting Research Findings
Disseminating Research Findings
Summary
Review Questions
Learning Activities
References
Index
Third Edition
David L. Irwin, Norman J. Lass, Mary Pannbacker, Mary Ellen Tekieli Koay, Jennifer S. Whited
Details: 338 pages, B&W, Hardcover, 7" x 10"
ISBN13: 978-1-63550-101-8
© 2020 | Available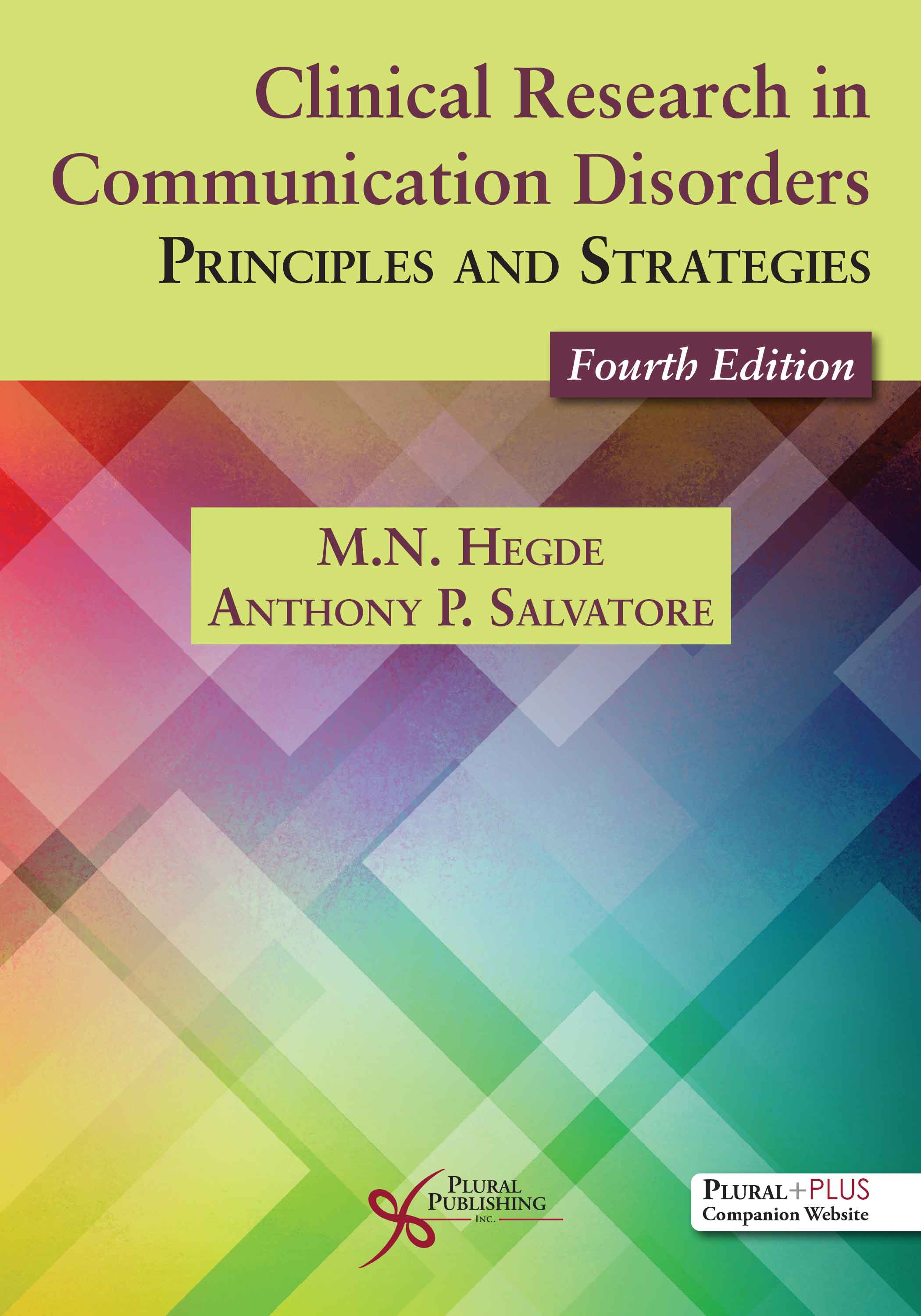 Fourth Edition
M.N. Hegde, Anthony P. Salvatore
Details: 526 pages, B&W, Softcover, 7" x 10"
ISBN13: 978-1-63550-187-2
© 2020 | Available