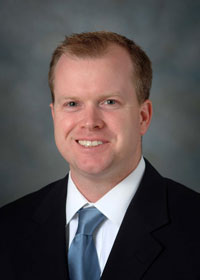 Dr. Moore is an emerging national leader in head and neck surgery and a recognized expert in head and neck surgical oncology and reconstructive microsurgery. After serving in the United States Air Force as Chief of Surgical Services at Eglin AFB in Florida, Dr. Moore joined Ochsner Medical Center in New Orleans as Chief of Head and Neck Surgery and Vice-Chairman of the Department of Otolaryngology.
A native of Bowling Green, Kentucky, and a graduate of Tulane University, he received his MD from Tulane University in 1998. He completed a surgical internship and residency in Otolaryngology- Head and Neck Surgery at Vanderbilt University, before becoming the first otolaryngologist to complete a combined two-year fellowship in Head and Neck Surgical Oncology and Reconstructive Microsurgery at the University of Texas MD Anderson Cancer Center.
As Chief of Surgical Services at Eglin Air Force Base, his efforts have focused on developing a multidisciplinary approach to head and neck cancer in a community setting. He remains active in medical student and resident education through his efforts as a Clinical Assistant Professor in the Department of Otolaryngology-Head and Neck Surgery at Tulane University School of Medicine.
An invited lecturer at multiple institutions, both civilian and military across the Unites States, he is active in clinical research in cutaneous malignancy of the head and neck, thyroid disease, and reconstruction of the head and neck, and has more than 15 peer-review publications, numerous book chapters, and several invited articles, and serves as a reviewer for several leading otolaryngology journals, including Head and Neck.
Dr. Moore's clinical interests include advanced skin malignancy, melanoma, thyroid and parathyroid disease, tumors of the upper aerodigestive tract, and microsurgical reconstruction of the head and neck.
---
Books by Brian Moore