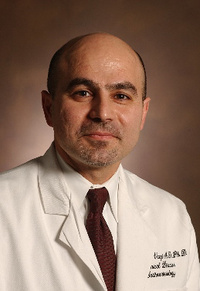 Dr. Vaezi is currently a Professor of Medicine at the Vanderbilt University Medical Center in the division of Gastroenterology and Hepatology. He is the Director of Clinical Affairs for the division and Director of Center for Swallowing and Esophageal Disorders and Director of Clinical Research.
Dr. Vaezi received a B.S. degree in Chemistry at Birmingham-Southern College in Birmingham, Alabama. He then went to the University of Alabama at Birmingham and received his Ph.D. in Bio-Organic Chemistry. From there, Dr. Vaezi went to the University of Alabama School of Medicine were he received his MD degree in 1992. He completed a four-year academic residency in internal medicine in program focused on clinical research at the University of Alabama Hospitals in Birmingham Alabama. Subsequently, he completed his fellowship in Gastroenterology at the Cleveland Clinic Foundation where he was elected as the Chief Fellow. He also received a Master's in Epidemiology and Clinical Research from Case Western Reserve University.
Dr. Vaezi is an associate member of the American Gastroenterological Association, a Fellow member of the American College of Gastroenterology, and an associate member of the American Medical Association.
---
Books by Michael Vaezi