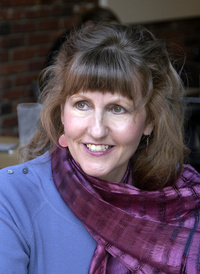 Janet Madelle Feindel, (MFA, Carnegie Mellon 2002) was awarded a lifetime membership to the Pacific Voice and Speech Foundation for "exemplary contributions to the pedagogy and care of the artistic voice". She has received numerous grants and awards including two Tyrone Guthrie Awards from the Stratford Festival, Canada. She is an expert voice, dialect, accent coach, and Alexander Technique Teacher, with particular talent for working with English as a Second Language speakers. She is also an Equity actress and director.
Feindel has taught many sought after artists including Golden Globe recipient Matt Bomer; Dagmara Domińczyk (Succession, Higher Ground, The Lost Daughter); Disney Legend Award recipient Josh Gad; Academy Award nominee Leslie Odom, Jr; Olivier Award recipient Patina Miller; and Zach Quinto (Startrek).
Feindel was co-voice/text consultant with Cicely Berry, CBE, for the critically acclaimed Merchant of Venice and The Jew of Malta starring Academy Award Recipient F. Murray Abraham, for Theatre of a New Audience, NYC, and Merchant at the Royal Shakespeare Company's Complete Works Festival. She also served as Mr. Abraham's Alexander Technique Coach, through his Fox Foundation Resident Actor Fellowship grant.
Other coaching credits include: Stratford Festival, Canada including the Birmingham Conservatory for Classical Theatre; Shaw Festival, (also Principal of the Academy); Canadian Stage Company Shakespeare, Toronto; Pittsburgh Public Theatre, Quantum, The Rep, Pittsburgh; Shakespeare Festival of New Jersey, NJ; Pitt Rep/Rampe Theatre, Pittsburgh/Stuttgart, Germany; and film/television/radio credits Queer as Folk, Love and Hate, Dream Team, Street Legal, The Old Guy.
Feindel leads workshops and presents at conferences internationally including: the Care of the Professional Voice Symposium, Philadelphia; master class for Canadian Voice Symposium, Banff, Canada; Choice for Voice, sponsored by British Voice Association/Guildhall School, London, UK; Pacific Voice and Speech Foundation, Krakow, Poland; Los Angeles, Santa Clara, San Francisco; International Congress on the Alexander Technique, Oxford, UK; Lugano, Switzerland; Freedom to Act Conference, NYC; Alexander Technique International, Papenburg, Germany; Budapest, Hungary; Alexander Alliance Deutschland;, among numerous others.
Her teaching credits include Module Leader of Voice, Institute of the Arts, Barcelona; Concordia, John Abbott Cegep, Montreal; University of Alberta, Edmonton; and Professor Emerita, Voice/Alexander/Dialects, School of Drama, Carnegie Mellon University, where she initiated many innovations including Seminars on Vocal Health with the Voice Clinic, University of Pittsburgh; integration of Linklater Voice and Alexander Technique into the curriculum; Equity, Diversity and Inclusion Committee; Theatrical Intimacy Guidelines; Outreach with the Hope Academy, recognized by the Leonard Gelfand Center; and workshops for professors with the Eberly Center for Teaching Excellence.
Feindel is a Designated Linklater Voice Teacher, certified in Fitzmaurice Voicework®, certified Yoga Alliance Teacher and certified with Alexander Technique (ATC), Canada; Society of Teachers of the Alexander Technique, (STAT), UK; American Society of the Alexander Technique (AmSAT); Alexander Technique International (ATI), and Regroupement d'éducation Somatique.
She has published a chapter in The Performer's Voice (Plural), articles in Canadian Theatre Review, Canada's Globe and Mail, and several Alexander Congress Papers, STAT Publishers, UK. Her play A Particular Class of Women, is published by Lazara and then in SINGULAR VOICES, Canada Playwrights Press. Initially performed by Feindel herself, the play has been performed by many companies, including Teatro inglés and Teatro Colosseo (in Italian) in Rome, Italy.

Janet Madelle wishes to thank Susan Ambrose, Barbara Anderson, Richard Armstrong, Michael Benninger, Cicely Berry, Eric Berryman, Elizabeth Bradley, Roberta Burke, , Gaius Charles, Antoni Cimolino, Graeme Campbell, Deborah Clipperton, Christopher Hoch, Jim Davidson, Theresa Davis, Catherine Fitzmaurice, Michael D. Frederick, Michael Fuller, Robert Haley, Mark Kamlet, Mladen Kiselov, Dudley Knight, Paula Hill, Martha Henry, Lucinda Holshue, Jeffrey Horowitz, Nancy Houfek, Gregory Lehane, Kristin Linklater, Joan Melton, Vladimir Miroden, Thomas Murray, Janice Price, Martin Prekop, Bonnie Raphael, Lisa Ritter, Robert Sataloff, Susan Schulman, John Shepard, David Smukler, Paul Wagar, Andrew Wade, Karen Waggoner and the wonderful staff at Plural.
---
Books by Janet Madelle Feindel