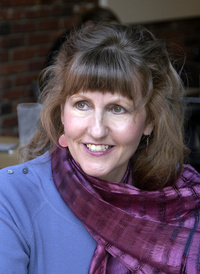 Janet Madelle Feindel is a tenured faculty member in Voice and Alexander technique at Carnegie Mellon University's School of Drama and also serves as Visiting Professor at UCLA's School of Theatre, Film, and Television. She coached alongside Cicely Berry, OBE, as voice/text/Alexander consultant for the critically acclaimed Jew of Maltaand Merchant of Venice, starring F. Murray Abraham, for Theatre of a New Audience, which played to sold-out audiences in New York City and at the Royal Shakespeare Company's Complete Works Festival. Other coaching voice/dialect credits include the Stratford Festival (including the Birmingham Conservatory); Shaw Festival (where she was also Principal of the Academy); Canadian Stage Company; Pittsburgh Public Theatre; The Rep; New Jersey Shakespeare Festival; and Pitt Rep/Rampe Theatre, Pittsburgh/Stuttgart, Germany.
Feindel is certified in the Linklater, Fitzmaurice, and Alexander methods and is trained in a number of other approaches. She has published various articles internationally, including a chapter in The Performer's Voice (Plural, 2006) articles in Canadian Theatre Review, Canada's Globe and Mail, ISMISEjournal (Naples, Italy) and the Alexander Congress Papers for 2004 and 2009, published by the Society of Teachers of The Alexander Technique, United Kingdom. Her play A Particular Class of Women is published by Canada Playwrights Press and has been produced in North America and in Rome, Italy, in Italian and English, with excerpts in THE PERFECT PIECE and TAKING THE STAGE, also CPP Janet is scheduled to direct the play at Ark Theatre in Los Angeles next season. Film/television credits include Queer as Folk, Love and Hate, Dream Team, and Street Legal.

Janet wishes to thank Jim Davidson, Theresa Davis, Richard Armstrong, Cicely Berry, Catherine Fitzmaurice, Dudley Knight, Andrea Haring, Lucinda Holshue, Lynne Innerst, Joan Melton, Kristin Linklater, Janice Price, Bonnie Raphael, Robert Sataloff, David Smukler, Don Wadsworth, Michael Fuller, Paula Hill, and Andrew Wade for all their support.
In addition to writing Thought Propels the Sound, Janet has also contributed chapters to other Plural books such as The Performer's Voice and The Singer's Voice.
---
Books by Janet Madelle Feindel