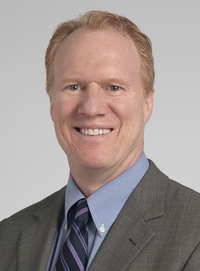 Dr. Michael S. Benninger is the Chairman of the Head and Neck Institute at The Cleveland Clinic and is a Professor of Surgery at the Cleveland Clinic Lerner College of Medicine of Case Western Reserve University. The Head and Neck Institute comprise the specialties of Otolaryngology, Audiology, Speech and Language Sciences, Oral Surgery and Dentistry.
In addition to his work at the hospital, Dr. Benninger has been very involved in Regional, National and International medical organizations. He is the President of the International Association of Phonosurgery, is the immediate past-President of the American Laryngologic Association, and Vice-President and a member of the Board of Directors of the Voice Foundation. He served on the Board of Directors of the American Academy of Otolaryngology-Head and Neck Surgery (AAO-HNS) for 12 years, having been a former Vice President and Chairman of the Board of Governors of that organization. He is also a Past-President of the American Rhinologic Society and the Michigan Oto-Laryngological Society. He is the former Editor-in-Chief of the Journal, Otolaryngology-Head and Neck Surgery, which is the largest peer-reviewed journal in the world for that specialty. He has served on the Residency Review Committee for Otolaryngology and as a member of the Medical Advisory Board for WebMD. He is the Past-Chairman of the Steering Committee for the Sinus and Allergy Health Partnership.
Dr Benninger has authored or edited 7 books, including his most recent books, Botulinum Toxin Injections in the Head and Neck and The Singer's Voice. He has 2 additional books in press. He has also has written over 70 book chapters and over 175 scientific articles, focusing primarily on voice care and laryngology, nasal and sinus disease and health care management. He has lectured extensively across the country and throughout the world.
A graduate of Harvard University, Dr. Benninger received his medical degree from Case Western Reserve University in Cleveland, Ohio. He completed his residency at the Cleveland Clinic Foundation.
---
Books by Michael S. Benninger