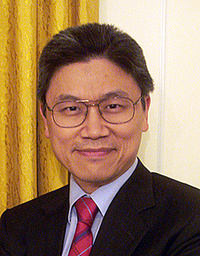 Peak Woo, PhD, FACS is in private practice as an otolaryngologist in New York City. His practice is limited to laryngology and communication and voice disorders. His primary professional and research interests are in the field of voice production and its disorders.
In 1972, he enrolled in the six-year BA/MD joint degree program offered by the College of Liberal Arts and the School of Medicine at Boston University. After spending 25 years as academic faculty member at Mount Sinai Medical Center, Tufts-New England Medical Center and SUNY-Health Science Center at Upstate, he is now in private practice. He serves as Clinical Professor in Otolaryngology Head and Neck Surgery at the Icahn School of Medicine at Mount Sinai New York. He continues to participate in the training of residents and laryngology fellows.
Dr. Woo was a past president of the American Laryngological Association, the American Broncho-Esophagological Association, the New York Laryngological Society and the New York Head and Neck Society. He was a past vice president of the Triological Society. Dr. Woo's past community activities include Doctor to the New York State Theater and the New York City Opera and he serves as advisor to the New York Singing Teacher Association Professional Development Program. He has traveled widely and given talks on laryngology and voice disorders
Dr. Woo lives in New Jersey with his wife. He has three grown children Christina, Geoffrey, and Ryan.
---
Books by Peak Woo