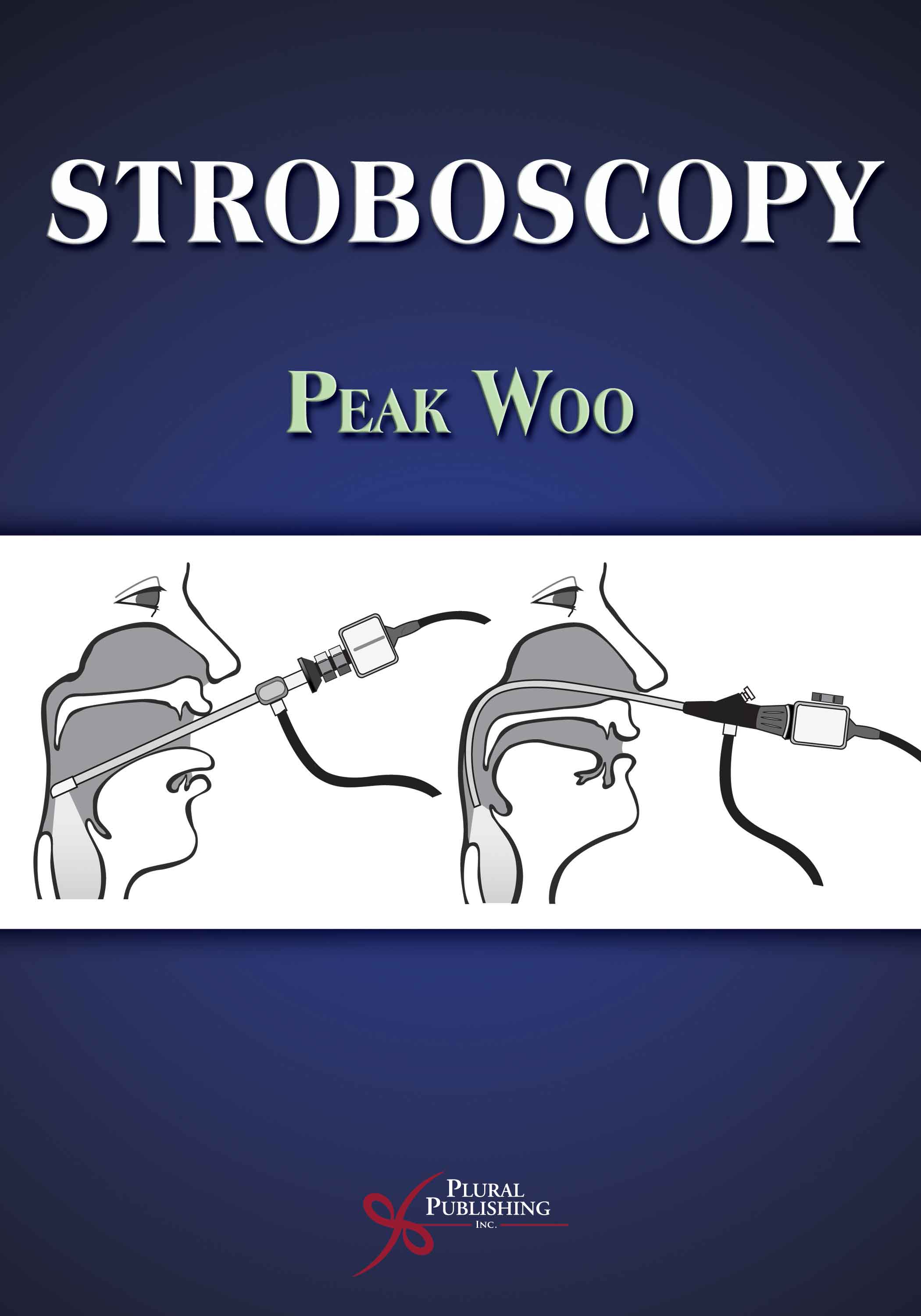 Stroboscopy
First Edition
Peak Woo
Details: 408 pages, Full Color, Hardcover, 8.5" x 11"
ISBN13: 978-1-59756-014-6
© 2010 | Available
A NEW EDITION IS AVAILABLE.

This book presents a complete picture of the art and science of stroboscopy. It includes not only comprehensive coverage of the imaging process, but also the disease process that exists in benign lesions, cancer, and neuropathology. Comparisons of normal images with pathologies are included to enhance readers' diagnostic skills, and the use of stroboscopic images before and after therapy to determine results enhances their clinical skills. The book also covers the entire range of laryngeal imaging for diagnostics, including rigid endoscopy, videostroboscopy, fiberoptic laryngoscopy, and high-speed imaging. Written by a physician who works in a multidisciplinary environment, the book outlines the roles of the otolaryngologist, speech-language pathologist, voice scientist, and singing teacher in the clinical examination. Unparalleled full-color illustrations appear throughout.
Reviews
"In the first half of the book, covering the basics of stroboscopy, a comprehensive and easy-to-understand explanation of stroboscopy is presented. This does not, readers will be pleased to hear, explore in detail the mathematical principles of how stroboscopy light sources work, but provides enough information for the clinician to be able to understand the basic principles of the equipment. ... This is a beautifully presented book and serves as an excellent atlas of benign laryngeal lesions."
—Declan Costello, Post-CCT Fellow in Laryngology, Journal of Laryngology and Otology (2009)
"...a signification contribution to the laryngology literature and provides a comprehensive guide to understanding stroboscopy and its clinical application. Clear schematic illustrations and beautiful color clinical photographs accompany the text."
—Melin Tan, MD, Annals of Otology, Rhinology, & Laryngology (2011)
Part I. Basic Science and Introduction to Stroboscopy
1. Historical Aspects of Visualization of the Larynx and Vibration
2. Stroboscopy and Talbot's Law
3. Anatomy and Histology of the Vocal Folds
4. Vocal Fold Vibration and Phonatory Physiology
5. Videokymography and High Speed Digital Imaging of the Larynx
6. Normal Phonation and Vocal Fold Vibration
7. Abnormal Vocal Fold Vibration
8. Instrument and Clinical Operation
9. The Clinical Examination and the Stroboscopy Laboratory
10. Stroboscopy Setup and Recording
11. Observations Made During Stroboscopy
12. Interpretation of Videostroboscopy
Part II. Clinical Section: Laryngeal Disorders
13. Laryngeal Inflammation
14. Granulomatous Diseases of the Larynx
15. Granulation and Contact Granuloma
16. Laryngeal Trauma
17. Vocal Fold Scar
18. Benign Mucosal Lesions
19. Premalignant Lesions and Lesions of Uncertain Behavior
20. Malignant Neoplasms of the Larynx
21. The Aging Voice
22. Benign Tumors
23. Vocal Fold Paralysis
24. Irritable Larynx Syndrome
25. Neurogenic Dysphonia
26. Functional Dysphonia
27. Stroboscopy in the Management of Phonosurgery