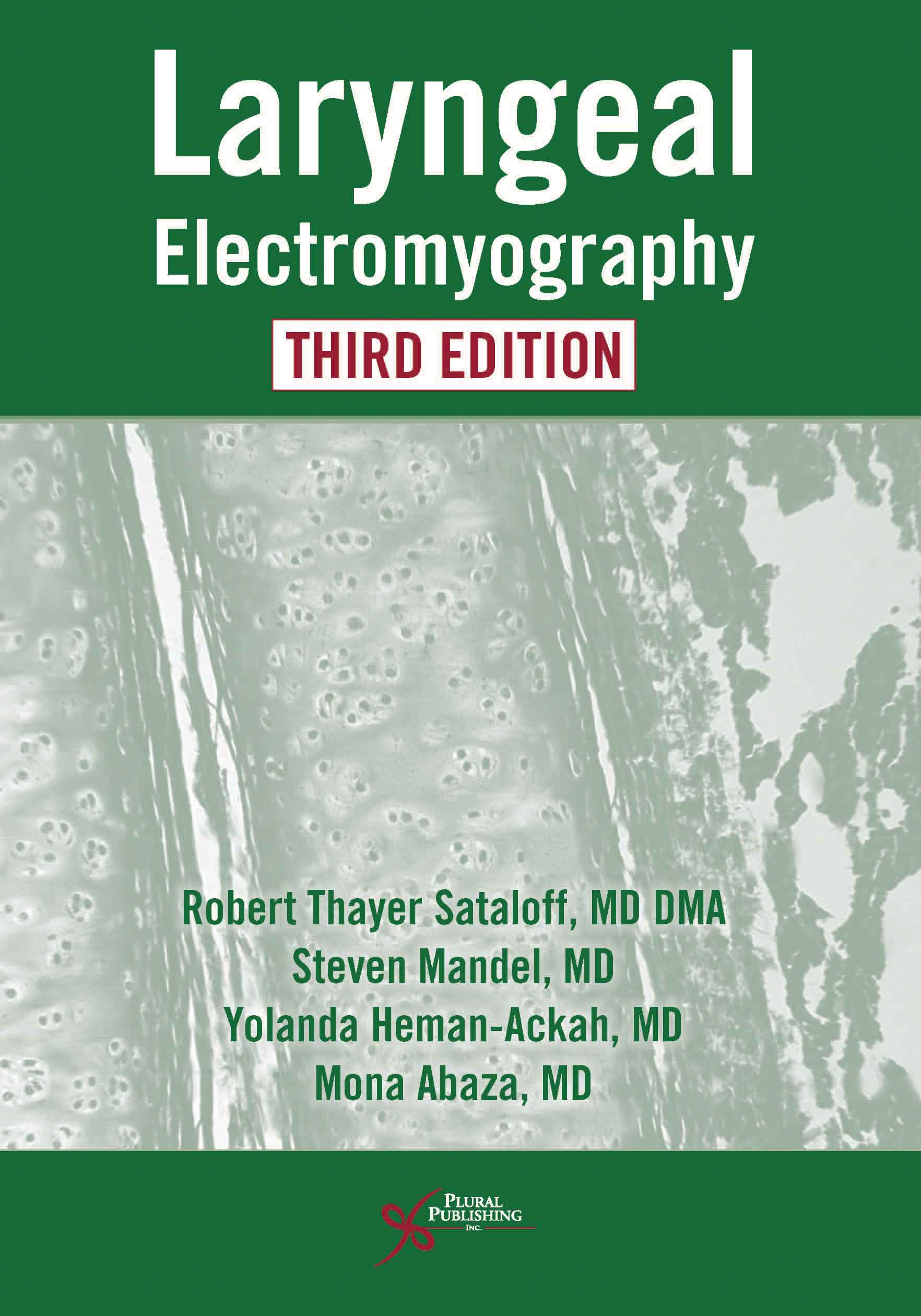 Laryngeal Electromyography
Third Edition
Robert T. Sataloff
Details: 256 pages, B&W, Softcover, 6" x 9"
ISBN13: 978-1-63550-016-5
© 2017 | Available
Laryngeal Electromyography, Third Edition is an easy guide and quick reference for laryngologists, neurologists, physiatrists, and others who wish to learn the procedure of laryngeal electromyography in order to evaluate the integrity of the muscles and nerves of the larynx, and to determine the cause of movement disorders of the vocal folds and make a diagnosis.
Thoroughly revised since the previous edition, Laryngeal Electromyography provides the latest advances on electromyographic procedure and diagnostics. This third edition includes concise, practical coverage on the details of the procedure and clinical applications.
Reviews
"This is obviously a highly specialised paperback, which will appeal to voice therapists and those in our ENT community who specialise in laryngology. The Preface tells us it is also aimed at neurologists, physiatrists (a new term to me I confess) and electrophysiologists. As a third edition it carries new coverage of intra-operative monitoring and evidence based research and updates the basic sciences. Seven chapters range in coverage of clinical applications, to vocal cord mobility disorders and the evolution and literature on electromyography. There is a chapter of seven case studies to outline clinical applications and, a personal favourite; one entitled "Electrophysiological Monitoring of Laryngeal Nerves During Anterior Neck Surgery" ​​​​​(which still stresses the need to identify the nerves visually, whatever). The three appendices are particularly useful. The first just summarises what is known in easily scanned annotated form. The second is a very well done series of reviews presenting evidence based conclusions. Finally comes "Suggested Reading" which I would guess at about 600 references and would prove a challenge I suspect. I hope I will be forgiven for singling out the first author, like myself a former fellow in Neurotology and Skull Base Surgery of The University of Michigan. I have reviewed many of his previous works and was not at all surprised that he now has written "approximately 1000 publications" and no fewer than 61 books, by no means all on laryngology and voice disorders. The conclusion is that the technique is not as widely adopted in specialist clinics as its value might suggest and this book could do much to correct that."
—Liam Flood, FRCS FRCSI, Middlesbrough UK, in the Journal of Laryngology & Otology (June 2017)
Preface
About the Authors
Contributors
Acknowledgments
Chapter 1. Laryngeal Electromyography: Introduction and Overview
Chapter 2. Anatomy and Physiology of the Voice
Chapter 3. Vocal Fold Hypomobility
Chapter 4. Basic Aspects of the Electrodiagnostic Evaluation
Chapter 5. Laryngeal Electromyography
Chapter 6. Clinical Applications of Laryngeal Electromyography: Case Studies
Chapter 7. Electrophysiological Monitoring of Laryngeal Nerves During Anterior Neck Surgery
Robert Thayer Sataloff, Jeffrey Liaw, and Mary J. Hawkshaw
Appendix I. Laryngeal Electromyography: Summary Outline of Selected and Important Facts
Appendix II. Practice Parameter: Laryngeal Electromyography (An Evidence-Based Review)
Appendix III. Suggested Readings
Index